It is standard to have the back of an acrylic print have opaque white.  We print the image in back then add the white opaque color in back.We do this for a few reasons
It protects the acrylic from scratching
It allows a certain amount of light through the back of the clear Acrylic
The wall that its is hung from does not come through the back of the clear acrylic.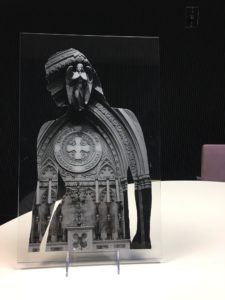 We have received calls recently asking for a clear acrylic with no white opaque.  This can be just for styling purposes or creating a multi piece acrylic with designs on different parts of the acrylic and displayed with the standoff option.  Using the standoff option, the spacers can be adjusted so that there is room between each acrylic panel so each image appears 3 dimensional.
The float option as well can be used in this style as long as there is white opaque in the back where the image is on the front. The rest of the image can be clear. If there is no opaque ink in back of the  image you would see the wall its is hung on through the acrylic, not very attractive.
We also offer the acrylic with no opaque when customers want a clear border. We offer many border colors, however the clear 1 or 2 " border is by far the most popular.  The display option chosen with this style is the standoffs. it is possible to display this style in the float option as well.