Best option for Back lit Photography
Why Go With Backlit?
A backlit acrylic or backlit fabric can add an extra wow factor to any room.  Both are becoming very popular and can be found in retail, residential and corporate environments.  This is the best choice for back lit photography  or any other industry that wants that extra wow factor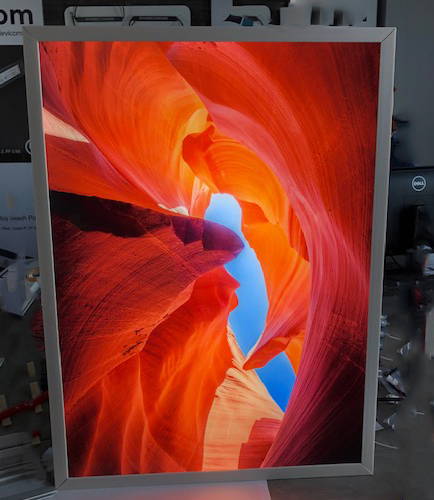 The Acrylic Backlit
With the Acrylic Backlit  We double print the acrylic for best possible outcome. Depending on the size of the image we use either 1/8, or 1/4 " thickness.  We can do any custom size with the backlit Acrylic.
For the best light source we recommend the source to be in back of the Acrylic panel as apposed to the sides. Although costlier there will be no hot spots. A hot spot is an area of print where lighting is void which makes it uneven.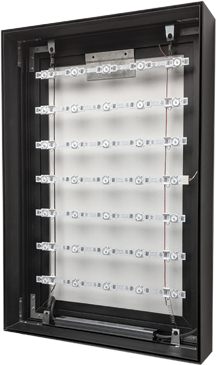 Both the side lit or backlit will make the Acrylic more vibrant and aesthetically pleasing and will add an extra layer of sophistication to your back lit photography
Some features to consider when doing a backlit print. An on and off switch which can be put on the side of the light box. A remote control is another function you may want as well. If you really want to jazz things up maybe include a dimmer to control the light function. Any of these things can be included with a back lit.
With an Acrylic backlit sizes can be as large as 60-90 inches. This size light box would need  a 3/8″ acrylic which offer proper rigidity. With this size,working with the contractor would be the best way to plan properly.
Customers do not have the option to change out the image with Acrylic prints. The Fabric Back lit can be which enables you to changes the image when you wan to
Fabric Backlit
Back lit Fabric prints can be done as large as 10 feet and in any length.  Tension ed  fabric lighboxes are the leading solution for retailers, artists and visual merchandisers who want to change content across seasons and promotions or artwork.
Changing a graphic is very easy and user friendly. The silicon edge simply pushes into a recessed groove on the perimeter of the frame, stretching the dye sublimated image across its face creating a perfect vibrant image.
What is dye sublimation
With dye sublimation the image is infused directly into the fabric. Dye–sublimation printing yields beautiful and permanent colors that are embedded in the substrate or fabric, rather than printed on the surface. Images on fabric wont lose its color and will stay pristine for years.
With  added light coming through the fabric brings colors to the next level.  Great to draw attention to your art, promotion or message.
what light box thickness do i want ?
In high traffic area with large space some customers want a thicker light box as it is usually lit from the back as apposed to the sides. In this scenerio all the Led strips and connectors are on the side of the Acrylic . Big Acrylic has a thin box thats  2.2 inches and a thicker box thats 3.74 inches available in both backlit and side lit.
Is there a standard when ordering
As each project is different when producing Acrylic prints or fabric print you should ask yourself the following to determine which medium best works for you
How large do i want my print to be ?
As mentioned prior the larger the print is the fabric is a better choice. Can be shipped in pieces which enables you to go up to 10 feet if height by any length.
What level if brightness do i want with my fabric or acrylic print ?
As mentioned prior back lit is far superior then side lit.  Both do a marvelous job however backlit has no cold spots and the acrylic and become more vibrant and will show your back lit photography better