Description
Acrylic Glass Prints
Gallery style prints, made just for you, from your images. High Quality Acrylic Glass Prints.
WHAT IS ACRYLIC?
Acrylic Glass Prints is to wall art, what HD is to TV. Acrylic prints, in basic terms, are photos printed on shatter resistant, lightweight glass panels.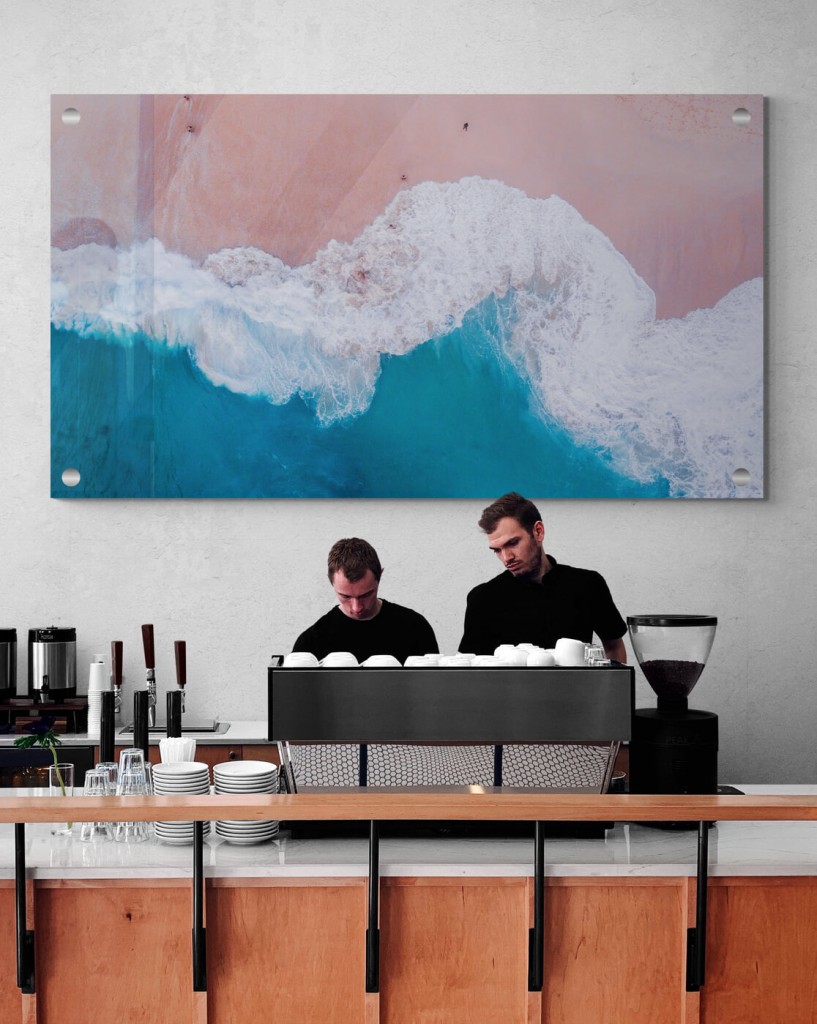 Digital images are printed directly on the surface of the acrylic panel via a flatbed printer creating a luminous look with colours that pop. Acrylic prints are an affordable route to modernize and personalize your decor, giving your residential or commercial space a beautiful focal point that will impress guests and clients alike.
Often found in modern homes/offices, hospitality spaces, and art galleries, this product is truly one-of-a-kind and cannot be replicated by other solutions like a laminated photo, or a photo encased in acrylic for instance. Acrylic offers colors that are more vivid, glossy, and have a higher contrast.
This exciting medium allows for complete customization, so every detail is a reflection of you.
Prints are made just for you, from your photos/files.
Custom sizes available up to 5×8 ft (96×60 in!).
Lightweight, durable, scratch-resistant and washable.
Arrives ready to hang for easy installation.
Perfect for all types of indoor wall spaces.
ACRYLIC PRINT THICKNESS
Our most popular choice is the 1/8 inch. Yet, it is personal preference, for the thickness an Acrylic does not alter the quality of an image.
We offer 1/8, 3/16, 1/4, and 3/8 inch acrylic panels. Acrylic prints that have 3/16, 1/4, and 3/8 inch thickness will receive a treatment to smooth the edges. Your image is able to spread to the very ends, creating a translucent effect on all sides.

Big Acrylic offers four distinct styles for mounting your acrylic glass print.
STANDOFF
Four brushed stand-off screws are placed in each corner of the print securing it to the wall.
FLOAT OFF THE WALL
The *most popular option, a block is fastened to the back of the print allowing it to float off the wall by 1″.
FLOAT FRAME
A traditional frame is built around the print with a small gap between the edges of the print & frame.
FLUSHMOUNT
A hybrid of the float and frame styles. The print lies on top of, and is supported by a polished MDF frame.
HANGING HARDWARE IS INCLUDED WITH ALL PRINTS
ACRYLIC PRINTS FAQ – WHAT YOU NEED TO KNOW
What is the difference between plexiglass and acrylic?
Plexiglass is a brand of acrylic, just like Kleenex is a brand of tissue. They are the same thing!
Is acrylic made of glass?
Acrylic is a shatter-resistant and lightweight alternative to glass, making it shipping friendly. Acrylic exhibits the smoothness and transparency of glass.
What is the benefit of printing on acrylic?
If you like a modern look, printing on acrylic is a great choice. The colors are vivid, and acrylic creates a shiny and chic look.
Who would use acrylic prints?
Homes, offices, hospitals, institutions, trade shows, airports, hotels. Anywhere there is wall space, really
Does the thickness of acrylic change the image quality?
We offer 1/8, 3/16, 1 /4" and 3/8 '' acrylic. The print quality stays consistent with all thicknesses.
How is the image put on the acrylic?
We digitally print directly onto the acrylic via a flat bed printer. Colors come out superb.
Do you print to the edge of the acrylic?
Yes, we print directly to the edge of the acrylic. However, we can add a border if you would like. You can choose a 1" or 2" border in clear, black, or white.
Can you create custom sizes?
Absolutely. We print custom sizes up to 60×96″
Check out our hanging options.
Check out some of our other products.
ACRYLIC PRINTS TOP 10 QUESTIONS
When you are thinking of purchasing acrylic prints, you may have many questions in mind. Which is understandable! We want this to be an excited purchase for you, and so, we are answering some of the common questions we receive about acrylic prints.
We are happy to answer all of your questions about acrylic prints. They are our specialty and we want nothing more than to share our knowledge with you. Please call or email us anytime if you have a question that is not addressed in our Top 10 Questions List.
Without further ado, here are the top 10 questions we receive about acrylic prints.
1) Does the thickness of acrylic effect the image quality?
The quick answer is no. We offer 4 thicknesses – 1/8, 3/16, 1/4 and 3/8. The acrylic thickness does not effect the image quality. A thicker acrylic will give a translucent effect when looking through the sides. The image itself does not change with thick or thin acrylic.
2) Is acrylic glass?
Acrylic is not glass, but visually, it is nearly impossible to tell the difference. However, acrylic is lighter, more durable, and less costly to purchase. Glass is scratch resistant but very easy to crack. Acrylic offers 92 % light transmittance while glass offers 90 % transmittance.
Acrylic is many times stronger than glass. If acrylic shatters, it does so in large pieces with relatively blunt edges. When glass shatters, it may be a safety hazard. Acrylic is much lighter than glass. This is magnified when hanging large acrylic panels.
3) Can I hang acrylic outdoors?
Definitely not. Many acrylic printers make this claim, but acrylic will simply not last outside in the elements. We would rather be honest with you and lose a sale than sell you a lie. The good news is that we also offer metal prints and they can absolutely be displayed outdoors.
4) Can my acrylic panel be translucent in areas where there is no print?
Yes, however you would need to choose the standoff option when choosing a hanging option. The float off the wall option which features a wood block in back would be visible if areas in the panel were clear and translucent.
5) Can I find an image on the internet and print a large acrylic panel?
Yes you can! However, keep in mind, we need a high quality image to produce a large image. If you want to produce large size image acrylic panels you would need to purchase images from a reputable company such as www.shutttertock.com, www.istock.com. You can also check check free images at www.pixabay.com.
6) Does a large acrylic panel need to be thick if I'm ordering with the float option?
The answer is no. The acrylic even at sizes larger then 60-40 inches works great in the 1/8 thickness even in the float option. It's even recommended to use a 1/8 " thickness as its lighter on the wall. 1/4 inch would be to heavy on the wall. 3/16 as well would work. Again, the thickness of the acrylic does not effect the image quality.
7) Whats the difference between an acrylic print and facemounting?
In facemounting, the image is printed on photo paper and then sandwiched in between acrylic and a rigid substrate such as dibond. Acrylic prints are printed directly onto the back of the acrylic .
8) How do I know what size to order?
We list standard sizes on our website and you can also email us about custom sizing. We offer a cropper tool on our website. So for example, if you want to order a 24×18 print, but aren't sure how this size will look with your image, you can check using the cropper tool.
9) How long will my acrylic last?
For a very long time! Even in direct sunlight, acrylic will not fade. We easily expect a lifespan of 30 years.
10) How do I clean my acrylic?
Dusting is best, using a non-abrasive cloth. You can also use mild soap or cleaner without damaging the product.