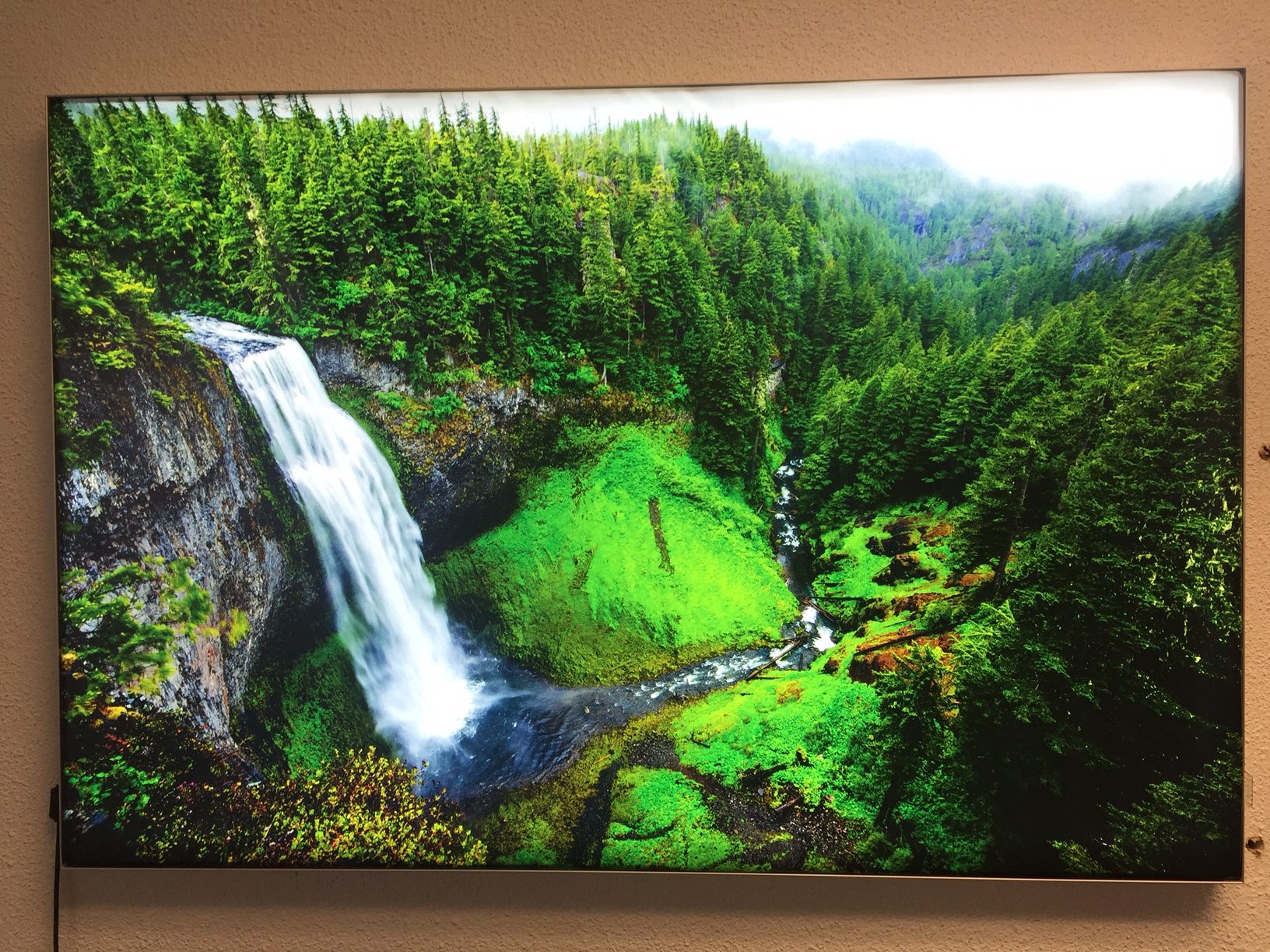 Our
backlit acrylic panels
have been a runaway hit, We have decided to add back lit fabric. We've received orders from everywhere, from casual, every day consumers to industry professionals, everyone really appreciates the look. Our products span a wide range of sizes and all of our acrylic print photos are transformed into breathtaking works of art once back lighting is added.
We've teamed up with AcrylicPix.com to offer our customers better prices, better quality and a better shopping experience
We've enjoyed so much success in responding to a wide array of orders that we've decided to expand our backlighting service to include our fabric canvas products. To do so, we've incorporated canvas that is specifically made to be used with light boxes. We've also engineered slim profile frames to reduce bulk and increase portability and fit.
Canvas allows us to make other important adaptations as well. At only 1.5 inches thick, the extruded metal framing doesn't impede the brilliance of the image and there's no need for a black border to diffuse light. The result is a product that is able to be mounted in more places and an image that is free to shine brightly in any environment.
The keys to our quality light boxes are found in the construction of the frame and the ingenious use of LED lighting. Our light boxes are illuminated with a slim light panel with vibrant LED lights on the sides. This allows the light to permeate through the canvas evenly and efficiently. Our process is ideal for light boxes less than 4 to 5 feet wide.
The hidden technology that makes this remarkable product possible is what sets our backlit panels apart from the competition. The fabric canvas is specially made with a silicone edge that allows it to fit within narrow grooves on each side of the frame. The fabric is digitally printed with high quality solvent ink for best-possible color saturation. Removal is made simple with a discrete plastic tab that remains unseen when the canvas is mounted.
Using LED technology not only adds a uniquely bright look to each of our products, LED enables us to achieve a slew of remarkable advantages:
Environmentally friendly and fully recyclable (LEDs contain no mercury)

Most efficient lighting source available today (1/10 the power required for regular bulbs)

Superior life (50,000 hours – 20 to 30 times the lifespan of standard bulbs)

Cool operation to protect the product and the mounting surface

Lower maintenance cost (reduces frequency of bulb changing)

Lower utility expenses

Frame is only 1.5 inches thick
Through our ingenuity, the possible variations are endless. The process for installing the fabric makes switching the image easy for anyone; especially useful for businesses that require frequent image or message updates. Great idea for
Homes that want to change their canvas
business or real estate offices for promotional purposes
Cool wall decor for restaurants or hotels
For anyone looking for a warm and rich finish that appeals differently than our other shinier acrylic products, the backlit canvas offers a stunning and subtler alternative.
---
As with all of our quality products, the backlit fabric canvas is simple to hang. We've included an easy-to-use hanging clip that will allow you to hang your canvas anywhere in two easy steps. Contact us if you wish to purchase a back lit fabric
Call 1-877-234-4466 for pricing