[ninja_tables id="32591″]
We recently introduced sublimation metal prints to our lineup of products. Therefore, we thought it would be informative to discuss the differences between metal sublimation prints and traditional digital metal prints. We will help you choose which medium works best for your project. Even better, each product we offer boats its own unique features and benefits.
The Difference Between Digital Metal Prints and Metal Sublimation Prints
We print our digital metal prints using a flat bed printer. The metal sits on a large printing table and the image is created by printed specialty ink directly onto the front of the metal panel.  The printer head goes back and forth until the image is totally finished.  The material used is A 3/16 " Dibond. Digital Metal prints can be ordered in white or brushed metal with or without varnish.  Display options available are float, standoff, float frame and box. Even better, digital metal poster can also be ordered in custom sizes up to 60-96 inches.
Our sublimated prints infuse dye directly into the metal panel.  The end result is a glossy piece of art work. Your image is infused directly into the metal as opposed to being on the surface. Therefore, it is extremely scratch resistant.  The panels are only offered in certain sizes and can be ordered in float or float frame styles.  The thickness of the panel is a little less than the 3/16 dibond.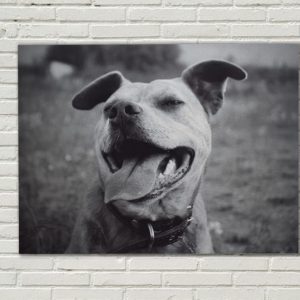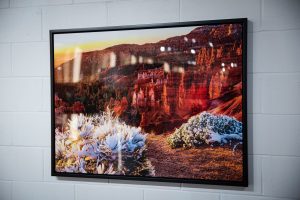 Key Points to Consider: 
Both digital prints and sublimation prints are viable options.
Digital prints are available in any size up to 60-96 inches. Sublimated prints are available only in a specific range of size.
Both options are scratch resistant, however it is virtually impossible to scratch metal sublimation prints.
Both metals are suitable for display in harsh environments.
Sublimated prints are the glossiest option, even when there is varnish application on digital metal prints.
The brushed panel option is not available with sublimated prints.
Sublimated prints are not available with the standoff option.
We are able to produce metal prints at a quick rate. Therefore, they are ideal for volume orders.
The Difference Between Acrylic Prints and Acrylic Lite 
Acrylic prints print digitally on a flat bed printer. We print on the back of the acrylic panel and your image radiates through the acrylic.  We can print up to 60 by 90 inches when we print directly onto Acrylic. This is the ideal option for volume orders as we are able to produce it quickly.We offer printing on acrylic in 1/8, 3/16, 1/4 and 3/8  " thickness. The colors are vibrant and look great in any of our display options.  We offer various display option including the most popular float off the wall, standoff and float frame option.
The Acrylic lite is an economical face mount solution.  We print images onto fine art photo paper, and then we add a layer of 1/8 " or 3/16 " acrylic on top. We then add a white out material in back to protect the image as well as to hide the float display option. Other facemount solutions use either sintra or a dibond backing which increases the weight of the finished piece of art.  This is what makes our Acrylic Lite a highly unique and desirable product; it is available with the float and standoff option.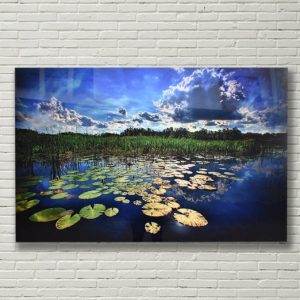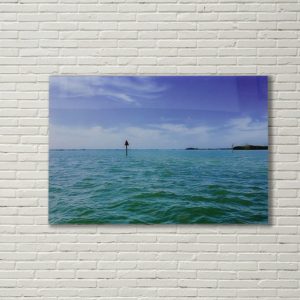 Key Points to Consider:
Both Acrylic Lite and acrylic prints are viable options.
With acrylic printing we print directly onto the back of the acrylic.
With acrylic lite we print onto fine art photo paper and then we add a layer of acrylic.
Acrylic prints are better for volume orders.
Color accuracy is absolutely sufficient in both options, however, we suggest acrylic lite for those needing exact color accuracy.
Acrylic prints and Acrylic lite are available in custom sizes.
Acrylic lite is available up to 60-96 " while acrylic lite is available up to 48-96″.
The Difference Between Backlit Fabric and Backlit Acrylic
We print backlit fabric through a sublimation process. We use heat to heat infused your image directly onto special fabric, which enables it to be backlit and creates amazing luminosity .  The fabric is then put onto one of are many light box frames. The most popular frame is in silver and is 3.5 " thick and very light. The fabric prints have a silicon edge that enables you to change the image from the light box when you feel like it. The frame on the backlit fabric light box is not visible from the front, creating a very clean look.  We include all electrical. If you are purchasing a large backlit fabric print you can assemble it yourself and save money on shipping. We can do very large sizes- more then 160 inches.
We print the backlit acrylic on a flat bed printer and we print twice. Therefore, the image has extra color and vibrancy. We then lay the panel on top of the light box – so light shines through, creating a dramatic effect. Unlike the backlit fabric, the the acrylic backlit has a visible frame.  We include all electrical equipment. We can produce it in large sizes, though not as large as the backlit fabric. The image is a permanent fixture and ships assembled.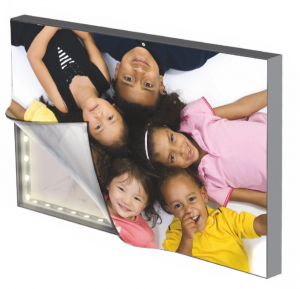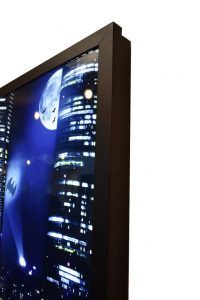 Key Points to Consider:
Both Backlit Fabric and Backlit Acrylic are viable options.
The backlit fabric can come unassembled and you will be able to change the fabric.
The acrylic backlit comes assembled and the image is permanent.
The Electrical comes included in the shipment for both (cord, wire switch).
The most popular hanging option for both is the float off the wall option- we include hardware with your order.
 The backlit fabric is lighter as it does not have a acrylic component to it.
Lead time both both is 7-10 days
My humble opinion feel the fabric is more user friendly and offers extra value as it can be changed intermittently.
Not sure what medium your photo would look best on?

We can show you!
It's simple: send us your photo and we will send back mockups of your image on Acrylic, digital metal and sublimation metal. 
We want to bring you the best shopping experience possible!