What are acrylic glass prints? When you see a print that looks like glass–what you are really looking at is acrylic. Acrylic is a lightweight and shatterproof alternative to glass; it is known for its clarity, shine, and transparency. In fact, acrylic is so glass-like that you won't be able to tell the difference. Visually, acrylic is the same as glass. It has great sheen and absolute transparency.
Acrylic glass has been used commercially since 1936. During WWII, acrylic glass was used for periscopes, canopies, and airplane windshields. Acrylic glass is widely used today for many things, including aquariums and safety glasses. Of course, our favorite use is turning your image into a masterpiece via our acrylic prints.
We have several options available for our acrylic glass prints. As they are all acrylic, they have many of the same qualities, including:
Light capturing properties. Acrylic glass prints are ideal for images that have bold colours, as it enhances vibrant hues.

Inherent durability. Acrylic glass has always been an ideal medium for corporate and gallery spaces. 

Unique 3D look. Sleek modern edges will leave a lasting impression.

UV resistance. Therefore, your print will hold up even when exposed to direct sunlight.
Print Photo on Acrylic Glass
These are qualities that you will find no matter which style of acrylic glass print you select. However, each acrylic glass print we offer has its own benefits. We will break these down for you so that you are able to make an informed decision. We want to help you select the style of acrylic glass print that suits your needs.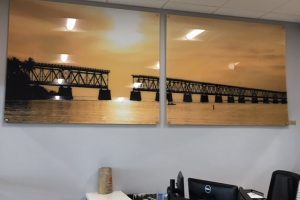 We print right onto the material, using a digital flatbed printer. Next, we adhere special backing to the acrylic to keep light from shining through, therefore keeping the rich color of the print. Most designers will not complete a project without custom art. Acrylic is the best choice, as we can custom print up to 60"x 120". Not only that, acrylic is great for big orders. It is the most cost-effective and time-efficient way to make custom prints of this caliber.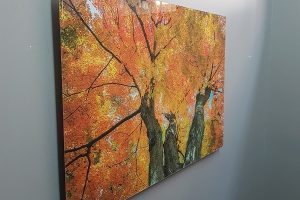 Acrylic Facemounts
With our regular acrylic prints, we print your image right onto acrylic. Our acrylic facemounts print your image right onto a sheet of special paper, which we then adhere to the back of the acrylic. An acrylic facemount leaves no space between the image and the acrylic. You could not achieve this quality by simply framing and displaying your image behind glass. 
Our facemount solution enhances your image and its colours. We produce high colour accuracy, since we adhere the image to acrylic after printing it on special paper.  We protect the image with acrylic on one side, and backing on the other. Moreover, our facemount solution is the ideal choice for professionals, as it creates the highest possible quality of image.
Acrylic Lite
Acrylic Lite is a cost-effective and lightweight facemount solution. We print your image directly onto a sheet of specialty paper. Then we secure the image between our signature acrylic and a 9-millimeter white backing. This special backing keeps light from shining through, maintaining the rich colours of the print. Most importantly, our Acrylic Lite boasts the colour accuracy and quality of our standard facemount solution, at a better price.
Acrylic glass photo prints
If you want a lightweight product with no heavy substrate, then look no further. Moreover, Acrylic Lite is the ideal choice for those who require a sleek and modern medium for the home.
As of May 27, 2020, we no longer produce Facemount or Acrylic Lite prints.