*

We now print up to 120 by 70 inches!

*
Acrylic Prints
(Printing on Glass)
BigAcrylic is the preeminent source for large acrylic prints.
Our method of printing onto the back of acrylic adds unmatched color contrast and clarity. We offer an array of thickness and mounting options to fit every décor and budget. The rich color density of our prints is akin to high-definition TV.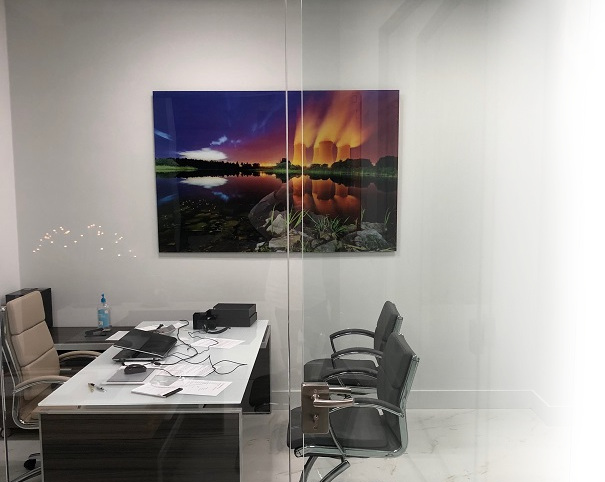 Metal Prints
BigAcrylic is the preeminent source for large metal prints.
Our large metal prints can be ordered in either brushed or white metal and come able to be mounted in a variety of display options. Customers can choose metal with a varnish which adds gloss and the "wow factor".
We specialize in large acrylic prints,
printing on glass, canvas prints and printing on metal!
We at Big Acrylic strive for excellence. With a passionate focus on customer service, we provide adaptations to file sizes and quality, care and technique towards the logistics of creating high quality prints, while ensuring a safe delivery of the final product. Our signature method of printing on the back of acrylic, glass, metal, canvas, wood, and more, adds an unmatched color contrast and clarity to your images.
Acrylic prints are our specialty. We provide a variety of selections in both thickness and display. Currently, we are able to print up to 120 by 40 inches or 96 by 60 inches. The vast success in Acrylic prints makes an ideal choice for any office, home, or gallery setting.
Our Facemount Acrylic offers a high-quality product at a competitive price. We start by printing the image on paper, then process the photo between acrylic and a rigid substrate. The outcome exudes a prestigious appearance, leaving price as only secondary in comparison. For those seeking a more upscale product, or looking to showcase images in a gallery, we suggest you look no further and explore the medium of the Facemount acrylic.
Acrylic Lite is another viable option for those who like the Facemount concept and are budget savvy. This option has acrylic over the photo print with a thin white out material in the backing. Learn more about Acrylic Lite by browsing our website.
When ordering our large metal prints you have a multitude of choices. From brushed or white metal, to different display options, plus the additional feature varnishing, which creates a glossy and scratch resistant surface. Design your custom metal print today!

Wait, there is more. We also offer Backlit Acrylics and interchangeable backlit canvas products. Backlighting, combined with our spectacular print products, paves way for a production that is truly stunning and unique.
We are not one of those 'all in one' giant art retailers. Our customers are our life-line and we understand that very well. That is why we will everything we can to guarantee you are 100% satisfied with your print.

If you email us, we will respond within minutes. If you call us, we will answer or return your call as soon as possible. You will never speak to an operator! Or waste time navigating numbers and options!

We try to go above and beyond by providing Free Design Services that includes photo editing, touch-ups, and photo manipulation. Our professional graphic artists will take care of every product, making sure it is absolutely perfect.
We encourage you to call to discuss your project
You can order online or place the order by phone
We respond to emails and phone calls on the weekend
At Big Acrylic, we make every effort to meet the needs of each customer. If there is a size you need that is not shown in our online store, let us know and we will custom design a print that seamlessly meets your project dimensions.