One of the products receiving a lot of attention is our wrap-around metal display box. While going over metal print options with a client, I mentioned the design and we found the perfect solution for the client's needs and a new product was created. What's wrap-around metal box display is right in the name – an image is able to wrap around the metal box, much like a stretched canvas . This style gives us the option of creating a 3-D style that our customers love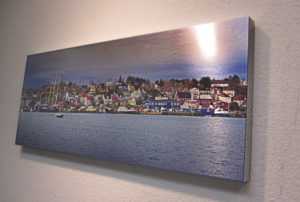 .
With a name like BigAcrylic, it's thought that are specialty is in acrylic. While we do provide industry-best acrylic products, our proprietary wrap-around metal separates us from our competitors. Wrap-around metal print offers options such as:
Quality custom designing.
5-sided image display.
Indoor/outdoor mounting possibilities
Industrial effect for a modern appeal.
uniqueness
Wrap-around metal print allows the image used to extend beyond the usual two dimensions. Instead of an edge-to-edge effect, images are continued around the edges of the frame for an immersive appeal.
The key to a wrap-around metal display starts with the high standards expect of all of our products. The aluminum is durable and textured to add form and function to any custom image. One of the traits of images printed on brushed metal is the effect of the metal appearing in spaces absent color. These areas of raw brushed metal add to the overall presentation and provide a contemporary look.
Along with our brushed metal designs, wrap-around metal displays can be made using white metal. White metal is especially useful for images with vibrant coloring. The colors pop when printed on white metal and offers fantastic color contrast.
Durability is another area where wrap-around metal displays really shine. Each metal print is able to be mounted indoors as well as outdoors. This versatility is unmatched by any other form of display. Clients use wrap-around metal displays in residential and commercial locations, both indoors and outdoors, without fear of weather damage.
Customization is a feature we're really proud of and wrap-around metal printing enables us to offer customers a wide range of options. First, customers can choose white or brushed metal. Next, size options are available to fit any atmosphere. Customers can choose sizing from a tastefully subtle accent to add to a theme or a large presentation to set the tone in any décor. Finally, customers can choose to have their wrap-around metal applied with varnish which makes  it pop even more.
We look forward to providing more of these truly unique wrap-around metal products. Our customers appreciate the different display options and the variety brushed metal provides. As always, customer satisfaction is our commitment. Contact us and let us help you design the custom wrap-around metal display to fit perfectly in your home or business.