Whether you have a headboard or not, one of the trickiest places to decorate is above the bed. This space is often constrained by a number of things like a bed frame. Or, even more simply, by the fact that you don't want to knock your head off of the decorations every morning on your way out of bed. That's why, this week, our photo of the week comes from a bedroom in Virginia, USA. I thought it would be a good time to look at the process of creating above the bed art.
The Process…
One of the most important things about creating art for this space is symmetry. A bed frame or headboard works a lot like a mantelpiece would in a living room. It provides a stable horizontal line that will always draw the eye. So, when hanging a print, it is advisable to ensure there's some symmetry so your space does not look too cluttered or skewed.
Creating symmetry is super easy. Then, simply measure outwards from the centre point of the headboard or bed frame. As long as the print extends an equal distance away from the centre point, you'll have perfect symmetry.
While this client opted for one large print, we have had many clients creating multiple panel pieces to hang across this space. Either formula works, as long as there's symmetry!
The Photo: Above the Bed Art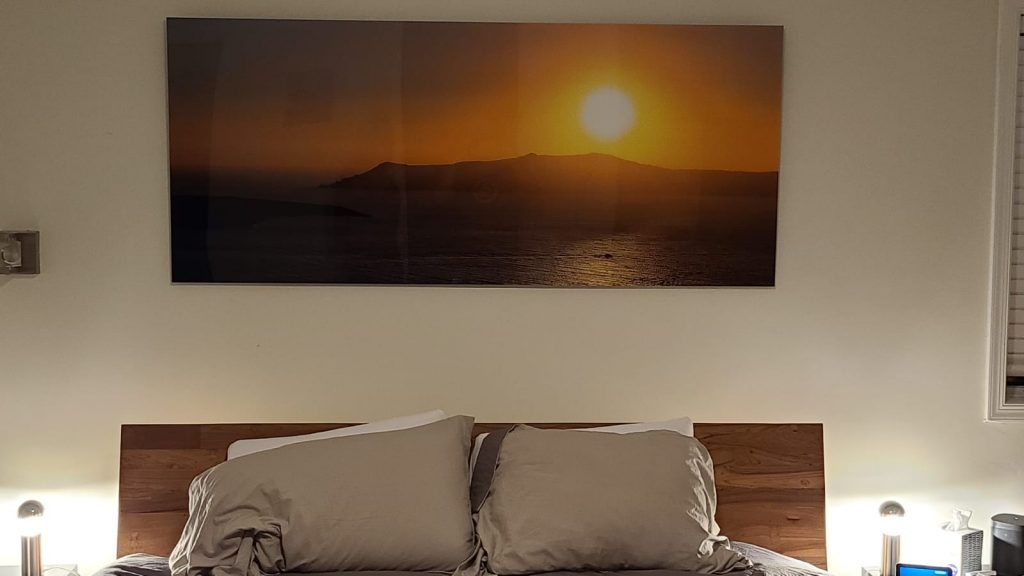 Now who wouldn't want to fall asleep to that every night! This image is 1/8″ acrylic with a float-off-the-wall display option. The long panoramic style works nicely above the head board. And notice the symmetry! The print does not look uneven or unbalanced, but comfortably placed.
The best part of above the bed art is how much one piece can tie a room together. By matching textiles to the colors of the print, the whole room has a sense of unity. The brown wood of the headboard, the light taupe of the sheets, and the bedside lighting all complement that warm tones of the sunset print.
Creating above the bed art is simple. And, we make it even easier by being on hand to answer all of your questions 24/7. Don't hesitate to reach out and contact us!
And of course, if you'd like to share your final products with us, don't hesitate to send us your photo through WeTransfer!