Beautiful
Table Decor Glass Pictures

for your office, or home. Look no further!
Glass Prints are our specialty!
[layerslider id="10″][fusion_text]
Get the perfect table decor glass picture prints you are looking for!

Call Now 1(877) 234-4466
Order Options
Step 1 choose your dimension
---
---
Printed directly on Glass (not peeled)
Free photo editing services
100% Satisfaction Guaranteed
Even help you find a stock photo if you prefer!
---
Product Info
[su_row]
[su_column size="2/5″]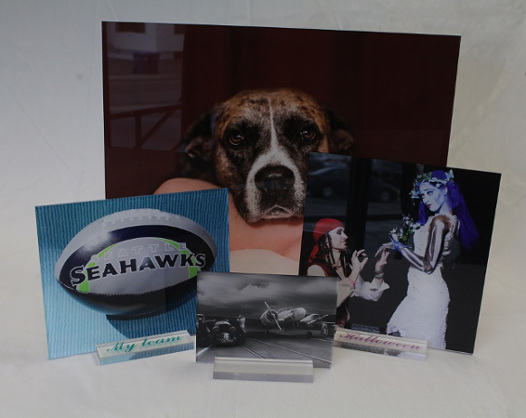 [/su_column]
[su_column size="3/5″]
Table Decor Glass Picture Prints
Who says table décor needs to be small and generic. Our acrylic table tops can be made up to 16-20 inches. Can lye on your desk or ledge at home or wherever you want to jazz things up.
[/su_column]
[/su_row]
---
Materials
[su_row]
[su_column size="3/5″]

We take a thick ½ thick chunk of polished acrylic that acts as the base, then we create a groove that your acrylic slides into. Can you say chic!!

The vibrancy of the digital print is awesome.. When you see your photo shining through the optically-clear acrylic people will marvel.
[/su_column]
[su_column size="2/5″]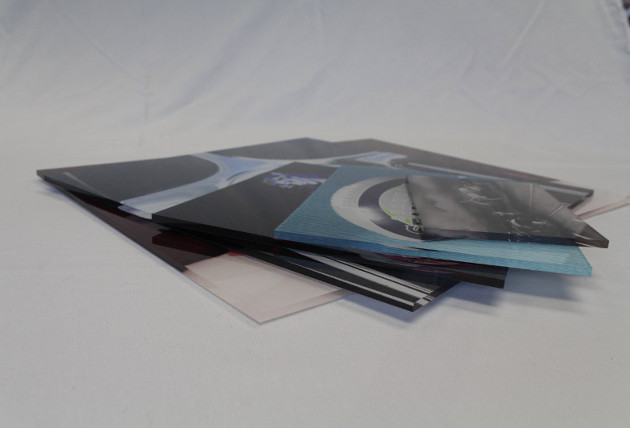 [/su_column]
[/su_row]
---
Custom Options
[su_row]
[su_column size="2/5″]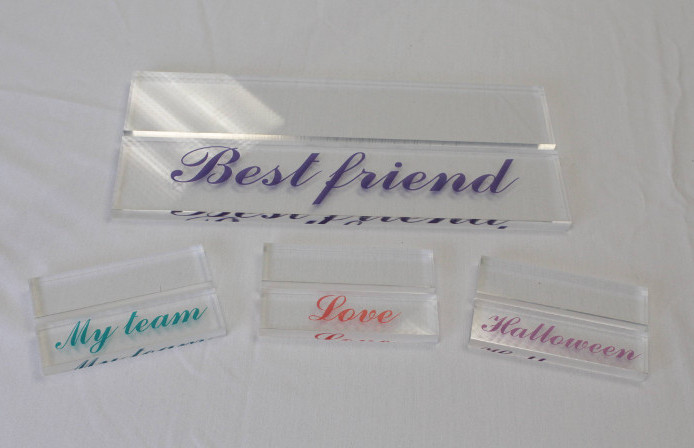 Basis are either 7 inches or 20 inches wide. We can also create custom size basis and panels.
[/su_column]
[su_column size="3/5″]

We go one step further by allowing you to create your own message on the acrylic base. The wording becomes translucent and shines through the sides and the top.

Great idea for home, office and business to promote your brand. Or if you are an artist print your art on the acrylic and sign your name on the base.

The possibilities are endless!
[/su_column]
[/su_row]
---
Samples
[nggallery id=17]
---
Professional Testimonials

I create abstract digital art on Acrylic. Acrylic is luminous and the colors really pop. Big Acrylic produces all my acrylics for shows and for galleries I exhibit at. I often need things done in a rush and they have produced acrylics in a few days and got me out of some jams. Always eager to help, I appreciate Big Acrylics service and dependability.

A veterinarian by trade is was only natural that i followed my passion by becoming a wild life Photographer. My travels have taken me too many countries in Africa capturing breathtaking photos of Zebras, Lions, and elephants. We used to print our photos on canvas but switched to acrylic for a more vibrant look and feel. Mark and his team have been producing acrylics for us for 2 years now and we are extremely happy.

We started doing business with BIG Acrylic a few years back. Digital art studio is located in Atlanta Ga and primarily offers fine art giclee printmaking and custom framing. Big Acrylic contacted me through Linkedin offering me their services. It was a natural extension of our business so we decided to include printing on Acrylic and Metal. The quality of their product is superb and always evolving. Service is second to none. Mark, the owner returns emails and phone calls within minutes even on the weekends. Our customers have been thrilled with their products.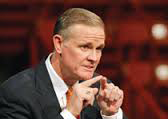 We have a 6,000 sq foot dental office in Texas that needed some wall décor. Since my practice deals with kids and young adults and the fact that I'm a sports fan I decided to have different sports themes on acrylic hang on my wall. Mark and his people increased the file size of some photos as well as made sure the measurements were correct. It took 3 months to finish the project but the 40 acrylics were beyond expectation. Contact me if u need more info. Jim Bowden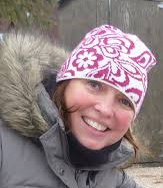 I have printed with (name) both in metal and acrylic numerous times for galleries I was exhibiting at. The service, quality and price enable me to sell my photographs to a global audience. Big acrylic headed by By Mark assisted me is choosing the medium for each piece. Their advice is priceless.
FAQ
[su_spoiler title="What's the difference between printing on Metal or Acrylic?"]
Whereas acrylic has a shiny glossy look, metal is more matted. We also print on the front of the metal instead of the back like we do with acrylic. Metal is also less likely to scratch if handled carelessly.
[/su_spoiler]
[su_spoiler title="Do all photos look good on brushed Metal?"]
The brushed metal looks best when areas of the photo are left white so you see the brushed metal panel in its organic form. The darker the colors, the last chance of seeing the brushed metal in your image.
[/su_spoiler]
[su_spoiler title="Do all photos look good on white Metal?"]The colors really pop and fantastic contrast is achieved when printing on white metal. All photos would work well with this medium. Unlike brushed aluminum there is no pattern on the panel.[/su_spoiler]
[su_spoiler title="How long does it take to produce an order"]5-7 working days..then we ship. Shipping takes between 2 and 7 days depending on where you live. [/su_spoiler]