Sometimes we forget some love for a product. We always brag about our Acrylic prints. How they are modern, chic and have a "wow" factor. Then we brag how are brushed metal prints add a certain sculpture look to the product. "Leave areas of the photo and untouched and see the brushed Metal pattern"
Not to be overlooked is our white Metal picture prints. For those who don't was a glossy finish and wish to have a more matte looking finish. A great choice if your acrylic is in direct sunlight and don't want a reflection to come through the acrylic.
Add a shiny look
If you want to add a shinier look we can add a varnish application that makes the metal more glossy. Now that is what we refer to as a custom metal print.
An extra advantage to both our white and Metal picture prints is they are whether friendly. They can withstand scorching heat and frigid temperatures.
Sometimes customers get confused by the sublimated Metal prints and out digitally printed white metal print. Sublimated metal prints are heat infused directly into the metal – If you want metal photo prints on steroids then this can be the choice for you. Images are very glossy and have a wet look to them.
White metal prints are more low key and have fantastic color contrast- Again if you want a little more flare varnish can be added.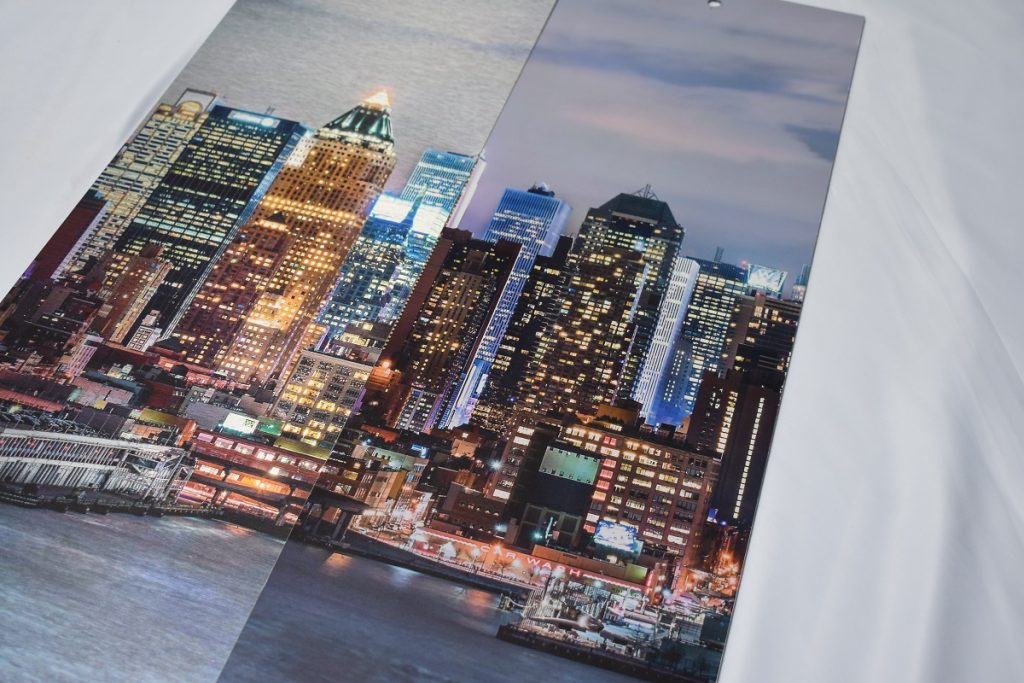 Subject Matter
My thoughts have always been that there is no right or wrong when creating metal picture or acrylic prints. Everybody has their own taste. Some like the subdued look of photos on canvas while other strive for a really glossy look that sublimation prints offer. Bottom line if you like the matte look white metal is the better choice
Personally speaking any family photo or group photo looks great on standard white metal. For anything landscape or city scape using a varnish can add extra flare to the image
The above photo is a print on white metal. The colors and rich and brilliant but does not expose any reflection the way Acrylic does.
We do offer an anti glare acrylic however it is more costly then our standard Metal photo prints