Who are they ?
MixTiles is a company that provides a service for printing and displaying photos as wall art. They offer an app-based solution for creating custom photo walls.  This is done by producing tiles that can be easily mounted to a wall.
The tiles are designed to be interchangeable. As well they are interchangeable. With MixTiles, customers can turn their favorite photos into beautiful wall art for their home or office.
Explore the best mediums to print your photos on.
How are they made ?
MixTiles are made of a lightweight and durable material.  They can  easily mounted on a wall.  Tiles are made of a high-quality, self-adhesive foam board that is both resistant to moisture and damage. The tiles are also light and somewhat flimsy
The tiles also come with a special protective coating that makes them easy to clean and maintain. Tiles can be put on the wall pretty easily and moved around to your liking.
This makes them suitable for display in various indoor environments. Additionally, the tiles are printed with a high-resolution, fade-resistant ink. This  helps to ensure that the photos will look vibrant and clear for years to come.
Get your photos printed on durable and shiny glass (Acrylic).
Sizes available
MixTiles are available in one standard size: 8 inches by 8 inches (20.32 cm x 20.32 cm). Each tile can be used on its own or combined with other tiles to create a custom photo wall.
The company offers the ability to upload multiple photos.  Its possible create a personalized display with a few tiles. The tiles can be mounted side by side to create a larger image, or they can be arranged in different patterns to create a more abstract design.
The 8 inch by 8 inch size is designed to be versatile and easily incorporated into a variety of spaces, from small apartments to large homes and offices.
The company as well has started to create sizes up to 36-27 inches.
Order a custom sized wall print.
Time
The time it takes to receive a MixTiles order can vary depending on several factors, including your location and the time it takes to process and ship your order.
According to the company's website, most orders are shipped within 3-5 business days of being placed. After your order has shipped, the delivery time can vary depending on your location and the shipping method you choose.
Standard shipping within the United States typically takes 3-5 business days, although delivery times may be longer for customers located in remote areas.
Express shipping options are also available for customers who need their tiles more quickly.
Create a gallery-style print with your own images today.
The good
MixTiles are designed to be easily interchangeable and can be rearranged and replaced on your wall as many times as you like.
According to the company's website, the tiles are made with a self-adhesive foam board that can be removed and re-mounted without damaging your walls or the tiles themselves.  A feature i will address later.
The company claims the lightweight and durable design of MixTiles makes it easy to switch out your photos and create new arrangements. This reduces the chance of damaging your walls or leaving behind residue
. This means you can change up your photo wall as often as you like, whether you're rearranging the tiles to create a new design, or simply replacing a few tiles with new photos.
It's important to follow the company's instructions and guidelines when mounting the tiles to ensure that they stay securely in place and do not damage your walls.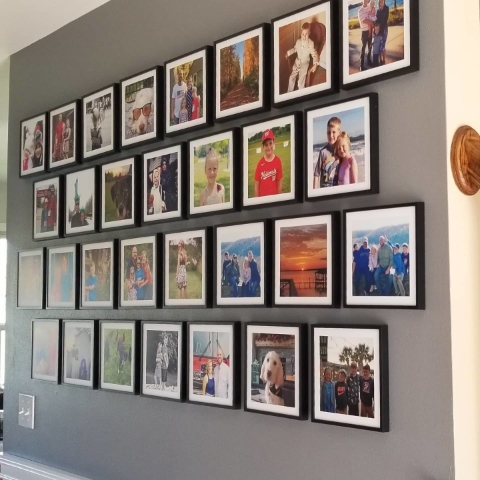 The bad
There have been some reports from customers of a strong odor associated with MixTiles. According to these reports, the odor may be due to the materials used in the self-adhesive foam board.
In some cases, the odor may be noticeable when the tiles are first removed from their packaging. Should dissolve within a week.
It's important to note that not all customers have reported a strong odor, and the issue may vary depending on the individual product and circumstances.
If you're concerned about a potential odor, you may want to reach out to the MixTiles customer support team for more information.
In general, it's a good idea to air out newly received items and keep them in a well-ventilated area until any potential odor has dissipated.
If you continue to experience a strong odor after taking these steps, you may want to consider returning the product or reaching out to the company for assistance.
Like any product or service, MixTiles has received a mix of positive and negative reviews online. Some customers have praised the company for its easy-to-use app and the high quality of the printed tiles, while others have criticized the service for slow shipping times or issues with the product itself.
It's important to keep in mind that online reviews can be subjective and may not represent the experiences of all customers. It's a good idea to read a variety of reviews from multiple sources to get a well-rounded understanding of a product or service before making a purchase.
The questionable
After researching the tape market and testing numerous applications myself i found no reusable tape that will not peel paint from the walls after a few years
Most take a chunk out of your paint or loses their stick.  I have tested this as well only to have to paint coming of my wall.  Over the short term photos can be moved- However, the longer they stay on the wall the greater the chance of peeling
Order a custom print delivered right to your doorstep.
The look
Lets face it. Anything constructed from  foam and paper is  a cheap and crafty looking, You may as  well shop at Michaels and create your own. Great look for a college dorm, but for your home ? Really ?
At Big Acrylic we are always looking for gaps in the market. We are currently working on a upscale photo hanging solution that will create a real buzz. Stay tuned…