What is a float display
A float option for your Acrylic or metal is a display feature that allows your panel to float off the wall.  The float option is a very popular and modern look. The float is glued and taped on the back of the acrylic, positioned in the  middle giving it a floating look once hung. By far the most popular display option at big Acrylic.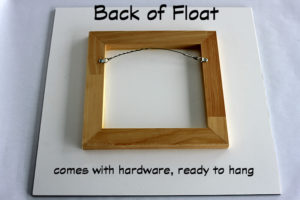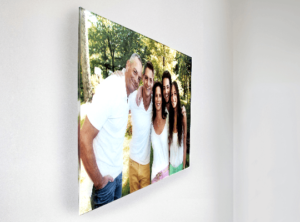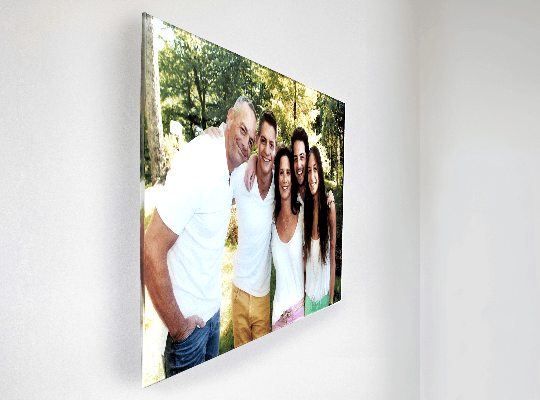 Sintra Adantages with the Acrylic float
Protects the print from careless handling from the back
easiest way of hanging the acrylic
Gives the acrylic more body when choosing a 1/8″ Acrylic panel
Shields the back of the Acrylic so no light goes through
However more costly then having the float directly onto the acrylic
Direct acrylic float
Cost saving as there is no sintra
No extra substrate can be seen at an angle
Stronger capabilities with direct glue on acrylic
Lighter acrylic panel
Both wood and metal work to create the actual float. Both are durable. The main challenge is to find the proper glue that will withhold the weight of the acrylic when hanging on the wall. To be extra cautious its also best to add a very strong tape as insurance. At big acrylic we found that a wood float works better then the metal float.
Will all sizes work with the a Acrylic Float ?
Very large sizes can be done in the Acrylic float. However larger sizes after 30 by 40 " should choose 3/16″ instead of the 1/4 " acrylic. The 1/4 " acrylic offers a thicker look however will be to heavy for the wall it is hung on.  The same can be said about using the 1/8 acrylic float for large acrylic panels. Yes, it might be cost effective however the acrylic can warp if it is to large. Big acrylic advises to use 3/16 " acrylic after 30 by 30 "
The 3/8 acrylic float option is not available as it is to heavy to hang from wall.
Will all sizes work with a Metal Float
Unlike the Acrylic all metal sizes can work with the float option. The light weigh of the Metal panel makes this possible
Please call if you need more info