Large Wall Art: The Design Element That Pulls a Room Together
Trying to figure out how to add some style and personality to your lackluster living space, large wall art can be the answer
There is an easy and effective way to achieve this. Put away the too-small, too-bland wall art that you have on your walls now and replace it with something big, bold, and impressive.
It's time to bring in some large wall art! It's an easy addition that makes an impression and breathes new life into your home.
Continue reading to find out more about big wall art, the interior design element that can tie together the look and feel of your home.
Why Large Wall Art?
Large Acrylic wall can be a great idea enhance a room's aesthetic and infuse it with your own personal style. There are several reasons why large wall art is the perfect functional and stylish touch your room needs.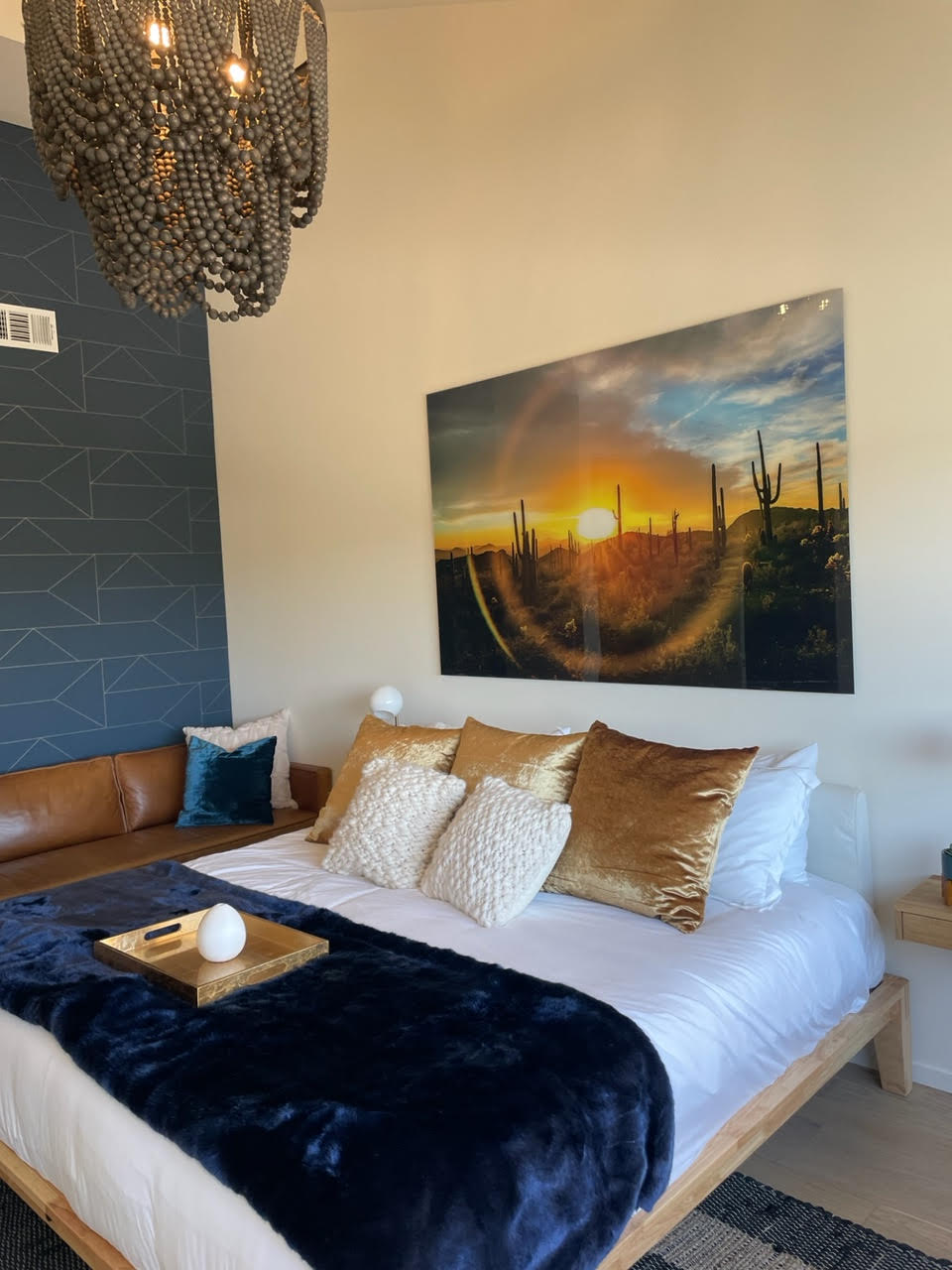 Bigger is Better
One of the biggest interior design mistakes that people make is that they choose wall decor that is much too small for their room or wall size. Unfortunately, even the most beautiful piece of wall art décor be lost on a wall if it's too small.
Follow the basic measuring guidelines, and you'll choose the right art size for every wall, every time.
To place wall decor above a piece of furniture, calculate 2/3 to 3/4 of the width of your furniture. For example, if your couch measures 60 inches long, multiply that by 0.66 and 0.75. Once you have your calculations, you'll know what size of artwork to look for. For this example, the wall art placed above a 5′ couch should measure between 39″ and 45″ wide.
For a blank wall, consider similar dimensions as the art you would place on a wall above furniture, but also keep in mind the orientation. For a narrower wall, choose a vertical orientation; for a wider wall stick to a horizontal piece.
One Small Change, With Big Impact
Can't afford a full renovation and decor change in your room? There is one change you can make for maximum impact—large wall art. It elevates your living space with little effort and cost.
Large wall decor becomes a bold focal point in every room. Simply choose the piece, hang it and sit back in a room that feels stylish, new, and improved.
Convenience
Large wall photos gives you the option of changing it easily and often. Replacing the wall art gives a maximum impact with minimal cost and effort. You can change it according to the seasons, every year, or when the vibe or style in your room needs an update.
Because artwork doesn't take up floor space, large artwork is also ideal for small apartments or living spaces.
Something for Every Room
The choices are limitless when it comes to large wall photography No matter what the style of your room is, there is large wall art that will create a new room vibe, enhance your existing decor, or add a bold focal point. Here are some interior design tips and ways to choose the right art when designing a room.
Bohemian
A bohemian-styled room has a relaxed and carefree vibe that incorporates bold patterns, textures, and eclectic details. When selecting large wall art for a bohemian space, consider an acrylic, canvas, or fabric print that features elements found in nature, globally-inspired patterns, or shiny details in copper, bronze, or gold. Add the artwork to a room filled with rich textiles, macrame, and metallic touches. Or, let the art stand-alone to bring an impressive earthy vibe to your living space.
Go Graffiti
A Graffiti Wall paper Can Make your room feel like a Urban oasis. Perfect for a office, Bedroom and living area. Separate yourself from the pack with an edgy wall vibe that screams streets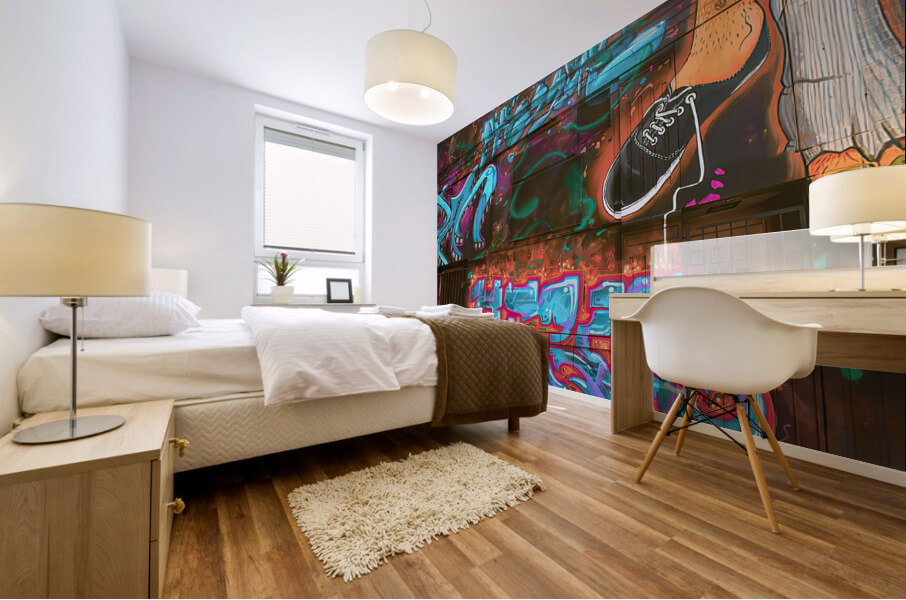 Country Casual
Considering a piece of large canvas wall art to dress up a light, cozy country-style room? For this cozy, charming room aesthetic, consider art in shades of blue, green, yellow, and brown. Choose pieces with a rustic feel, such as prints with florals and feathers, or that feature vintage maps, country landscapes, or animals.
Coastal Chic
If you want to add a light and airy seashore vibe to your living space, choose a large piece of artwork that brings your love of the sea alive. Choose coastal shades like blue, white, beige, and brown but don't be afraid to be bold either! Add some visual interest with pieces inspired by surfers, sea life, sunrises and sunsets, and stunning beach horizons.
Modern
A modern room is one with clean, straight lines with neutral colors and an emphasis on minimalism. They are usually chic, urban spaces, but there are two lines of thought when it comes to large wall pieces in a modern space.
The first is to keep the wall art clean and crisp with similar colors to the rest of the room. A good way is to stick with neutral colors or black and white prints.
The second is to make one singular, bold statement with your large art piece. The piece should still take on a minimalist feel with abstract designs or a single item but with a bright, bold color scheme. An example of this would be a Pop Art print.
Contemporary
A contemporary room is a combination of pared-down neutral colors, with clean lines and classic shapes. A room with a contemporary feel offers a great opportunity to go big and bold with your large wall  statement. Add some flair with a bright acrylic print, large metal wall art, or for a bigger pop, try a backlit print.
Big Wall Art For Every Room
Have a room that is uninspired and lacks style? The solution is to make a bold statement with large wall art! Whether your room is modern, country-chic, or anything in between, big wall art will give your room the pizazz it needs.
At Big Acrylic, we offer both customizable and ready-to-purchase prints in various f