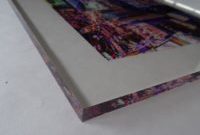 We offer different thickness's of acrylic.    1/8, 3/16, and 1/4 inch can be chosen when creating your acrylic. Over the past few months we have received inquiries about offering thicker acrylic panels to the line of products. The most obvious choice was to offer a 3/8″ acrylic panel.  3/8 " is half way between 1/4 " and 1/2 ". The difference is quite noticeable when you compare the 3/8 " to the 1/4 "
The Pros
Our Smooth Edge treatment will polish and make the sides crystal clear, translucent and smooth. You can decide weather you want a border or have your image bleed all the way to the edge of the acrylic.  The thickness and shine creates a luminescent effect, it really is quite spectacular.
The Cons
The thickness of the acrylic makes it a heavier product. With the other Acrylic  panel thickness's we offer many display and hanging options. The 3/8 Acrylic will only be available with stand-offs. Our standoffs   Although  we feel it would look amazing in the float option the weight makes it problematic.  The standoffs takes a little more time to install but is an elegant sophisticated look.  Most institutions prefer the stand-offs so the Acrylic panel so it cannot be taken off the wall.
The conclusion
We feel that this is a viable option for anyone who wants to " Go Big And Thick". A 24-36 size for example would cost $295.00 plus $16.00 for the stand-offs totalling $311.00 pre discount. A 24-36″ 1/4 " with standoffs cost $273.00. An extra $38.00 may be worth it to you, depending on your budget and look you wish to capture. We will be offering the 3/8 " on-line shortly. If you require pricing or more information on the 3/8 Acrylic or any other product please call or email anytime.