We now have the ability to take our printed canvas and create a glossy, elegant look. The process will transform the canvas into a chic piece of art. We call this remarkable new product: Epoxy Canvas.
Epoxy Canvas allows us to retain the high quality definition you've come to expect from BigAcrylic while infusing a level of durability unmatched within the industry.
Our process starts by using 400gsm canvas and the finest aqueous inks on the market. Each piece of canvas is thoroughly inspected to meet our rigorous standards before it's carefully stretched over a high-quality pre-cut pine wood base. We complete the construction of the foundation with a hard board on the backside of the canvas to ensure even spreading of the acrylic.
Our canvas is then moved to our dust-free clean room where the epoxy is expertly applied. Each product undergoes a technical process of epoxy application to provide a smooth and even finish. The product is next placed in our drying room where it is able to be cured overnight.
The results are stunning. The careful application of quality epoxy adds depth to the image, giving the product a one-of-a-kind aesthetic appeal. The unique production process of Epoxy Canvas gives the image a shiny finish across the front of the image as well as around the sides of the piece. This contributes to making the finished product worthy of being displayed proudly in any setting; whether at home or business and even in posh gallery settings of hotel and other commercial lobbies.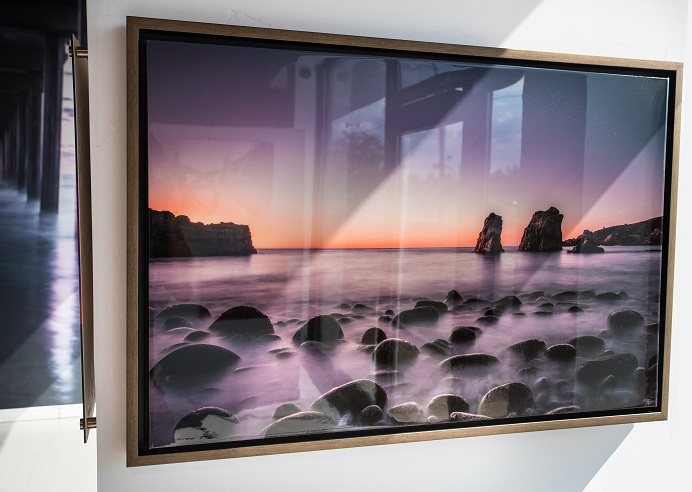 We're proud of the high-definition look of our acrylic products and Epoxy Canvas takes that standard to a whole new level with its "wet" look and precise finish. Along with providing an exquisitely refined and shiny image, the epoxy adds a layer of protection to keep your display 
looking better, longer. Common problems such as yellowing images and uneven plexiglass connection are avoided through this revolutionary and unique process.
 Epoxy Canvas is available on both canvas and metal . The epoxy works to highlight the contours of brushed metal as well as add vibrancy to color contrasts of white metals.
 Epoxy Canvas displays are perfect for professional photographers, artists, and average consumers alike. We're proud of this unique process and look forward to providing our customers with an outstanding solution that rivals sublimation and face-mounting products across the market. As always, our customers' satisfaction is our main goal and we're sure to satisfy with a new product that virtually drips with elegance.