What is a standoff
A standoff system is a way to hang your Acrylic or metal print. The standoffs size may be small, but is intricate with many small part. Four standoffs  come is a box. Holes are drilled into the the four corners of an acrylic that the standoffs go through.  Attach to the wall, and you have a floating piece of art.
There can be a sintra in back of the acrylic to give it protection against careless handling but light will not be able to through the back.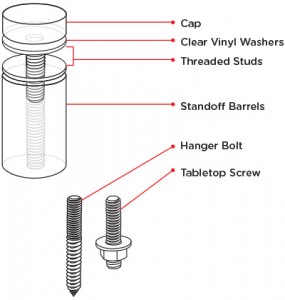 Most Standoffs style Acrylic prints can be found in public settings as they cannot be removed from the wall. This includes :
Hospitals
Hotels
Offices
restaurants
As well, installing them can sometimes be a challenge.
Are all standoffs sets the same ?
The answer is no. The basics maybe the same as shown in the diagram above however there are various details that can be different .  The most visual one is Head size. The head is the surface of the 4 standoff's that people will see. Most are circular and sizes include.
There are also quality construction and cheap construction. If a price is probably to good to be true, run. Below are some things to watch out for:
Hollow barrel
weighing   Less then 30 grams is very light and should not be considered for heavy panels or overall durability
Stand-off-made from plastic
Metal or steel plated Standoff's  offers the best quality for the buck
Below is a quality, brushed aluminium solid barrel 3/4 standoff with a dibond panel
If you choose a stand-off not supplied by your printer make sure He drills the correct size holes in the acrylic panel for hanging.  The most popular hole size for standoff's  are:
If the wrong size hole is made you will need to redo the acrylic panel which will be costly. Most stand-off's float off the wall by 3/4- 1″.  I suggest you stay at that range even though there are greater then and less available. There are many on-line companies that sell stand-off's. If you are unsure call them for more technical info.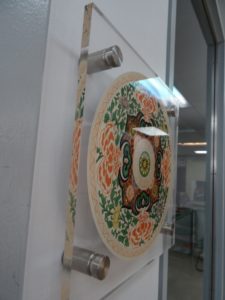 Conclusion
How can something so small be so intricate ? Welcome to the word of Standoff's. I would suggest purchasing the stand-off's that your printer is offering, if they are offering. As long as you follow my guidelines you should be okay. If you purchase standoff's as an alone product, make sure they are aesthetically pleasing, be able to handle the weight of the acrylic and have holes diameter that will match the Acrylic holes.