What is Sintra
Sintra is a Lightweight rigid board of expanded closed- cell polyvinyl chloride extruded in a homogeneous sheet with a low gloss matte finish. Sintra comes in sheets of of 48″ by 96″ and can easily be cut into smaller pieces.  The most popular thickness is 1/8″ and 1/4″
Sintra is offered in array of colors which include red, blue, yellow,red to name a few. The most popular colors are white and black.
A distributor may carry different colors however black and white sintra will always be in stock.
Sintra used as a structural product
Although sintra used as a substrate in flat bed printing it also is a cost effective alternative to dibond when needing to increase product stability.
Dibond is 3 times the cost of sintra and can easily make a project less then cost effective. The sintra is bonded to the acrylic which increases the thickness to 1/4 " and increases rigidity.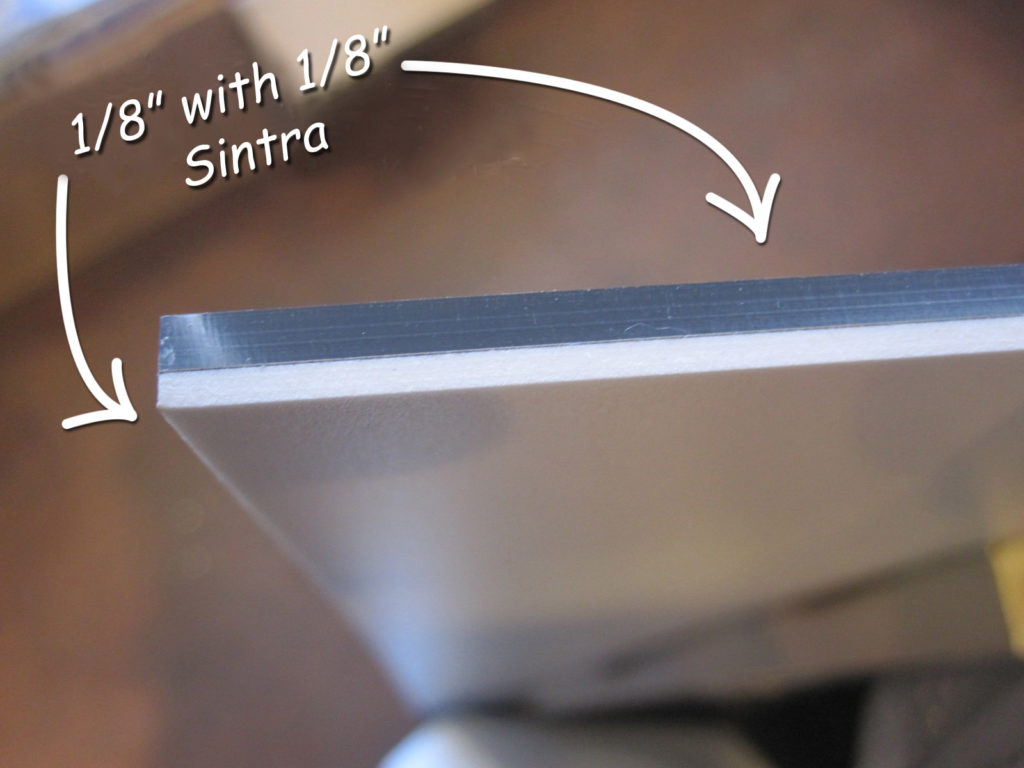 The sintra is cut to the same size as the Acrylic sheet
The acrylic is printed and ready to be glued to the back of the acrylic
A special glue and tape goes on top of the sintra and the Acrylic is gently placed and sealed tightly- A bonded effect occurs
The acrylic is then placed on a table with the sintra side touching the table and left for 2 hours to dry

Example
A photography wishes to have a 30-40″  image printed on 1/8 " Acrylic  but needs a substrate that will offer strength and rigidity.  A 1/8  Dibond panel will cost approximately $130.00 while the Sintra will cost only $40.00.
The photographer:
Came up with a solution to increase the acrylic rigidity
Saved $90.00 or 70% and made his photographs more affordable.
Created a total thickness of 1/4 " and avoided printing on 1/4 " acrylic which would not have needed any extra substrate but would have really increased the cost
Both the sintra and the dibond protected the image from the back against careless handling , dirt and moisture.
Other sintra important features
Heat form able and chemical resistant
Fantastic dent and scratch resistance
Easy to cut
Lightweight yet rigid and durable.
If you plan to print directly onto the sintra. It does not have the same "wow" factor as Acrylic or white or metal dibond but can offer a cost efficient solution when creating indoor sign age.
Signage
Many elevator signs or corporate logo signs are printed on Sintra.  The look is matted and lacks the shininess of Acrylic.  The ability of dye cutting and wood bending the sintra gives  designers alot of creative flexibility.
If you are looking for a material to put outside sintra is not the best choice. Dibond which is comprised of two sheets of aluminium with a solid polyethylene core will withstand the harshest weather conditions which makes it far superior for this application.
The cost of the dibond sign will be three or four more times expensive then sintra but the durability factor is the key. The sintra sign may look good for one or two years but the Dibond will last for decades.