What is Sintra?
Sintra is a lightweight, rigid board of expanded, closed-cell polyvinyl chloride extruded in a homogeneous sheet with a low-gloss, matte finish. Or, to put it simply, it is a sheet of vinyl. It comes in sheets of of 48″ by 96″ and can easily be cut into smaller pieces.  The most popular thickness is 1/8″ and 1/4″.
It is offered in array of colors which include red, blue, yellow, red to name a few. However, the most popular colors are white and black.
A Structural Support
In flat-bed printing, sintra provides a cost-effective alternative to dibond. Essentially, prints need a substrate, or backing, to support the print structurally. Otherwise the print would come out floppy, and prone to breakage. 
Dibond is two sheets of aluminium with a solid polyethylene core. A dibond backing is around three times the cost of a sintra backing, which can make the project less cost-effective. However, a dibond backing does have some benefits, which we will discuss further on. 
Application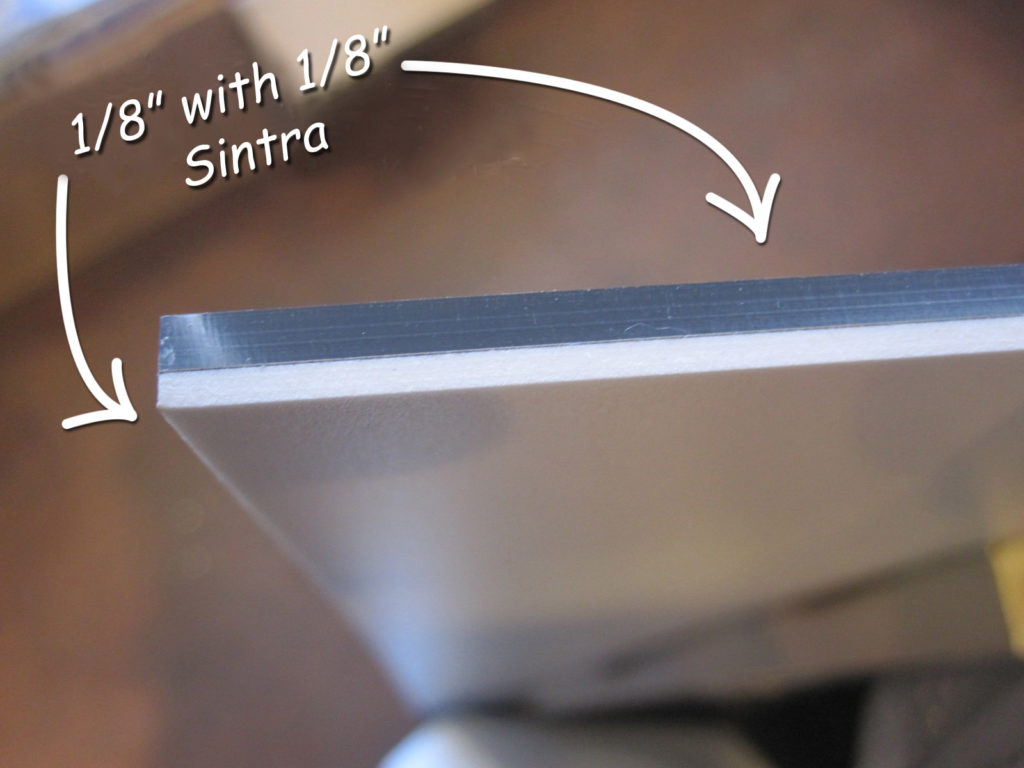 We cut the sintra to the same size as the acrylic sheet
After printing the acrylic image, we are ready to glue the backing to the acrylic
A special glue and tape goes on top of the backing, and we place the acrylic print on top and seal the two pieces together tightly. 
The bonded pieces are then left for 2 hours to dry
Cost Effective
A photographer wishes to have a 30×40″  image printed on 1/8 " Acrylic, but they need a substrate that will offer strength and rigidity.  A 1/8″ thick dibond panel will cost approximately $130.00 while the sintra will cost only $40.00.
By using the sintra backing, the photographer saved $90.00, or around 70% of the cost of manufacturing, which will in turn make his photographs more affordable. And provided his clients with a structurally-sound product that is protected from careless handling and dirt without having to spend a fortune on thicker acrylics or a dibond backing. 
Signage
The versatility of sintra as a product means that you have probably seen it in your daily life. Other characteristics of this material include chemical resistance, dent and scratch resistance. Additionally, it is easy to cut, durable, and lightweight. Thus, many signs, such as logos, elevator signs, or pop-up signs are made out of this material. 
While you can print directly onto sintra, we prefer to use the material as a substrate to provide support for acrylic prints. It also has less of a sheen and more of a matte look. Sintra signs are also not great at withstanding outdoor weather conditions. For an outdoor sign, dibond would look better and last longer. 
Thank you for joining us in our discussion of the many uses of sintra and its comparison to dibond! Please reach out and contact us if you have any more questions!