So you want to add some surfboard art to your home? Well, you've come to the right place! Surfboard art is a great way to add a touch of personality to your space. Whether you're looking for something funky and fun, or something more classic and chic, surfboard art is a great option.
There are tons of different ways to incorporate surfboard art into your home decor. You can hang it on the wall, use it as a coffee table top, or even frame it and use it as artwork. No matter how you choose to style it, surfboard art is sure to make a statement in any space.
Not sure where to start? We've got you covered. Check out our surfboard art guide below for some inspiration. Trust us, you're going to want to add surfboard art to your home after reading this!
What is surfboard art?
Surfboard art is a type of artwork created on, you guessed it, a surfboard. Surfboards are often decorated with bright colors and patterns, which makes them perfect for use as wall decor. Surfboard art is usually made by painting or airbrushing the design onto the surfboard, though some artists also use stencils or decals.
Why use surfboard art as wall decor?
There are plenty of reasons to use surfboard art as wall decor. For one, it's a great way to add some color and personality to your space. Surfboard art is also unique and eye-catching, so it's sure to make a statement in any room. Plus, it's a great conversation starter – who wouldn't want to ask about that cool surfboard hanging on your wall?
If you're looking for something different and fun to use as wall decor, surfboard art is definitely worth considering. It's an easy way to add some personality to your space, and you're sure to get compliments from all your guests. So why not give it a try? You might just fall in love with it!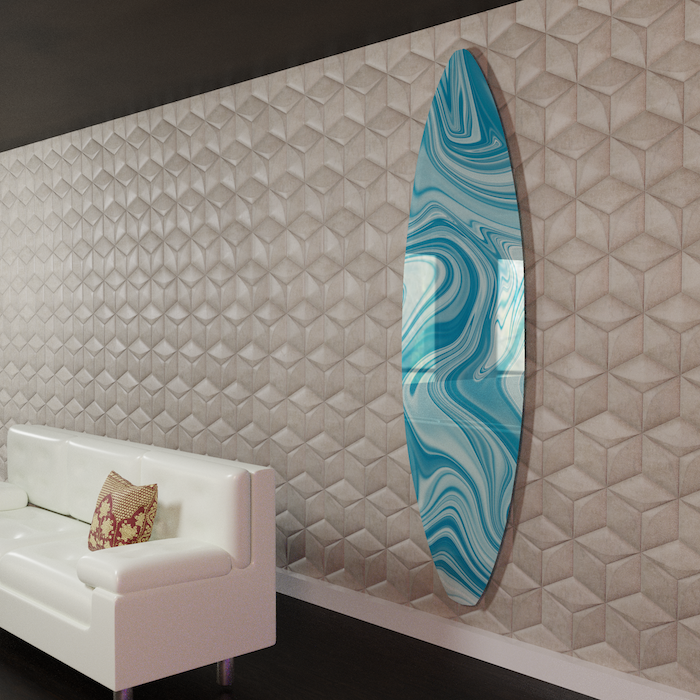 What is Surfboard art printed on
We print our Art directly onto Acrylic via a flatbed printer. The image is printed in the back of the 1/8 thick acrylic and comes through the front. Images pop on Acrylic. The colors are vivid and offer amazing color saturation. unlike canvas, Acrylic prints have a sheen to them that will add it factor to your walls.
What styles do you offer
We offer many different styles including Abstract, Geometric, Landscape, and Seascape, to name a few. Check out our vast selection online
what room will it go in
The board will look amazing in any den, bedroom, or living room. Make sure when you make your choice the colors match the room it will go in. Also, make sure you determine the proper size of the surfboard and that it fits well within that space .
SIZES
We offer sizes 36-10 " 60-17 " and 84-24 "
However, we can also to sizes up to 60-95 inches if you need something on a grand scale
Can I create My size and image
You may not see a size that matches your wall space. We can create a custom size that meets your needs. The same goes for images. If you don't see something you like send us an image you want to use, and we can send you what it would look like on the surfboard. The largest size available is up to 60-96 "
Can I place my surfboard panel outside?
Unfortunately, Acrylic prints are not weather-friendly so we do not recommend hanging them outside. However, you can create a metal print and hang it outside.
How do I hang surfboard art
We offer 2 kinds of display options. The first is no display at all. Just sit your Board on the floor or lean again a wall. The second and most popular is the float-off-the-wall option. We print the back of the image black then glue a block in the back that comes off the wall by 1 ". Most people love this option as your artwork seems suspended by itself off the wall. The hardware needed to hang on the wall is included with your panel.
How to clean the panel
Just use a duster. If you need to use water make sure it is distilled water as regular water will leave mineral spots. You can also try Windex. Never use any abrasive
Is the Panel scratch proof
The top UV layer is scratch resistant however it can scratch if mishandled or dropped. Do not touch with keys or any other sharp object
How Long does it take to Recieve
It takes 6-7 working days to produce your Acrylic surfboard and an additional 3-5 for shipping.
What happens if i receive a broken board
If you received a Broken panel all you need to do is send a photo of the breakage and we will redo it at no cost.
Now you can capture that surfing vibe without even getting wet! surboard art is the perfect way to show your love of the sport, even if you're landlocked. These creative pieces are also fantastic wall decor, adding a touch of personality to any room.
If you're looking for a unique and eye-catching piece of art, surboard art is definitely worth the investment.