The Challenge
We received a call a few months ago about from a customer who wanted to create acrylic wall  prints using photos he had taken of a collection of flowers he had. His vision was to create 160 images from flowers to create a mosaic design on his stairway wall.
He determined that he needed 160 6-8 " acrylic wall prints to cover the entire wall. Like most consumers he did not have photo shop and wanted me to help him size all the photos.  Because 6 by 8 was not a standard size each individual photo would need to be cropped without losing the beauty of the image. We also had to create give him different taping solutions for his images.  Sounds easy but we needed to test various tapes to make sure the image would stay on the wall.
The whole process of sizing the images took around 10 hours to complete with the end result being that each image was uniform. We also went added some colour to make each image more vibrant.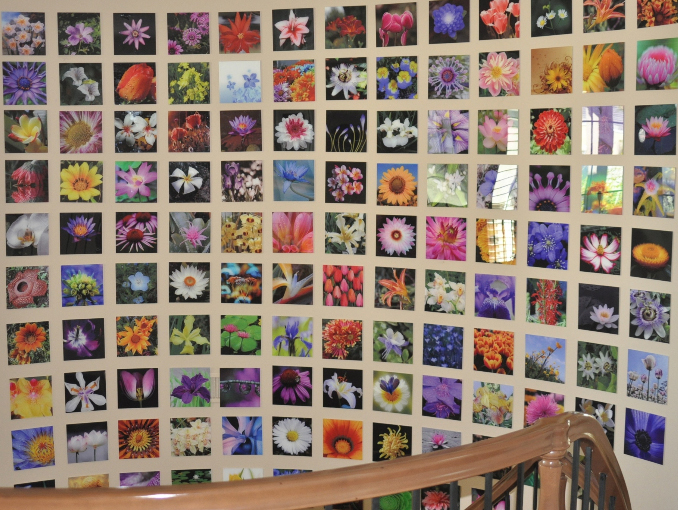 We informed the customer that any taping solution may damage the existing paint if he ever chose to take off his acrylic wall prints. He had no issue with that and understood creating outstanding wall art had its drawbacks.
We printed each print on 1/8 acrylic and stuck the two sided tape to make it user friendly when the customer received it. All he would need to do was peel the tape and stick the Acrylic wall prints onto the wall.
The customer received the order in 3 weeks. He was blown away by the work and was excited to start the task of putting each panel up. We advised him a professional would be best to make sure each panel would be aligned properly.
We received photos of the mosaic once it was completed and the customer was ecstatic with the final results. He has since ordered another 30 tiles to cover even more wall space
If you need advice about creating Acrylic Wall prints call or email us.