When working on a office project that wants to create  acrylic photo prints from photos or metal prints – We use certain guidelines to make the process as transparent as we can. We confirm that :
The customer has file sizes that are large enough to create acrylics photo prints or metals
The pros and cons to each hanging and display option
The services we offer including cropping or increasing D.P.I size with software we have.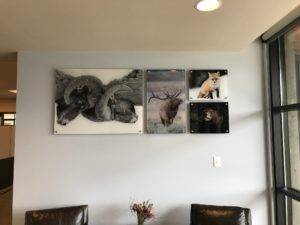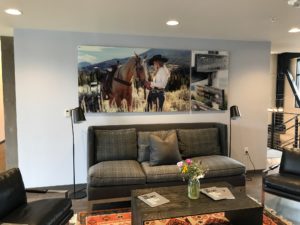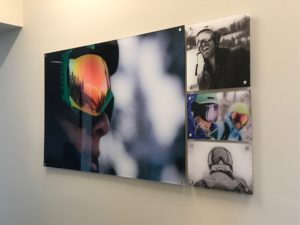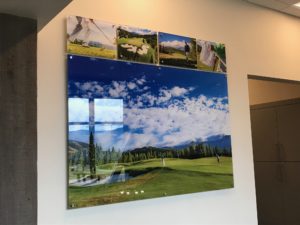 We rarely discuss price at this  juncture.  The   customer sends  images for us to review. If there are many images its can take take some time to review-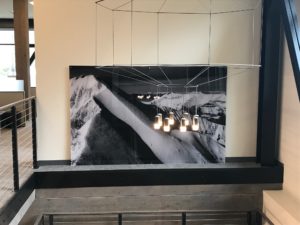 After reviewing we confirm to the customer weather there images are good enough for large metal prints or large acrylic prints.
If there are images that need to have d.p.i added to them we wait until we agree on a price.
Lone Mountain land Company located in Montana is a developer of resorts in Big Sky Montana and thought north America. Lone Mountain contacted us as they were in need of some large acrylics or Metals for there walls.
Large acrylics were chosen as it was utmost of importance for the acrylics to shine and really give the walls a slick look.  That was the easy part.  Jen wanted the float off the wall option for her  Acrylic photo prints. The largest panel she was planning on doing was 94 by 62 inches. Even with the best french cleat there was no guarantee that the panel could fall off the wall because of its shear size and weight.  The float off the wall option was eliminated from the conversation.
There were also size different sizes that needed to be done exactly to create each collage of acrylics on her wall space. This meant measuring each photos in photo shop making sure each photo would line up perfectly.
Since this was an upscale establishment no expense was spared on the Acrylic.  Jen wanted the thickest acrylic panel we offer. The 3/8 inch acrylic offers both thickness and a modern look with its optical shine from all sides.  Once hung the stainless steel standoffs would add to the glitzy look..
The order was finally put into production 7 days after we first received the photos. We had sized them and made sure all of them had the correct d.p.i for best outcome and triple checked the actual size of each order.
Like with all large orders we built a crate and the order we on the way.