Aluminium prints guide: Things to know
Whats the largest  aluminium  prints you can do ?
The largest print size available is 48- 96 inches
Whats the difference between Acrylic Prints and Aluminium prints ?
Acrylic prints are more shiny and reflective. Brushed aluminium prints are more of a matted look. White Metal prints are more glossy.
Can Metal prints be put outside ?
Unlike Acrylics, aluminium prints can withstand both harsh winter and summer environments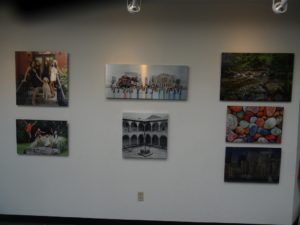 How thick are Metal panels ?
Metal panels are 3/16 inch thick
Are Metal panels printed in back like Acrylic 
We digitally print on the front of the Metal. Acrylics are printed in Back of the acrylic
Can the image scratch off easily since its printed on the front ?
No, the material is made so that the digital ink saturates deep into the metal ?
Whats the difference between white and brushed aluminium prints
Brush metal prints are more of a matted look. There is a brushed pattern that makes up the surface.  Leave areas of your photo white and the brushed design will add an extra chic factor to the print. White metal has no brushed pattern and offers amazing colour contrast.
Is there a way to make both metal more glossy ?
We can add a liquid varnish that creates more vibrancy to both
Can you produce metal shaped prints ?
Yes.
Whats the difference between digital printing and sublimation printing on metal
Sublimation is a process where the ink is transfused directly into the metal. In digitally printing the Ink is digitally printed on the Metal panel
Are there different thickness of Metal offered in digital prints
Metal prints are digitally printed on Dibond- which is 3/16 inch thick
Can custom is metal prints be done ?
Yes
What d.p.i is needed when you produce Metal prints
When we print on white metal 150-300 dpi is recommended . Brushed aluminum  has the ability to hide inefficiency in your photo so you can get away with lower resolution. In both cases we have software what can increase d.p.i.
How can i clean the prints
Both white and brushed metal can we cleaned with any non abrasive liquid soap.