Beautiful
Large Metal Prints

for your office, or home. Look no further!

Large Metal Prints are our specialty!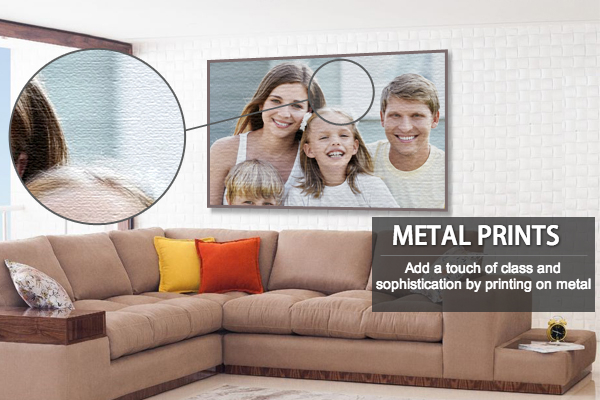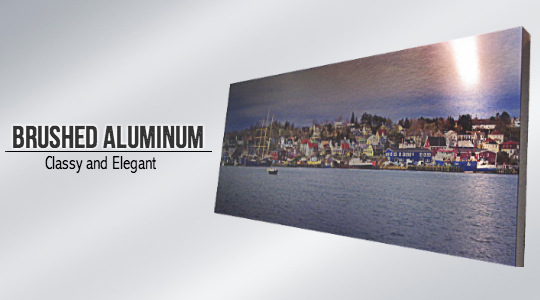 Get those perfect metal prints you are looking for!


Call Now 1(877) 234-4466
Order Options
Step 1 choose your dimension
---
---
Printed directly on to Metal (not peeled)
Free photo editing services
100% Satisfaction Guaranteed
Even help you find a stock photo
Product Info
Metal Prints on Aluminum
Photographs printed on Aluminium offers a contemporary look and feel. Unlike the shininess our Acrylic prints offer, Metal photo prints exhibit a matted look. Leave areas in your photo white and see the contours of the brushed aluminum, very chic. This style suits both the professional, corporate and amateur markets. We are excited to create metal wall de core from your photos.
If you want a modern, medium to print on then photographs printed on Aluminium photo offers a real look of sophistication and elegance. We offer 2 choices of Metal prints. Both will create real objects of beauty.
The first is a rich brushed metal. An aluminium panel with brushed contours. Leave areas of your photo clear or white and the brushed pattern stays in its organic form . Brushed metal can be seen through colors as well.
Our new white metal prints are for those who don't want the brushed effect and who want the color white to be part of the photo. Colors pop on the white metal and unlike acrylic there is no shine.
You can also choose to have a liquid varnish application that will make both the White and Brushed metal look glossy. Gloss available in all sizes. You can read more about the glossy metal prints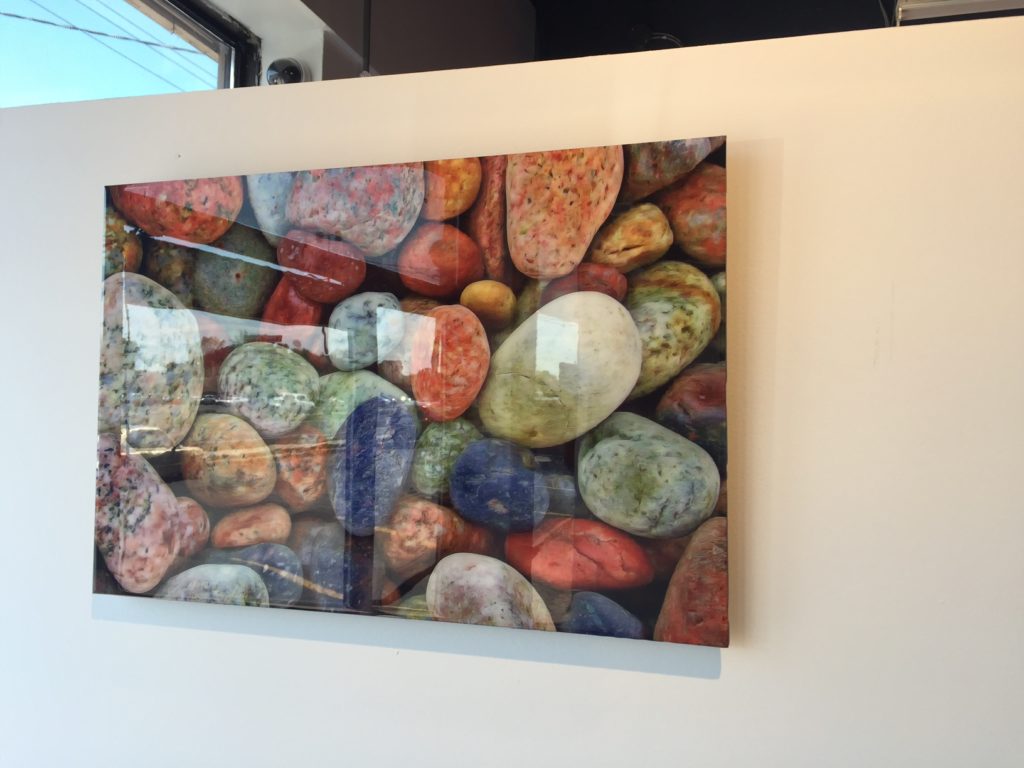 White metal with gloss varnish
Brushed metal with gloss varnish
---
Materials
Our Metal panels are printed on Dibond. Dibond is constructed by polyethylene in the middle with aluminum panels on the outside. The end result is a rigid 3/16th substrate that is durable and transforms digital photos. Unlike acrylic prints you can display metal prints outside in the harshest weather conditions.
We offer 5 different display and hanging options for look and price points. Try our proprietary Metal box style and have the ability to wrap the image around the sides much like a painting. Metal prints can be as large as 48-96". We can also do special shapes as well.
Options
We offer a number of customization, hanging and display options with each of our products.
---
White Metal or Brushed Aluminum
White Metal is a new offering at Big Acrylic. The colors really pop off the panel and offer an enhanced contrast ratio.
---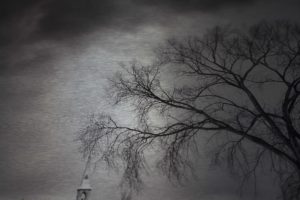 Brushed Aluminium
Brushed Aluminum has a brushed pattern. Areas of your photos left white will show as brushed. Other colours will show with a brushed undertone. A matted look.

---
Flat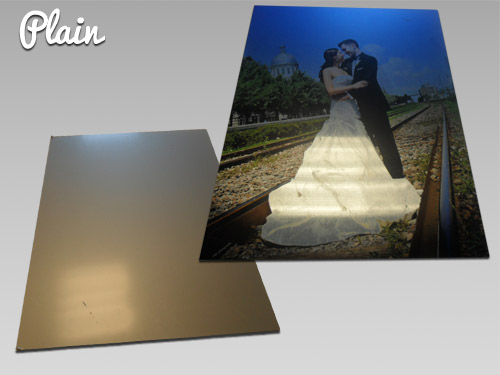 Our Metal Prints come as a thin single panel. This is the best option if you're not sure how to hang the product, OR if you want to lean it against the wall or off a cabinet or on an isle.
---
Mount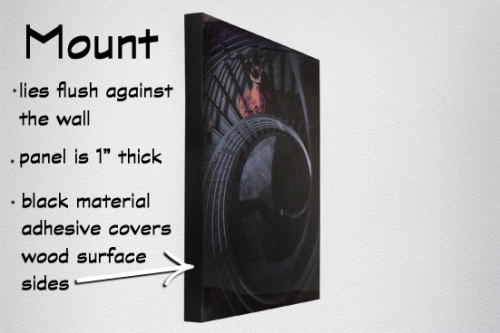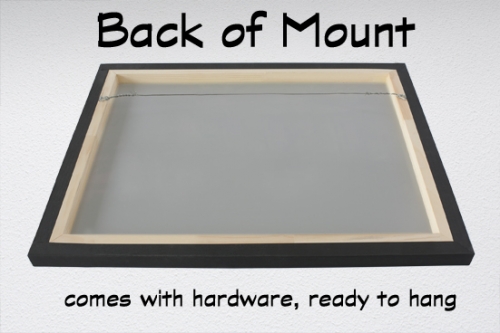 The metal mount option includes a wooden frame with black adhesive around the sides hiding the wood and space between the metal and the wood. The adhesive can only be seen from the sides and not straight on. Just take out of the box and hang up.
Mounts are available in 1″ and 2″
---
Float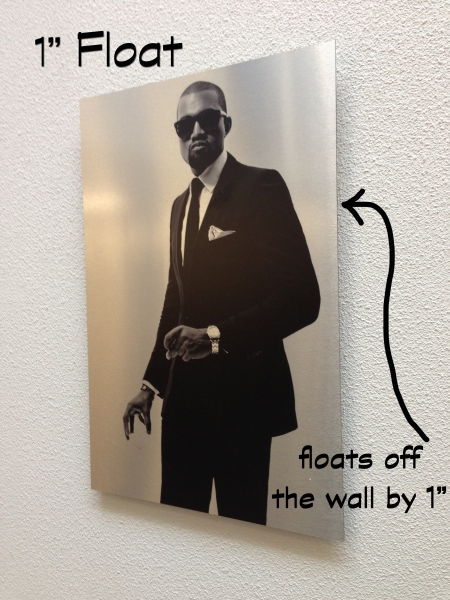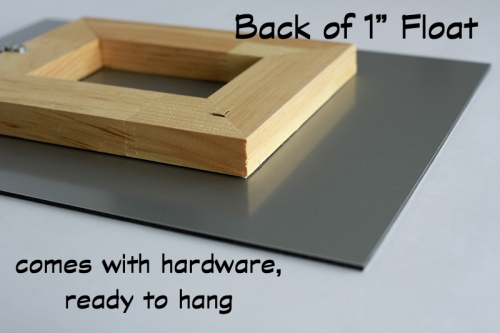 The float option is consists of a 1" wooden black glued to the middle metal. Once hung the Metal panel will float off the wall 1". A very popular display option. Just take out of the box and hang up.
---
Wrap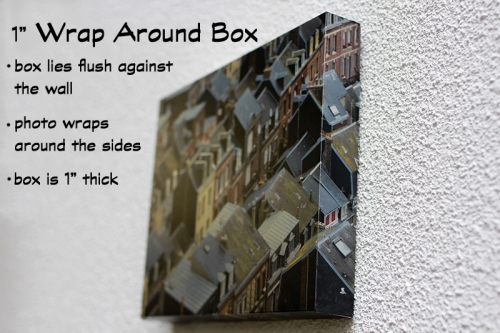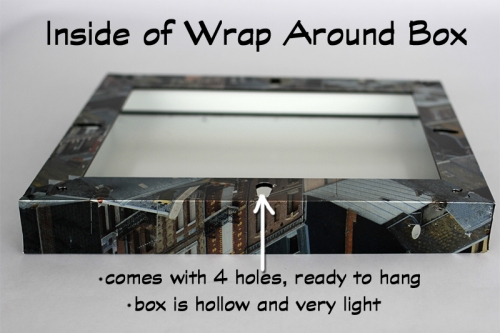 Our proprietary display option. The image is printed on a hollow metal box. The folded sides of the box can be printed or left plain. Product is light and rigid. Just take out of the box and hang up
---
Standoff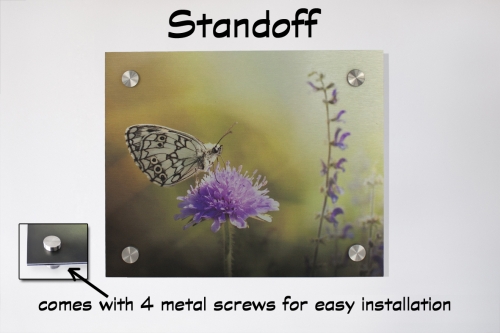 The most labour intensive of all display options. The standoff style comes with four brushed aluminum screws and holes in the metal panel. If you are not good with installations best to get someone who is as there is some work to install properly.
Samples
Professional Testimonials

I create abstract digital art on Acrylic. Acrylic is luminous and the colors really pop. Big Acrylic produces all my acrylics for shows and for galleries I exhibit at. I often need things done in a rush and they have produced acrylics in a few days and got me out of some jams. Always eager to help, I appreciate Big Acrylics service and dependability.

A veterinarian by trade is was only natural that i followed my passion by becoming a wild life Photographer. My travels have taken me too many countries in Africa capturing breathtaking photos of Zebras, Lions, and elephants. We used to print our photos on canvas but switched to acrylic for a more vibrant look and feel. Mark and his team have been producing acrylics for us for 2 years now and we are extremely happy.

We started doing business with BIG Acrylic a few years back. Digital art studio is located in Atlanta Ga and primarily offers fine art giclee printmaking and custom framing. Big Acrylic contacted me through Linkedin offering me their services. It was a natural extension of our business so we decided to include printing on Acrylic and Metal. The quality of their product is superb and always evolving. Service is second to none. Mark, the owner returns emails and phone calls within minutes even on the weekends. Our customers have been thrilled with their products.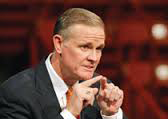 We have a 6,000 sq foot dental office in Texas that needed some wall décor. Since my practice deals with kids and young adults and the fact that I'm a sports fan I decided to have different sports themes on acrylic hang on my wall. Mark and his people increased the file size of some photos as well as made sure the measurements were correct. It took 3 months to finish the project but the 40 acrylics were beyond expectation. Contact me if u need more info. Jim Bowden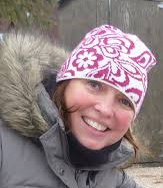 I have printed with (name) both in metal and acrylic numerous times for galleries I was exhibiting at. The service, quality and price enable me to sell my photographs to a global audience. Big acrylic headed by By Mark assisted me is choosing the medium for each piece. Their advice is priceless.
FAQ