As most of you know, one of our most popular products involves printing Photos on Metal. The brushed aluminium surface is more forgiving as it improves the quality of photos that are less than perfect. The brushed aluminium is matted which helps us create higher resolution images when consumers provide lower resolution files. Which brings me to my story:
The scenario
Not too long ago, a family friend who is in the entertainment industry, dropped off 30 photos that she wanted to be made into a large piece of art for her wall.  She gave me the freedom to choose whatever medium I thought would work best and create something truly amazing.  She was more than willing to have her photos on metal as the surface but was leaning toward acrylic prints.
Several of her famous potential clients visit her office and she wanted to showcase those with whom she's worked in the past.
  From Material to hanging and display options, we always want to customize every order for each customer. Our first step was scanning each photo to create a digital file we could use for the printing. The black and white photos were far from perfect including messages written on each picture from each person in the image. I felt the ideal means for reprinting the images was our pristine photos on metal style.  After we scanned the images we created equal space between each photo and sized them to create the art piece she wanted for her wall. She was looking for a large piece so we created a 54"x45" metal print in the float style. There were some challenges in making the wording in each photo proportional and to maintain the overall look while transforming her photos on metal into a real show piece.  The client also needed the personal message under every photo clear and legible. It took us a few tries but finally found a font in Photoshop that would correct some of the messy writing.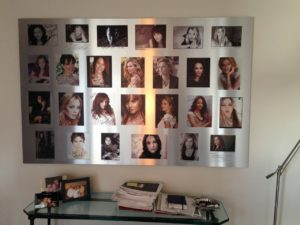 The result of our diligent work produced metal prints that live up to our usually high standards of quality. The photo on metal designs turned out great, the resolution was significantly and beautifully enhanced, and the client was thoroughly satisfied with our production. This is just one example of the ways in which we can take average-looking images and use them to create stunning works of art for a variety of showcase purposes. We can do the same and more for any project you have, all while delivering the finished product on time and offering the very best in customer service.