Like with all of our products we like to think our Acrylic table top is novel and a great product and an example of thinking outside the box.
We offer an array of display options for our Acrylics. Some are the same as other companies but a few are proprietary. We fill it is important to stand out and be a little different.Our latest product is our Acrylic table top. The Acrylic table top was developed to sit on a table or counter. Going larger was something we wanted to offer. Sizes available are
7×5
8×10
10×12
12×12
12×16
14×18
16×20
20×20
We print on a luminescent 3/16 acrylic panel. The colors splash off the Acrylic. We then created a  8 " base for the small sizes and a 14″ base for our Acrylic table top.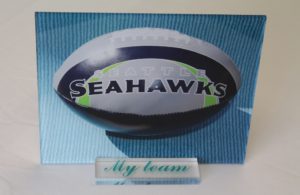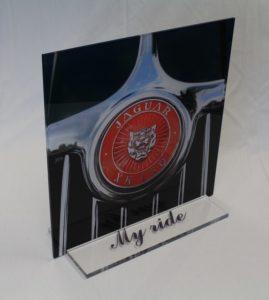 We went one step further with our Acrylic table top by being able to customize the base itself.  Since the base itself is 1/2 inch thick the writing comes thru the sides of the slab of the acrylic. A very cool stylish look.
The customization features is great for an artist showing their work or even as a promotional item displaying the company logo and emblem . The Acrylic table top can be used for branding as well for corporations at trade shows or even within an office itself..
Why not issue a  top as part of a loyalty program ? A special gift to  a loved one . Both of you on the acrylic with a special custom note on the acrylic base saying " I love you "
The sizes offered are also unique.  A 20-20 " piece would look amazing on a wall ledge or a stand alone piece if the foyer .
We can create any custom table top you are  looking for. For those looking to go large our Acrylic table top is for you