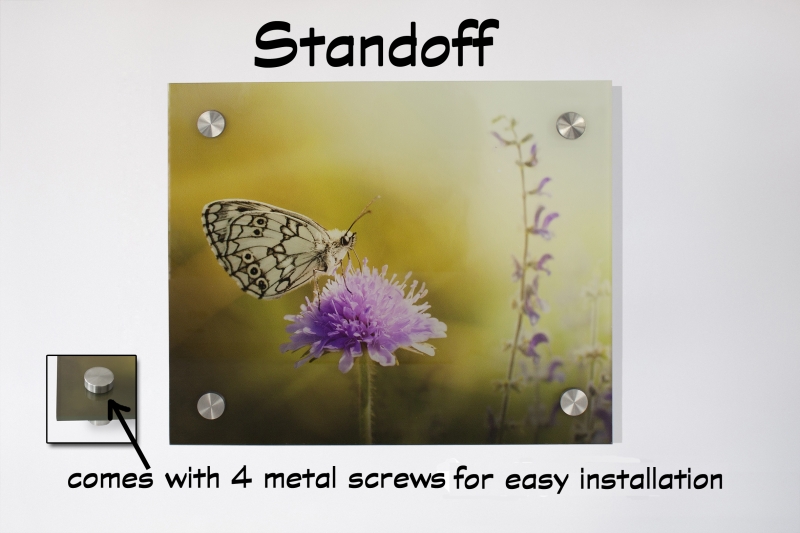 At bigacrylic.com we specialize in acrylic prints, large or small.
Custom acrylic prints is what we do! We're not one of those 'all in one' giant art retailers. Our customers are our life-line and we understand that very well. That's why we'll do everything we can to ensure you are 100% satisfied with your print(s).
See below for some great reasons to consider acrylic prints!
Get your custom photo glass prints at bigacrylic.com!
Most institutions seem to choose acrylic prints with standoffs for many reasons
There is not chance for your acrylic prints to be stolen
Some people feel the bolts are a classy look
3/8 acrylic would be to heavy for the float option.
No chance of them ever breaking off from the wall
The acrylic prints with standoffs are not the most popular display option at Big Acrylic. For one, they needs to be properly attached to the wall. Exact measurement here is vital. If not done correctly the first time you will be left with visible holes in your drywall.
From experience most customers just want to receive their acrylic and hang it up without any fuss. Most acrylic prints we sell have the float off the wall option. The acrylic prints with standoffs really needs to be installed by someone who is handy and knows what they are doing.
The standoff option was really the only display option when acrylic prints was in its infancy. From there a few more option became more popular.
Our client, a car dealership in Miami was concerned about the large acrylics being to heavy for their wall. We tried to explain that the 1/8 would be fine for the weight issue however the images would warp. The 3/16 acrylic was the next sized after the 1/8.
A 80-45" 3/16 acrylic weighs 40 lbs. We were confident that the dealership would not have hanging issues with the float off the wall option but he felt more comfortable with the acrylic with the standoff option. His main concern, was some of these would be hung high on the wall in the showroom and did not want to take the chance of one falling. We assured him this would not happen with the float off the wall option display but he chose the 1" standoff style.
Another downfall with the standoff system is that the holes for the standoffs interferes with the actual image. Some customers like this look while other do not. A way around it is to have a 1 or 2 " clear border so that the image not interfered with. With a clear border however the wall in back will show through.
Depending on taste Acrylic prints with standoffs can work for the home, business or institution. The only draw back is the installation.