Many of our customers were inquiring about purchasing big acrylic print at a low cost while still maintaining an elegant look.
Our base model acrylic print comes on a frame with black adhesive sides.  A great value but not the fanciest of display features. We wanted to create another base model that matched the modern feel and look that an big acrylic print should have
Our New pine surface is modern and offers anybody choosing  the  base model an attractive, cost effective piece of wall art. By using organic pine as a substrate the big acrylic print  takes on a contemporary feel.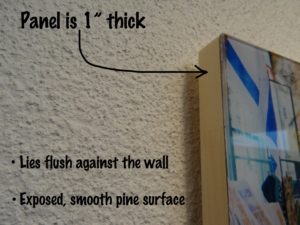 My removing the adhesive you will be able to see the acrylic lying on top of the wood panel. We all seem to feel this is a viable alternative to the black adhesive and is more ascetically pleasing for the basic acrylic print mount
Another reason we are offering this is that many people Love the cost of the basic mount option- But are turned off by the black adhesive that covers the acrylic over the wood. There is a slim chance as well that the acrylic could peel a little.
Again what is great about this style is the cost factor
Big Acrylic prints  cost as much as 500-600 elsewhere can be up to 30-40 % less
BIG ACRYLIC                40-40 "                $325.00
POSTER JACK             40-40″                 $475.00
BUMBLEJAX                30-40 "                   $550.00
Being able to mount the acrylic on the wood panel offers structural integrity. We print the back of the acrylic black instead of our standard  white opaque so you don't see the stretcher bars through the acrylic print.
This style works for the home, office and institution and is priced right for those on a tight budget but still what to own a great piece of Acrylic Art
We encourage you to call if you need more information on Big acrylic prints in this or any other option