In this week's blog post, we are going to do a deep dive into our backlit wall art. It is one of the most mesmerizing and creative mediums, and we often get a lot of questions about it. Keep on reading to get some answers!
We offer a few different backlit wall art options. But, before we get started, it's important to note that all of our options require an electrical outlet to work. These will not work with batteries. Currently, there are no batteries that are small enough and powerful enough to make our lighting system work for a long time. With that being said, it is best to hide any wire or cords behind the wall that the frame hangs on. This way, you won't see the cord or wiring showing. Sort of like a wall-mounted TV. For help with any electrical needs, it is best to hire an electrician.
Backlit Wall Art Mediums
There are two mediums available with a backlit frame: acrylic and fabric. Each has their own unique look, but both are contemporary, chic ways of displaying your image. Acrylic tends to be more expensive, but the end results is a shiny, bright backlit display. Fabric, since it is collapsable, is a great investment for business displays or pop-ups. Both mediums
Acrylic Backlit Wall Art
The first option is acrylic. We double-print on the acrylic to make the colors deeper, so that when a light comes through, they are not washed out. After printing, we affix a frame with a light box to the acrylic. Our range of LED light box displays look great in retail, corporate, or any commercial space. There are two thicknesses and light types, which are further discussed below.
Acrylic backlit prints have a 1.5″ frame around the image. This border covers the light from being exposed out the sides. The frame may impede the visibility of the image with this margin. On the fabric prints, this border is eliminated.
Acrylic backlit styles need to be shipped assembled, which can affect the cost of shipping. Sizes larger than 50×40″ may also need a crate to protect the product. Because of the production method of acrylic backlit prints, the image is not interchangeable like it is for a fabric print. However, the image is a little more crisp than a fabric print. And, with the lighting behind the image, the colors pop a little more brightly.
Fabric Backlit Wall Art
Fabric backlit wall art doesn't use the same double-printing method as the acrylic. Instead, inks are sublimated, or turned to gas, then heat transferred onto the fabric. This method of printing produces extremely vibrant, and accurate colors. Unlike the acrylic, fabric backlit prints are matte finished. There's no glare or sheen, but the fabric explodes with color. The lights in the back further enhance the color contrast. We use wrinkle-free and durable fabric for printing.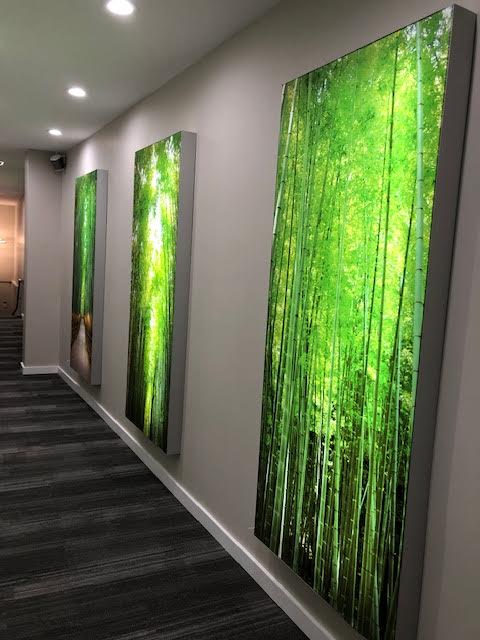 The best part of a fabric backlit piece is that it is interchangeable and cost-efficient. The image comes printed on fabric, which has a groove-and-lock system with the frame. This means that you can easily remove the fabric image, and replace it with something else. Furthermore, the frame can come disassembled, which means you can save a lot of money on shipping. We include instructions to make building the frame even easier.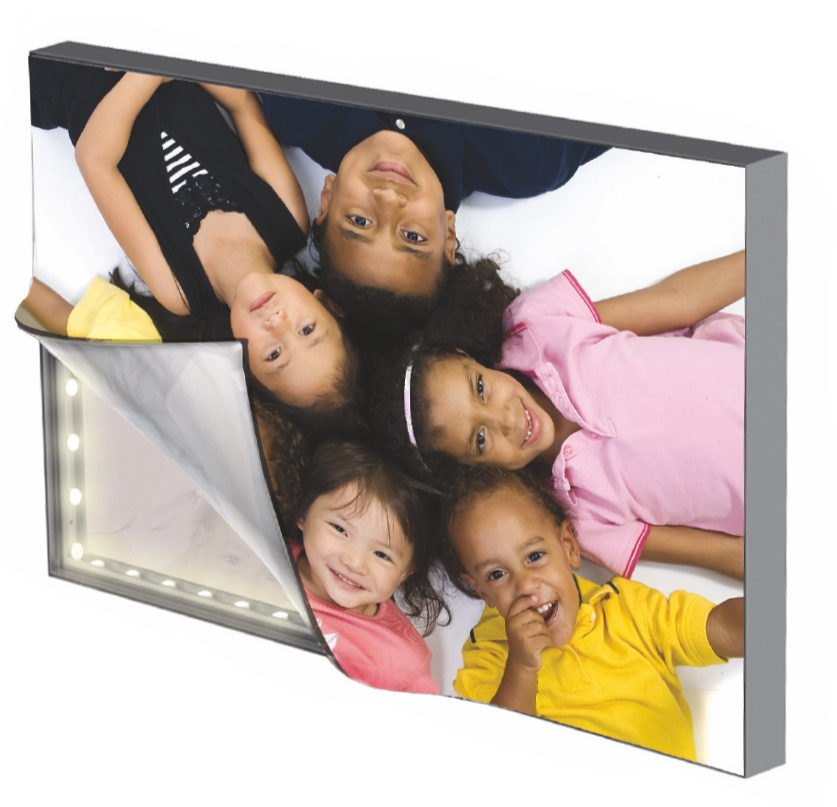 The ability to intermittently change the image makes a piece of fabric backlit wall art well worth the investment for advertising, showcasing pieces, or seasonal displays.
Light Styles
Shutter-Light Style
The shutter-light style is a single-sided backlit display with a built in shutter light. This light in the back creates uniform light diffusion throughout the frame, regardless of the size of the print. The end results is a super bright image from edge to edge, with no hot spots.
In this style, the light is located on the back of the frame. Though more costly because of this placement, the style is well worth the 'wow-factor' involved.
High-output LED
This style is also single-sided. Instead of the light being located in the back, the light is on the side of the frame. It also has a uniform light diffusion, with no hot spots. This style requires a thicker frame, so it is only available with a 4-inch deep frame.
Frame Colors and Styles
We use powder-coating on all of our frames. This method of color application uses a free-flowing powder that adheres to the object's surface. Then, it is cured under heart to produce an even coat and a smooth finish. This method allows for a wider range of colored finishes that are more durable, and longer-lasting than regular paint. Also, the color of the frame will be more accurate and even, and there are a wider selection of colors.
Most of our backlit displays are done with a 4″ thick frame. We can produce a thinner frame, but this will cost more as only the shutter-light style will work with a thinner frame. Most of our customers prefer a 4″ frame.
Dimmer Function
What I personally love the dimmer function available on both the acrylic and fabric mediums. We install a dimming mechanism within the lighting system, which enables you to control the brightness of both mediums with a remote control. It's amazing how an image changes perspective with different variations of light. The dimming remote will surely leave you speechless.
What Images Work Best for Backlit Wall Art?
In my humble opinion, a light source from behind enhances any image. Colors become more vibrant and attention-grabbing. Backlit wall art started out as an extremely popular display choice to display messages in commercial spaces. However, the display option is gaining traction in residential and gallery spaces as a way of displaying photos and artworks.
For decor purposes, you may choose to use a professionally shot image. We highly recommend using Shutterstock to find an image. There are over 1,000,000 images to choose from, and hundreds of subjects and styles. From abstract art, digital art, natural landscapes, architecture, and black and white photos, you will be able to find any image to create stunning backlit wall art. We can consult your images to determine size and quality.
We understand that this is a big ticket purchase, so we want to help you create the product of your dreams. If you have any questions, or just want to chat more about the technical aspects of backlit wall art, please call us, or contact us to discuss!