The new craze I've been seeing online is playlist cover art. Customers send an image, a song title and artist. Then, someone prints all three on acrylic, glass, or another medium. I started searching to see who sells these products, and I found that Etsy has a variety of playlist cover art at a reasonable price. So, I started thinking…I wonder if Big Acrylic could do the same?
These types of prints are fun and unique. Spotify is one of the most popular music listening services, and has a clean, iconic look. The product combines photos with music, which is a very fun way to display these great memories. Plus, the product speaks to a younger generation that is looking for prints, art, and decor that captures their identity. Playlist cover art really creates a beautiful harmony between the photo and the songs that inspired it.
Playlist Cover Art is the Game
After spending time researching this product, I started to receive phone calls and emails from others who were thinking the same thing. All wanted to start a website, and some were very bullish on the concept. Furthermore, it seemed like many companies on Etsy sell by hand and are not geared for volume.
The Players
Companies that called me wanted me to pay them $14.00 per panel. As long as they sent the images, and there was volume, we thought we could meet that price. The first customer said he could easily do 50 per day. However, the files he sent along meant that we had to put every image into the template, which would have taken myself and my staff too much time. We turned down this deal as it was not cost-efficient.
The next company was a start-up located in Albania. We met on Zoom to discuss the business potential. He explained he was creating a Shopify website for playlist cover art. Like the previous potential business, he wanted to pay $14.00, but his volume was much smaller: around 10-20 images. At his price, we needed volume to make the logistics of shipping the prints worthwhile. 10-20 simply wouldn't do. We needed something closer to 50-60. Obviously, we could not accept this business deal.
The Final Player
The final company we dealt with spoke a big game. He said he was good for the 50-60 pieces. And he would place 3-5 orders per week. His current supplier couldn't keep up with the demand. I was skeptical, and did some research. He had 19,000 followers on Instagram, but only 11 posts. Additionally, his Facebook page only had a limited amount of posts and engagement. Call me a suck, but we still did two free custom playlist cover art samples and sent them. I was eager to see if this business was viable, so I followed up. I asked whether he liked the samples.
When we spoke, he mentioned that he received them, but had not opened the package. He was more concerned about saving the money on credit card processing charges that he was going to incur. I mentioned other companies asked us about the same idea, and he expressed his enthusiasm and commitment to the deal. We were all ready to go, and we have yet to hear another word.
What do I mean by 'logistics?'
Each one of these orders would have a different photo and caption, and would require a member of our team to get set up. It would then need to be printed, packaged in an envelope addressed to the customer, and shipped out. The process requires organization and efficiency. 20 pieces at $13.00 a piece would not be enough to make it worth the set up. 50-60 per order makes the set up more palatable.
At Big Acrylic, we already have our logistics figured out in a smooth system. Sure, there are blips sometimes. But, overall, we have a well-established workflow in our production and distribution. So we thought…
Let's Do It Ourselves
We understand the product. And we understand the logistics and distribution of it. In our past, we produced some very sophisticated projects, which came off without a hitch. So, why not create the product ourselves? As a low-cost producer, and with our distribution chains already established, we would have the flexibility and margins to make the product a success.
Creating a Wide Offering of Playlist Cover Art
We offer our playlist cover art in different colors of acrylic: white, clear, and black. At the small sizes of 8×11″, we are able to install a float-off-the-wall frame for hanging. Thus, the print can come with a small stand, for desktop display, or as a plain panel that can be put into a picture frame. Each panel is 1/8″ thick acrylic, and would retail for $30 – $35.00. Our team is working hard to find a way to display the prints on the wall as well.
Using our website, we easily have the infrastructure to create playlist cover art. Customers could simply upload their photo, and let us know what song they want.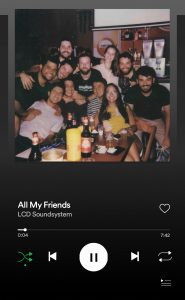 The Elephant in the Room
But if you build it, will they come?
If businesses were so easy to start and maintain, everyone would have a business. Creating the product and distributing it is in our wheelhouse. But marketing the product and generating sales will be a challenge. We could easily put it on our main site as an additional product, or even create a new site. But the question still remains: how will they find us? Creating a more visible Instagram page will be essential. We could also reach out to influencers or marketers who have more experience in this space.
Regardless, we are determined to make playlist cover art on acrylic a success. Look out for it as it becomes available within the month, just in time for Christmas!
Of course, for any questions, inquiries, or concerns, we are always available through email or by phone. Don't hesitate to contact us to discuss any of our products!