There's snow on the ground! A windchill in the air! The holiday season definitely creeps closer. That's why we're putting our "Photo-of-the-Week" posts on pause in exchange for a nifty weekly gift guide. We're hoping to feature all of the cool gifts that Big Acrylic can help you design! This week, we're taking a look at circle wall art, and our newest product that will be sure to be a hit at your holiday gift exchange!
I always try to tell clients to "think outside of the box, and let your creative instincts run amuck." There is no right way or wrong way of creating art since it is subjective. All you really need to please is yourself, especially if the art is hanging on your wall. Thankfully, circle wall art is a very creative solution outside of the box.
Circle Wall Art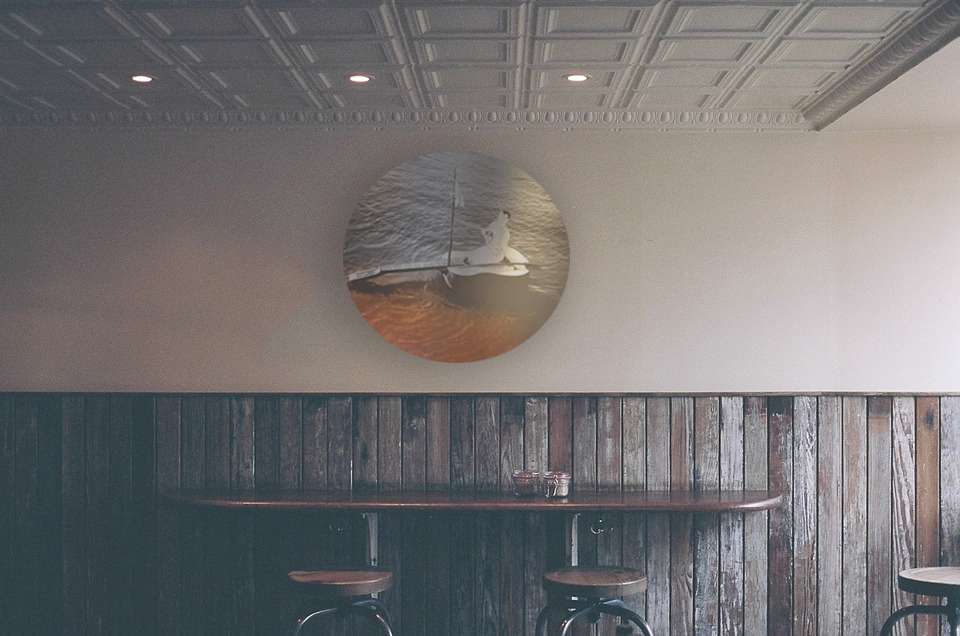 If you've ordered from us in the past, you may have seen an option for "rounded corners." That option gets rid of the right angles on the print, for a softer, more modular look. However, we can go one step further and completely create and design a circular print for you!
I consider anything circular to be circle wall art. Metal sculptures from iron, or steel bent into a circle, even a painting or print shaped as an oval all fall into this category.
Let's jump into the process of how we create circular prints on various mediums before I give you some inspiration for your next circle print!
Acrylic Circle Art
To create our acrylic circle wall art, we begin by printing the image digitally onto an acrylic panel. Then, we use a CNC machine to cut the image into a circle. In the past, we've created circles as large as 60×60″ and as small as 8×8″. Some panels are square with a circle within the square panel of the acrylic, which creates a cool effect. Especially if the rest of the panel is clear and transparent. Then, the circle appears to be floating off of the wall.
Metal Circle Art
We offer our digital metal prints in both brushed metal and white metal surfaces. The brushed metal has a textured pattern on top of it, and anything white in your image will appear as textured aluminum. Additionally, you can add a high-gloss varnish onto your print to give it some extra sheen. Like the acrylic the float off the wall option is the most popular hanging option.  The circle can be as large as 60×60″ inches or as small as 8×8″.
Again, circle art can be created using your imagination to create something wild and fantastic. Separate yourself from the rest and let us help you through the journey.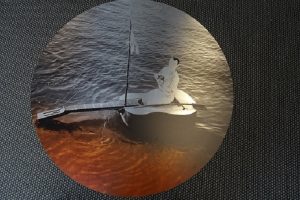 Ideas & Inspiration
Wassily Kandinksy
Wassily Kandinsky is a Russian artist famous for his expressionist paintings. Expressionist pantings allow an artist to express their feelings, experiences, and life story through colors and shapes in a more abstract way. Kandinksy became famous for his saturated, bold colors, and various shapes – including circles! In recent years, Kandinsky's paintings have sold for over $20 million. Additionally, you can find digital prints of his work online to use when creating circle wall art.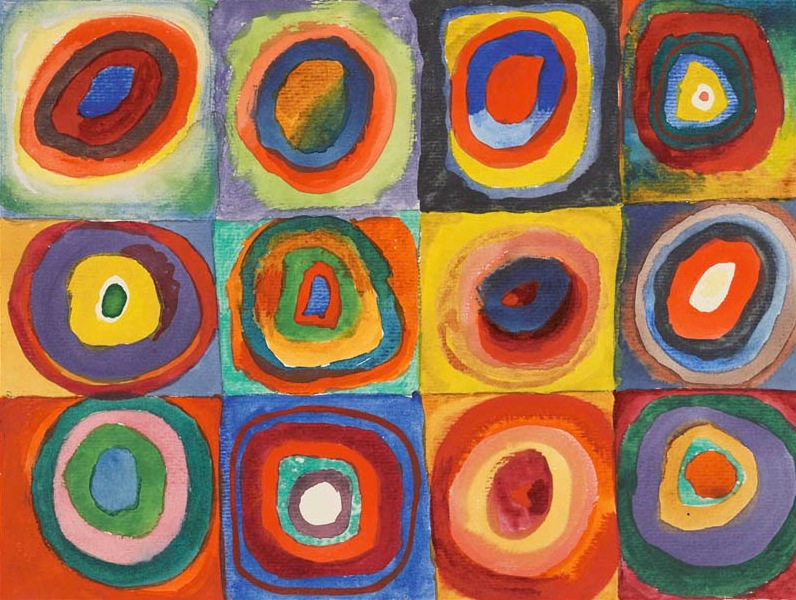 Mandalas
Mandalas are complex abstract designs in a circular form. They represent complexities of life and spirituality within Hindu and Buddhist cultures. It is said that mandalas appeared to Buddha in this abstract form.
The Mandala form has an incredible range for creativity. They can be very colorful, bold, and full of contrast, or they can be simpler, more muted, and calmer. As a personal note, Mandala designs are some of my personal favourite. They are so interesting to view with their plethora of shimmering colors.
Additionally, circular Mandala art stands out because of its vibrancy and circular nature. We are so used to seeing art that is vertical, horizontal, and rectangular that a circular piece of art seems surprising and eye-catching.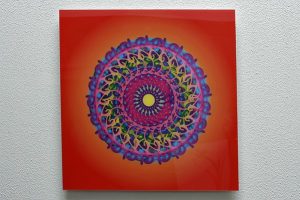 Collages
The previous examples are abstract in nature. However, for a more "mid-century modern" look, regular photos or collages would work in a circle form. To place an order like this, you will have to contact us. We will send you a proof of a collage, or the photo cropped into a circle. So this form is a bit more interactive.
You can even create a circle are painting, take a good photo of it and then create digital prints of it. That way you can digital prints to sell to clients. The opportunities to create circle art is endless. Additionally, a circular photo will be a cool addition to the room and provide a softer appearance. Which leads us to our next product inspiration that we specially created to be a perfect gift for the holiday season.
Acrylic Custom Record
Our newest product, and it is adorable: the acrylic custom record. This little guy measures 10×10″, making it the perfect size for a coffee table, nightstand, or home office set up. The record is fully customizable, so you can choose your song, your artist, and your photo to create a perfectly unique gift for a loved one. Or for yourself!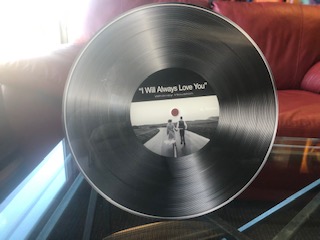 At a low price of $39.00 with free shipping, this gift is sure to be a "hit" at your family's holiday. You can expect the same quick service that we offer for all of our other products, meaning that you can order by Dec 14th to have your print in time for the holiday season. For more information, check out the product here.
Hopefully you have been inspired and have gotten some great ideas for gifts this year. Stay tuned for more upcoming gift ideas for the holiday season. From our usual acrylic prints, to anti-glare, to sublimated metal prints, we have a full stock of unique gifts that will make anyone smile when they see them under the tree. And, as usual, we are always available for consultation. Just contact us!