At Big Acrylic, we specialize in producing and shipping both large panels, and large orders. Our artwork decorates hotels, nursing homes, hospitals, and restaurants all over the United States and Canada. We pride ourselves on being experts at handling large commercial acrylic prints.
That being said, we're also here to provide some information for prospective clients who are looking to place a large order to outfit a new construction or renovation project. As our clients know, we are here 24/7 to provide and deliver the best customer service possible. This includes helping you create and produce your order of commercial acrylic prints.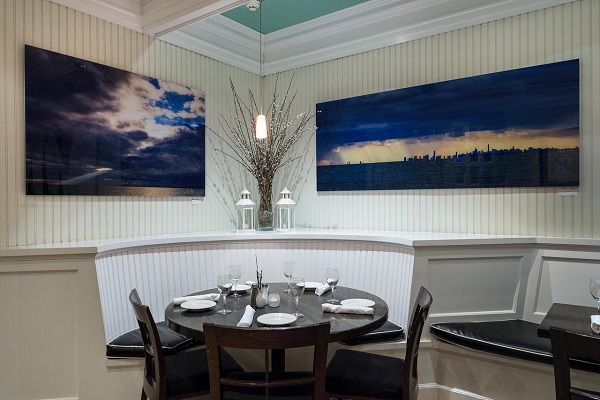 What Medium Works Best?
To start, the client must decide what medium works best, we need to see a few of the photos that represent the client's collection. We also need to know the finish or style that the client wants for the collection. For a matte look, a metal print works better than acrylic. Acrylic prints tend to be shinier, glossier than metal. Metal, however, works better for a more industrial look.
We are able to produce anti-glare acrylic, but it is approximately 1.5x more expensive than our regular acrylic.
Choosing the Correct Sizing
After choosing the medium, we ask the customer to create a detailed list that shows the medium, desired size, quantity, and corresponding image for each print. We provide resizing free of charge, meaning that the if the client's image does not match the desired size, we can either crop the image or provide the actual size of the image. The client will always have the final say.
Occasionally, we will check the sizes of the images before confirming the price with the client, giving them all of the information to make a decision.
As we confirm the sizes, we also confirm the quality of the file. If an image has a d.p.i. lower than 50 d.p.i., we will be unable to produce a print from it. Our baseline d.p.i. is 150.
Choosing the Correct Display Option
Once all of the images are resized and at a high quality, we encourage the client to select a display option that works for them. If images will be hung in a high-traffic, public area, we recommend stand-offs. Stand-offs bolt into the wall, making them hard to remove.
However, large commercial acrylic prints will require a thicker acrylic than 1/8″. Too thin of a large print will have a bit of flexibility when hung with stand-offs. So, a thicker acrylic will help maintain the panel's rigidity.
Our very popular float-off-the-wall option works well for personal or office prints. But, we also offer a locking device for use in high-traffic, public areas.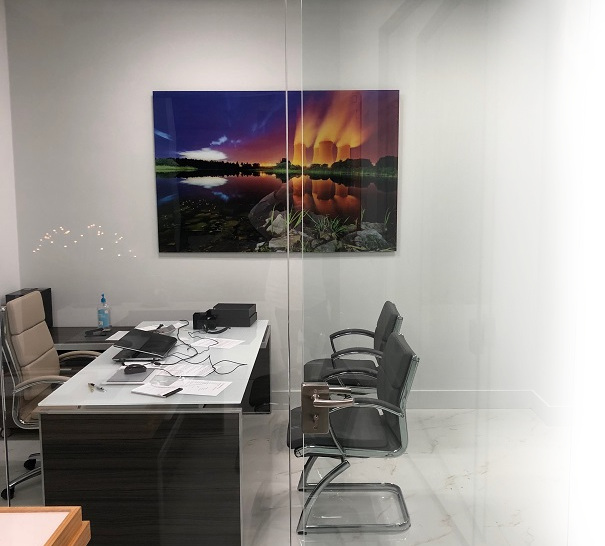 To Order Commercial Acrylic Prints
After we have confirmed the size, medium, image quality, and display options, we will send a formal quote to the client. The quote contains all of the above information and a price confirmation. For orders over $3,000, we ask that the client place a down payment of 50% of the balance. This payment can be made through credit card, PayPal, or through cheque. Cheques, however, will take 14 days to clear at the bank, and we will not begin production until the cheque has cleared.
At any point in the process, the client may ask for proofs of their order. We are able to send a production piece to the customer before producing the rest of the images.
Large orders of ten images or more should not be ordered through the website, but through contacting us directly. In your email or phone call, it is best to provide as much information as possible, including your budget, your ideas, your images, and your timeline. It's important to remember that large orders may take a little longer than 7-8 working days due to the volume of prints ordered. Thus, we encourage you to reach out as soon as possible!
Shipping
We ship our commercial acrylic prints in a custom-made crate before it is safer. Each crate is designed to handle the bumps and jumps on the shipping journey. All of our shipments leave from Canada, meaning that we will need a federal Tax I.D. number if the value of your order is higher than $800.00 USD. No matter the value of the shipments, clients will never pay the duty or taxes.
After a large order has shipped, we provide tracking information, and also monitor the shipment to ensure that it reaches the client seamlessly.