Transform Your Photos into Custom Abstract Art
Creating custom abstract  artwork can make a house feel like a home or add a personal touch to the office. Big Acrylic is a leading source of photo printing. We print Acrylic , metal, fabric, and more. However, now we're pleased to offer customers an exciting new way to transform their photos into cool abstract art design. Our new digital tool lets customers create attention-getting wall art using their favorite photos of family, vacations, friends, and more. Whether you want to showcase your bulldog with Picasso flair on a piece of canvas or introduce an abstract backyard sunset to your wall, we provide you with the resources you need to create truly one-of-a-kind art.
Easy-to-Use Online Digital Art Tool
Big Acrylic's digital abstract art tool is easy to use. We don't expect our customers to be savvy with Photoshop or other digital design tools. We've created an easy-to-use application that is a fun way to transform your favourite photos. In fact, once you use the tool, we have a feeling you may want to revisit it again and again! These artistically rendered and professionally printed abstract art photos make great gifts. If you need a gift for someone who seemingly has everything, you'll definitely want to check out this exciting resource.
Once your image is uploaded, you will have the option to apply an artistic filer – found on all product pages.
See steps below: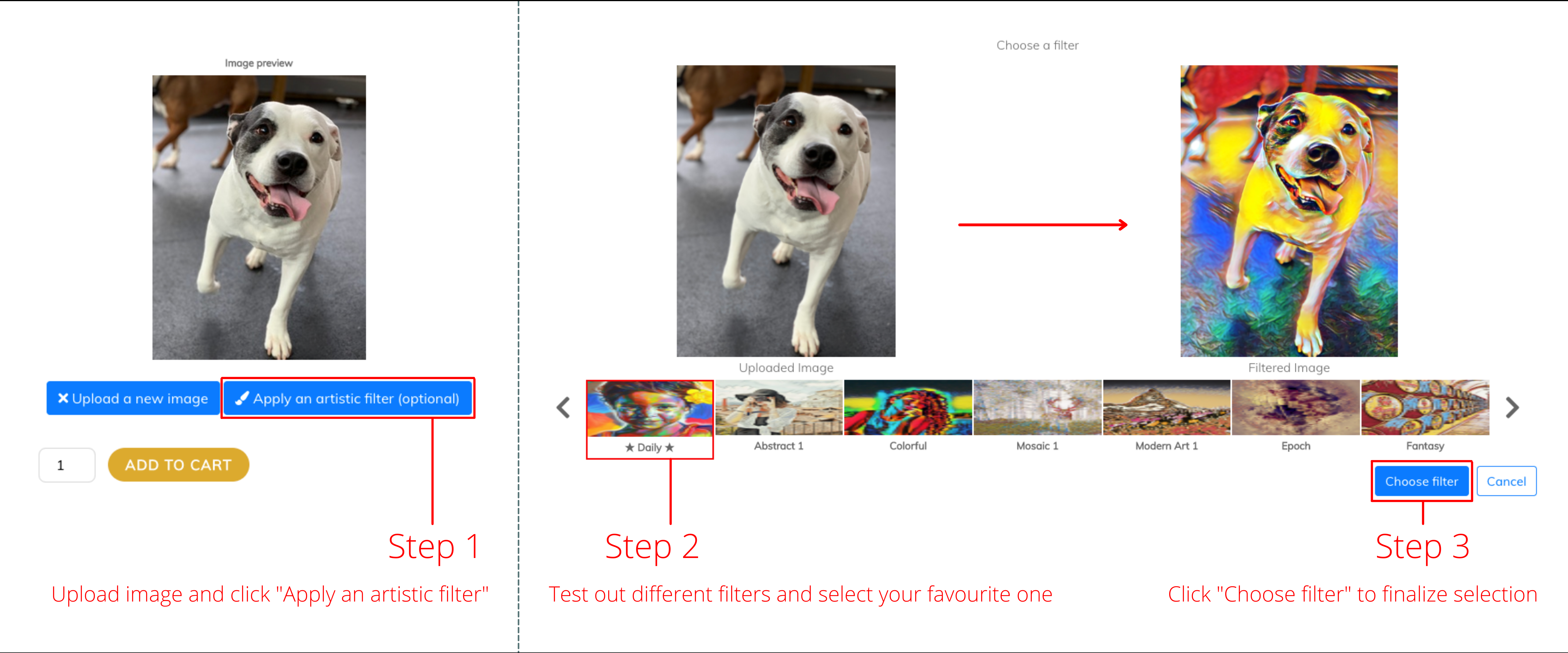 Use the tool now: Acrylic Prints | Metal Prints | Canvas Prints
Inspiration
Family Photos with Creative Flair
Family photos can certainly be nice features to look at in your home or office, but if you want a family portrait with knock-your-socks-off pizzazz, why not lend it some artistic flair by using Big Acrylic's custom abstract art tool? Add swirls of color to each person featured in your portrait or arresting shapes that brim with eye-catching appeal. Turn the traditional family picture on its artistic head with fun abstract treatments that are digitally designed and professionally printed to a medium of your choice.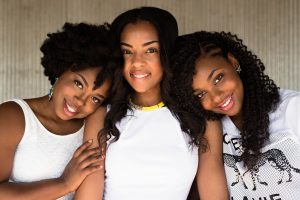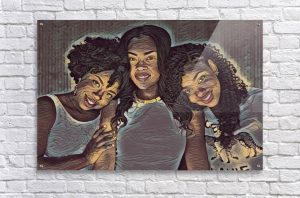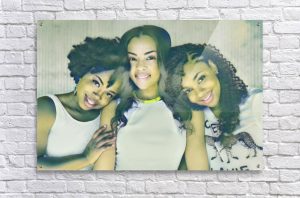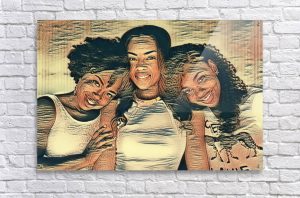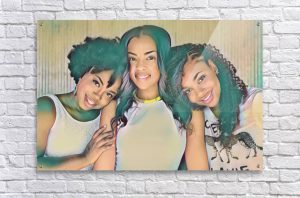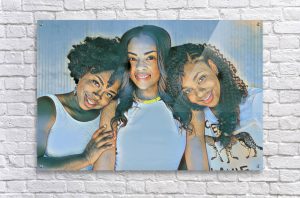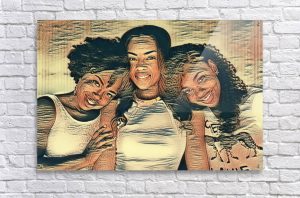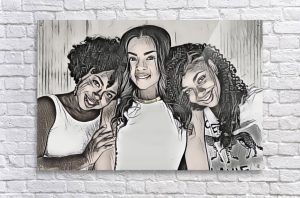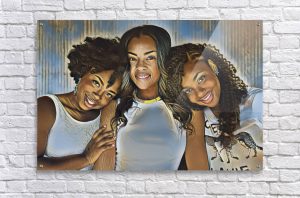 Complement Your Decor
Custom Abstract art  can transform any setting with its unique aesthetic. One of the great features of abstract art as produced by our digital tool is its contemporary look. An abstract photo print can bring a modern touch to any room. Its colors can even help you tie your room's decor together. We have many customers who use their abstract art photo as their inspiration piece, a work of art used to govern their decorative choices.
When you use Big Acrylic's digital custom abstract art tool, you can print your photo design to a medium of your choice and in a size of your choosing as well. Consider your home or workplace's current decorative style. To enhance your industrial-chic space, opt for a cool metal print, which is perfect for hanging above your bar or behind the sofa in your den. Print a family picnic scene to a canvas to hang in your dining room.
We encourage customers to get creative in the ways they showcase their abstract photo art. Whether you're trying to complement colors or an artistic style, you'll find that our tool will help you create a truly dynamic piece of art that will wow your guests and enhance your enjoyment of your space.
Gifts
Need a special gift for a family member, friend, or even your child's teacher? Use Big Acrylic's abstract tool to turn any photo into a piece of creative art. Once you create your design, you'll have lots of options about how to print it. We can print your art to metal or glass as well as a traditional art canvas. If you need a gift for birthdays, holidays, or other special occasions, you can turn the ordinary photo in a frame into something extraordinary simply by using our art tool to creatively transform your chosen photo with an abstract design.
Create Custom Abstract Prints for Home
There are lots of interesting ways you can showcase abstract photo art in your home. Even the seemingly most ordinary scenes can help you create a gallery-worthy room after they've been transformed with Big Acrylic's abstract art tool. We've included some fun ideas for you to consider using some 'typical' photo scenes that many of us have snapped using our smartphones. Once you enhance these photos with abstract art treatment, they can add an exciting decorative nuance to any room of your home:
Kitchen
Create abstract art with photos of your vegetables
Den
Add abstract art photos of your wilderness hike, ski trip, city skyline, or summer garden.
Master Bedroom
Add abstract art photos to your bedroom's walls showing off your tropical honeymoon, night sky, or a country sunrise.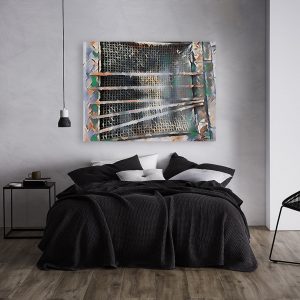 Kids Rooms
Showcase abstract art photos of the kids building a sand castle, riding a carousel, reading their favorite book, or napping with the dog.
Create Custom Abstract Prints for Your Business
You can also create abstract photo art for your business office or public spaces. Add excitement to product photos using the abstract tool. Fill your setting with contemporary decorative art to update the look of your client or customer reception area. Create an upscale look for your personal office with artistically inspired photo art. Opt for mediums like glass or canvas to add personalized art to your work setting's walls. We know that as soon as you adorn your walls with trend-right abstract art, you'll enjoy loads of comments like, "where did you get that?!"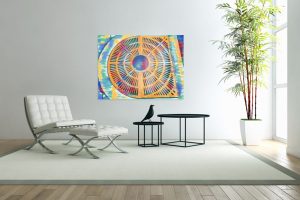 What Medium Should I Choose for My Abstract Art Print?
The medium you choose us to print your abstract print on will become part of the artwork itself. For most customers, it's merely a matter of preference. We encourage you to get to know our different offerings and read about each type of medium so you can make an informed decision. Of course, our team is always happy to help. We can answer your questions or address any concerns you might have about your selection process.
Get to know Big Acrylic and all of our printing options and products. We love to inspire customers with digital solutions like our abstract art tool. You can print your artwork on everything from acrylic glass to backlit fabric. Our technicians will ensure that your photo art is printed to perfection.
Use the tool now: Acrylic Prints | Metal Prints | Canvas Prints