This week's blog post touches on our fabric wall prints. These prints are an extraordinary alternative to large canvas prints, as you only need to purchase the frame once! Meaning you can update your fabric print with every season, or even just on a whim! In this blog post we're going to talk a bit about the process of creating these fabric wall prints.
How do you create fabric wall prints?
These prints begin with a process called dye sublimation. This process allows for printing onto polyester fabric and rigid substrates. Instead of printing the image directly onto the fabric, the image is printed with special ink onto a piece of transfer paper. This paper is then placed facedown onto the fabric. The ink sublimates – that is, turns to gas, when huge amounts of pressure and heat are applied. The image then transfers onto the fabric as the fibers of the fabric expand in the heat. As the image cools, the fibers contract and trap the inks into them, creating a beautiful, detailed image.
This dye sublimation process is very similar to the process used to create our sublimated metal prints! The end result is a beautifully vibrant image that doesn't fade.
What are the benefits?
There are quite a few benefits to a fabric wall print. For example, the image on a fabric print will never fade, as it is trapped in the material and not lying on top. While canvas prints do last a long time, they may start to fade after prolonged exposure to direct sunlight.
Another great feature of fabric prints is that the dye sublimation process allows for a wider range of color. Digital printing has a more restricted color range – usually of just 7 colors. In dye sublimation, the color matching will be more accurate as there are many more possible combinations. Furthermore, the image will look more smooth and sleek as the dye sublimation process does not use tiny dots (pixels) to transfer the image.
Large Canvas art prints require a crate to ship, making the shipping costs much higher. With a fabric print, the frame comes unassembled, meaning you can purchase much larger sizes without the high cost of shipping. For example, you can order a 100 x 80″ fabric print at the same cost of shipping as a 60 x 40″ print.
What do you mean by "interchangeable?"
We mean that you only need to order the frame once. Once the frame has been ordered, you can order just the fabric prints. The prints can easily be removed and placed in the frame due to a grooved silicone edge. This means that you save money on shipping, and on prints in general. The frame requires some assembly, but we do provide instructions.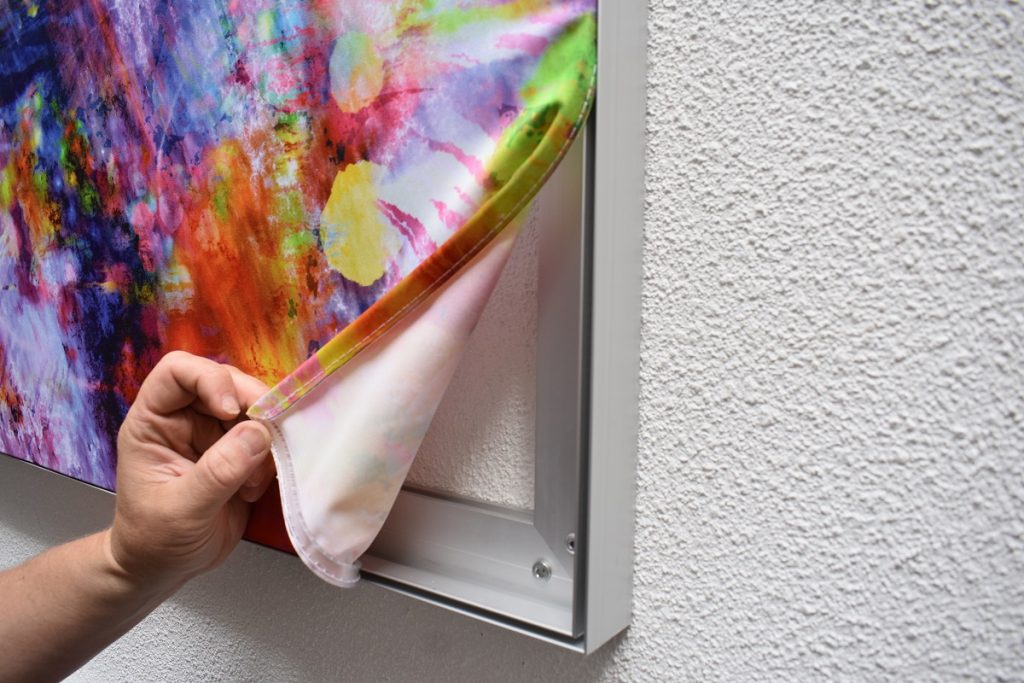 In conclusion, we hope that you are as excited about this new product as we are. As we used to produce canvas prints, we know that there are a lot of options out there. That's why we developed this new product. A lower cost, interchangeable product that looks even better and more vibrant than a canvas print. As always, we are available 24/7 to answer all of your questions. Don't hesitate to reach out and contact us!