This week's photo of the week isn't so much one photo, but many photos all together on a large gallery photo wall! Since the COVID-19 pandemic began, our client had switched his daily commute to the office to a daily commute down his hallway to his home office. Our client felt the room lacked décor, and he was looking to change that.
With remote work becoming the new norm, we've seen an increase of orders from people who want to spruce up their new workspace. What is so fun about these prints is how much they deviate from our usual office décor. Rather than being images of landscapes, these home office images are the moments and people that really matter. Especially in this week's gallery photo wall.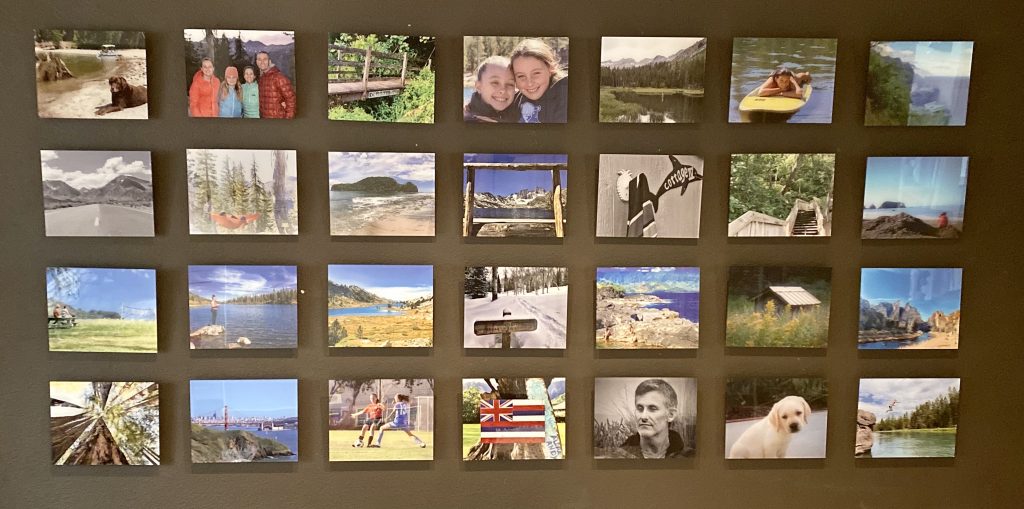 The Process…
He reached out to begin a new project. At first he had wanted a large sublimated metal print to cover his wall. However, his image was not a high enough resolution to print. After a bit of back and forth with the customer, he decided to go ahead and many print smaller sized images on acrylic to arrange in a grid to create a cool mosaic effect.
The images were the perfect resolution. And, despite the quantity, the process of sizing and communicating with our client was quick and painless! A true pleasure to work with.
The Prints: Gallery Photo Wall
28 8×10" acrylic photo prints make up this stunning display. The images truly show what is important to the client: family vacation memories, professionally shot images of the family, pets, and friends. And, we were fortunately able to ship everything in one box! Which, of course, means less waste, less work of opening up everything, and overall a great delivery process.
Each print comes with hanging hardware installed on the back, making installation a breeze. Especially when working with a grid lay out. No bulky frames around the image gives the impression of one flowing mosaic instead of many images hung together, which could actually make a large wall look much smaller and more cluttered.
As usual, we are always on hand to help you out at Big Acrylic. For any questions, don't hesitate to contact us!
We are always looking for more client photos to feature as our photo of the week. If you are interested, send us a photo with a bit of detail about the image! The link to our We-Transfer can be found here.