"I just got home from Vegas, and I want to create an acrylic print from a cellphone photo," he asked. As with all of our clients, we explained that not all cellphones are the same, and the latest iPhone or Samsung phones will create better results than others. Then, we asked him to send over the photo. After checking, we saw the image was high enough quality to turn this cellphone photo to a framed acrylic print. Cellphone photo printing is one of our specialties. That's why we are excited to share this week's photo of the week: an image taken on a phone, then produced into a beautiful acrylic print.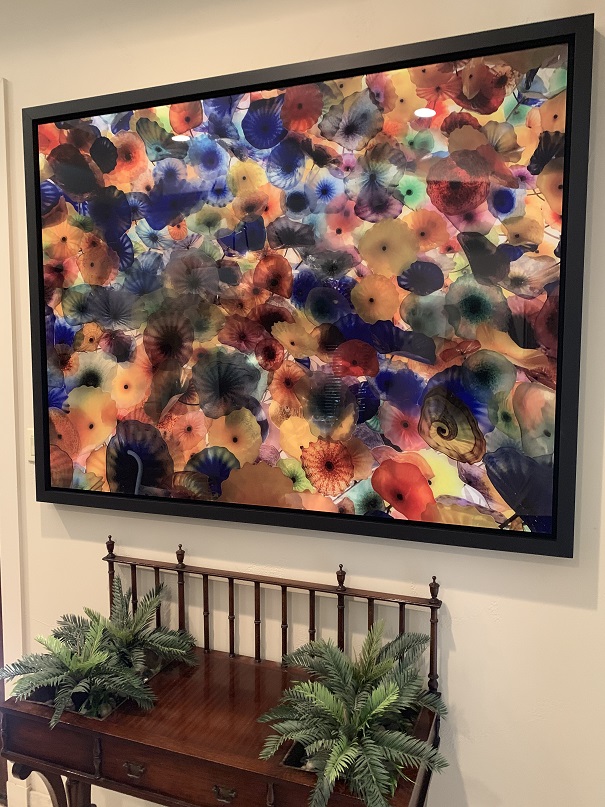 The Image of Cellphone Photo Printing
Little did we know, when we received the photo, that it was "Fiori di Como" (Flowers of Como), suspended on the ceiling at the Bellagio Hotel. This image is from the famous sculptor Chihuly.
Chihuly is a famous American glass sculptor whose works can be found around the world. He is famous for creating ethereal translucence, and larger-than-life scales. His works can be found in New York, Las Vegas, Macau, and endless museums. So, I was very excited to see how this image would look when printed onto acrylic.
This image, captured from a cellphone, was perfect to work with. This is fortunate because this acrylic print would sit in his foyer where everybody would see it.
The Process of Cellphone Photo Printing…
Using our image-enhancing software, we were able to determine that the photo met our 150 d.p.i. requirements for printing. So, we were able to start production on the cellphone photo printing onto acrylic.
The client also wanted to add another decorative element to the photo. He opted for an elegant floating frame. This black frame gave the art piece extra sophistication and dimension. Also, since the photo had a translucent element to it, the black frame added some great depth to the photo. All in all, the project took a few conversations by email and phone. Then, our standard 6-7 business days to produce.
The end result was a spectacular, elegant print! And it proved, once again, that you can create awesome art from your hand held device. Cellphone photo printing onto acrylic is our specialty, and we would love to help you out!