Reusable and Removable Photo Prints
Lately, we have noticed a rise in popularity of removable photo prints that stick to the wall. These photo prints use an adhesive backing that doesn't leave a mark on the wall. And, they can be easily moved or rearranged. These products are a fantastic idea, but the problem is that manufacturers use a foam core, which is a cheap substrate. Another problem with the product is the limited size capability.
Thus, we are excited to announce the launch of our own version of this product. We print our version on 1/8″ thick high quality acrylic or metal, and they are available in a variety of sizes:
8″ x 10″
10″ x 10″
12″ x 12″
10″ x 15″
12″ x 16″
15″ x 15″
We recognize that one size doesn't fit all, and we want you to have options. So, we offer multiple sizes to give you more choice. 
Our Adhesive Backing Solution
Finding the proper tape solution for our product was a challenge, but we managed. After testing 4 different adhesives, we managed to find the best one. The adhesive is extremely strong, and it does not leave a mark on the wall. Additionally, the high quality of the adhesive matches the high quality of our acrylic prints. Undoubtedly, the combination results in impressive removable photo prints. 
The supplier offers three strengths of adhesive: medium, strong, and strongest.  After testing these different tapes we decided to go with the strongest. We are using the best possible adhesive we could find. The tape is a true technical breakthrough. And we can guarantee you will love how simple the adhesive is to use. And this isn't our first rodeo. Since we have dabbled in the wall paper business, where there are countless papers that claim to be re-positional  and reusable, we were well-equipped to evaluate the quality of adhesives.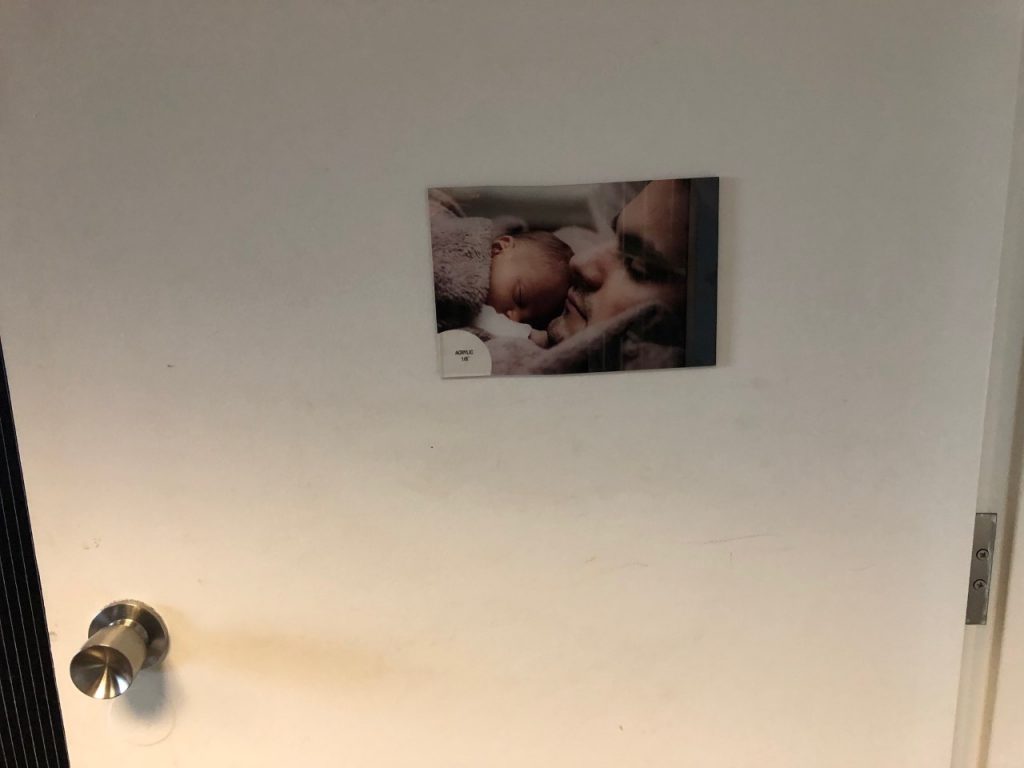 Our tape leaves no blemishes on the wall. No damage, or hard-to clean, sticky residue either. So, the process of hanging your removable photo prints couldn't be easier! Imagine, no need for nails, screws, or hammers when displaying your acrylic!
Stickyslabs will be available for purchase in sets of 3. Prices below are for 3 Stickyslabs per order:
8″ x 10″         $54.00
10″ x 10″       $54.00 .
12″ x 10″       $74.00
10″ x 15″       $74.00
12″ x 16″       $119.00
15″ x 15″       $119.00
For now, please email us to order Stickyslabs, as we are currently working on updating our backend to make purchase available.
Uses for Stickyslabs:
A great gift– The affordable price point makes them a great unique gift for family and friends. Or, even a panel for each of your bridesmaids! Endless possibilities for gifts arise.
Wall decor- A unique way to display images on a wall within the home or office. You could have a group photo of employees or family members.
Promotional market– Create a panel for corporate branding.
Montage– Create many photo prints  and space them the way you want them. Test and change the look any time, as they are removable photo prints.
Trade Shows- Show your product on the walls in your trade booth! Acrylic has a sophisticated look and will brighten up any booth. When finished, just pull from the wall and use again for the next trade show.
Glass walls- Any flat surface works! Create acrylic on a glass door or window.
Dorm rooms– These small panels will look great on your limited wall space.
After our initial rollout of the Stickyslabs on 1/8″ acrylic, we will revisit offering them on thicker acrylic. However, we can execute this if you call or email about doing on a thicker Acrylic.
Metal prints will be offered before the thicker acrylic as well. The Metal panel is  3/16 " thick and will be offered in the same sizes as the Acrylics. Metals will be offered in brushed and white metal.  The metal panels have less shine but great color contrast, which works as a great solution if you want something with less glare.