We all have our own taste. From food to clothes to even friendships we all have that thing that attracts us.
For instance My friends dragged me to a establishment that only served spicy food. They were over then moon about their meal while i sat stoned faced wishing i was home. Its no different with photography or Art.  We all have unique taste.
True Story. A few years back a potential client wanted us to create photos of sewer cover. He had visited different cities around the world and was doing an exhibition of sewer covers. " Did you no that London has the most elegant sewer covers in Europe "?  He was genuinely jacked about sewer covers !!!- We ended up creating 40 round acrylic prints of sewer covers. Talk about street art !!
Personally I lover taking photos of graffiti. Some people consider this form of art as vandalism but i think it captures a certain element of greediness which can be capture in an acrylic print or metal print.  Some of the best places for graffiti art is in New York area. The Bowery and Bushwick are a few of my favorite places to walk and soak in the urban Art. When printing Graffiti  on Acrylic,  Sublimated Metal or digital metal colors pop and are extremely vibrant.
There are then very popular sites that resonate for many people. Since we have been in business we must have done more then 50 acrylic prints of Antelope Canyon. Located in Northern Arizona feature some of the most majestic caves that climb 120 feet above the streambed, making it a cathedral of red-hued, swirling sandstone. A Photographers dream for sure.
We were once lucky enough to create some Acrylic prints for A woman who climbed Everest and took photos on the way up. Images were spectacular and really captured the beauty and baroness of the area.
It is also possible to do different shapes. Creating something different can also attract photo art. Circles large and small look really cool on wall. We can create circles as large as 60- 60 " Creating a group of circle images creates a modern look as well.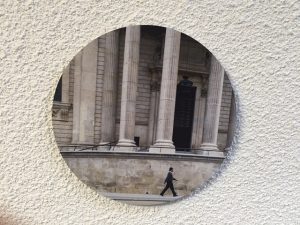 Framing also comes with particular taste. When producing large acrylic and metal prints I personally dont like having in a float frame. However many galleries show acrylic in floating frames.  We also offer floating frames as a display option. We just finished a very large job where the customer insisted on have a frame around 40 different acrylic prints. Not only did he want a frame- We went searching for a particular white frame until we sourced the exact one he was looking for.  As like most designers he had specific tastes and wanted what he wanted.
One of the main characteristics of printed acrylics is the shiny look it has.  To me acrylic means – gloss, shine and real pizzazz. Not for everyone though. We have done many acrylic prints where the customer wanted a matted look- No glare whatsoever. Costing 1.5 times the amount of a regular acrylic means nothing to a customer who wants a certain look.  The Non glare acrylic – though expensive offers a solution that people obviously are looking for.  Again, who are we to judge personal taste.
Multi panel acrylics are also popular.  Triptychs create a chic modern look. Take your Acrylic Panel and divide it into 3 panels of equal size. So a 90-30 " image will be cropped into 3 panels of 30-30 ".  There would be 2 " space in between each panel.  Decor obvious correct ?- Not so fast. We have done a few Triptychs for people who love no space in between the panels. And yes the seam stands out like a sore thumb. However once again its a personal taste choice…What you or  i may consider attractive is different then the next person…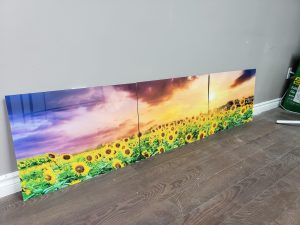 There is no right or wrong when it comes to personal taste or attraction. Whether its having  a collection of  sewer covers that you consider pure art or creating your images on circular acrylic or metal panels its fun to express yourself through any medium, subject matter or geographical location
Dare to be different …