We all have our own tastes. From food to clothes, and even to our relationships with others, we all have something that attracts us. For instance, my friends dragged me to a restaurant that only served spicy food. Which was great for them, but not for me. They were over-the-moon about their spicy meal while I sat stone-faced, wishing I was at home. And this situation is the same with photography or art. We all have unique tastes, which is why Big Acrylic offers so many different ways to make creative acrylic prints. 
Personally, I love taking photos of graffiti. Some people consider this art as vandalism, but I think it captures a sense of greediness. Some of the best places for graffiti art is in New York City, especially in The Bowery and Bushwick. As an acrylic or metal print, graffiti colors pop and are extremely vibrant.
Our Favorite Creative Acrylic Prints
At Big Acrylic, we have the great pleasure of working with photographers, designers, and artists to manifest their ideas. For example, a few years ago, a client wanted us to create prints of sewer covers. He had visited different cities around the world, and he was doing an exhibition of sewer covers he had photographed. I learned a lot about sewer covers from that project, including that "London has the most elegant sewer covers in Europe." We ended up creating 40 round acrylic prints of sewer covers. Talk about street art!
There are also very popular sites that resonate with many people. Since we have been in business, we have done more than 50 acrylic prints of Antelope Canyon in Arizona. Located in the northern part of the state, Antelope Canyon features majestic caves that climb 120 feet above the streambed, creating a cathedral of red-hued, swirling sandstone. The site is a landscape photographer's dream.
We were once lucky enough to create acrylic prints for a woman who climbed Mount Everest. She took photos of her journey up the mountain. The images were spectacular and captured the barrenness of the mountain.
Customization for Creative Acrylic Prints
It's possible to do different shapes or layouts with acrylic prints. Circular images give a 60's or 70's look, but with an update. We are also able to cut into other geometric shapes, like triangles, hexagons, or even along the edges of some images. You can really think outside the frame when envisioning your project.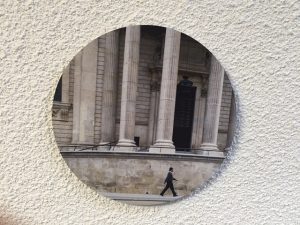 Framing also comes with particular taste. Some people may not like having a floating frame that's invisible. Others may feel like the image stands on its own much better than being boxed in. Once, we had a customer who wanted a specific white frame to surround their large order. We managed to find and source the frame and complete the project to fit his specific needs and vision for his project.
We are also able to print your image across multiple panels. For a very large image, that is covering a large area, this is a superb option. For example, a 90×30 image would be split across three panels of equal size, so 30×30 panels. Usually, there is a 2" space in between each panel.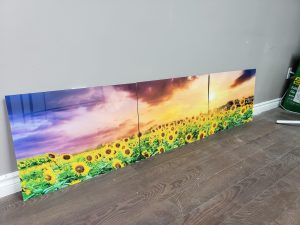 There is no right or wrong when it comes to personal taste. For examples of creative acrylic prints that we have done in the past, check out our gallery. Dare to be different, and give us a call to discuss your vision for your project!