You heard the groundhog – it's going to be an early spring. There's no time like the present to start thinking about the new decor you'll use to echo the warmer and longer days. Florals and soft pink hues are on trend right now. As are lush botanical or herbal images. It all depends on what mood you want to capture for your home. And, of course, wall decor plays a big part in capturing that mood. That's why we're here to help with some ideas for spring wall art for your home.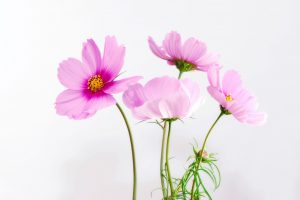 Choose a Theme or a Mood
The first step (after the spring cleaning) is to choose a theme or a mood that you want your room to showcase. Choosing a mood depends deeply on your own personal style, and how you want to feel when you enter a room. But sometimes you need a little inspiration. Pinterest or magazines like Good Housekeeping have a ton of images and ideas that can help you get some ideas for how you want your room to feel.
Another exercise is to think of your favourite place to visit, like a restaurant, coffee shop, bookstore, etc. What about that space do you like the most? If you can't think of anything decor related, like the colour of the walls, or the style of the chairs or tables, and you think of a mood or feeling instead, then you can use that mood to decorate your home. If you enjoy your favourite restaurant because of the sense of community, then you can invite that mood into your space by hanging photos of friends, or making a collage out of mementos from your pals.
Especially in spring time, it is important for your home to capture a positive mood. As the winter months can bring about drabness, spring is an excellent time to re-vamp your decor to keep it reflective of the sunnier days. And wall art is an extremely effective way of doing that since it is easy to install and move around. It also creates a focal point that ties the room together. To make it easy, we've compiled a list of ideas to help you capture the best mood.
Spring Wall Art Idea #1: Floral Prints
The quintessential image of spring is flowers. And flowers are all the rage right now. There are two main camps of floral images: the dark, jewel-toned flowers, or the light, watercolour flowers.
Dark, still-life flowers with deep sapphire and emerald colours would look best on an acrylic print, or a sublimated metal print. An acrylic print will capture the depth of the colors. These deep colors will not fade over time as they would on a fabric or paper print. On a sublimated metal print, the deep colors would be beautifully captured and contrasted against a darker background. Acrylic would enhance the depth of the colors, while sublimated metal would enhance the contrast. Sublimated metal would also make the jewel tones of the flower shimmer in a more subtle way.
Dark tones don't always have to be brooding and moody. These dark tones create a calming and thoughtful mood. Especially when paired with bright natural lighting and pops of warm colour like mustard yellow or a rusty orange.
In contrast are the light minimalist florals. These images would look excellent on white metal, which will highlight the white background of the photo and provide beautiful contrast against the light hues of the flower. These white metal prints are also quite lightweight and thin and can come in a variety of hanging options. The print fits wonderfully into a minimalist aesthetic as it can simply, and daintily float on the wall. These images are good for creating mood of cleanliness, renewal, or freshness, which is perfect for spring time.
Spring Wall Art Idea #2: Herbal Prints
Herbal images and scents are becoming a design staple. Herbs like rosemary and thyme have a calming and earthy effect on a room. These herbs are best used in living rooms, bedrooms, or offices. Other herbal images, like cilantro, basil, or mint are great prints for in the kitchen or dining room. These herbs have a strong connection to taste, and their more jagged leaf edges make them more funky than the smoother or softer herbs.
Like the minimalist flowers, the calmer herbal prints would look great as a white metal print. Additionally, a gallery wall consisting of smaller white metal prints contrasted with framed prints or fabric prints would showcase these images beautifully.
Funkier herbal images would look great as acrylics. An acrylic print of basil would enhance its rich green tones, and look so clear and vibrant that you could almost taste it.
Spring Wall Art Idea #3: Abstract Prints
If your version of "sprucing up" your decor doesn't involve anything from the plant kingdom, then abstract prints may be what you are looking for. Abstract prints usually involve repeating patterns of lines, or geometric shapes, or they can look like spurts of color or paint. They can enhance a theme or mood in a room without being a clear image or photo.
For example, a brushed metal print of zig-zagging, or jagged lines creates an industrial feel. In a dining space that features a combination of exposed brick or concrete, a print like this would pop.
For the extremely adventurous, try an acrylic print of one solid color. A print as unique and adventurous as this will turn your living room into the Museum of Modern Art.
Spring Wall Art Idea #4: Graphic Design
An abstract print may not be enough for you, and that's okay. Or it may be too abstract, and you want something more definite. A graphic art print has both elements. A graphic design acrylic print adds a youthful, hip, and modern flair to your decor. It's an update to the tired "Live, Laugh, Love" sign over the mantel. And the possibilities for what to print are endless.
You've finally cleaned off the counter in your kitchen, and assembled the bar stools you got two Christmases ago. And your kitchen is ready for its little breakfast nook. What better way to tie the room together than with an acrylic print of a coffee or breakfast graphic. Prints with positive text can mimic that spring sunshine and brighten your day.
While graphic design prints tend to appear on paper, printing on an acrylic print will make them last longer, and make their colors shinier and more vibrant.
There is an important point to make about a graphic design print. As Big Acrylic, despite the name, is a small business, and that means we will also support other small businesses. We cannot print a design that you've pulled off of Google without the artist's permission.
For more ideas on spring wall art, or to bring your decor dreams to life, contact us at info@bigacrylic.com!