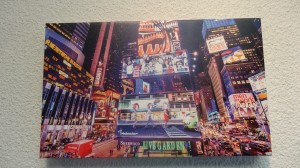 Aluminium photos on Metal as mentioned in our prior posts really stand out and transforms the way a room looks. Our white Metal really shows amazing color contrasts while our brushed metal shows the contours of the brushed Aluminium and is more of a matted look.
A new customer called in dire need. A fire inspection deemed her canvas wall art as a fire hazard. She needed to replace 200 60-40″ canvas with a fire rated material. She was hoping her Aluminium photos on Metal  would look good and pass the inspection.
She needed to find a solution quickly. The fire marshal gave her 1 month to come up with a solution. We sent her a sample of our white metal with the box display option. She was blown away by the colour contrasts and the uniqueness of the box. The image wrapped around the sides really created an effect that she was looking for. The look of a canvas wrap but in metal.
But now came the true test, would it pass the fire rating. Because we print on Dibond which is widely used in industry, it was not hard to find technical sheets on the material.  I was confident that our prints on metal would pass the much needed fire rating.  Within a week i received the great news that the fire department green lighted the material and we were set to go.
We finalized pricing and we received an order of 200.00 60-40″ wrap around metal boxes.
We usually we deal with designers who need a certain look. In this case the customer needed a certain material and although the overall look was deemed important our material was the main reason we received the order. Sometimes your receive orders for reasons you never thought existed.  Just another crazy day at Big Acrylic.
If you need advice about Aluminium photos on metal or any other product call or email us.