Well, winter seems to be coming to a close, and as the buds on the trees start to grow, so, too does our business. We've got a lot of exciting updates to share this week: backlit acrylic panels, new team members, a change to our most popular display option, and the list goes on! Hopefully, we can answer some pressing questions for you and get you excited about the new directions Big Acrylic is headed! Read on.
Acrylic Backlit Panels
There seems to be a growing demand for acrylic backlit panels for both residences and commercial locations. We can only assume this is because word is getting out about this incredibly cool product. Many customers opt for printing an image on acrylic then having a light source coming through it. To explain, an acrylic backlit panel is an acrylic panel with a light source coming through it from behind, or from the sides.
Our process is as follows. We print an image, digitally, on the back on an acrylic twice to make sure the colors are saturated enough so the light does not fade them. Then, we attach the image to a substrate. In the case of Big Acrylic, we use a metal frame that is 2 inches deep. As we recommend with all digital prints the best results is when an image has a dpi factor of 150. If you have 300 dpi, the print will turn out even better.
All of our light box displays are perfect for retail, corporate, and commercial environments as well as personal projects. Additionally, we offer a variety of frame depths and lighting systems. The two different lighting systems we carry are edge-lit and backlit. Both of these systems evenly distribute light, which prevents hotspots and light banding. Otherwise, these two issues detract from the overall impression of the printed acrylic.
Acrylic Edge-Lit Panels
The edge-lit acrylic has lights on the sides of the light box. Of the two lighting systems, edge-lit is the less costly solution. The trade-off is that the metal frame around the acrylic is 4.13 inches deep, so it is not as thin as the backlit option. The edge-lit requires a thicker profile since the LED lights adhere to the sides of the frame, rather than the back. However, the edge-lit still offers uniform lighting from behind the print. And, it is possible to add more lights on the side if you want to. As this is the less expensive option, it is the more popular one.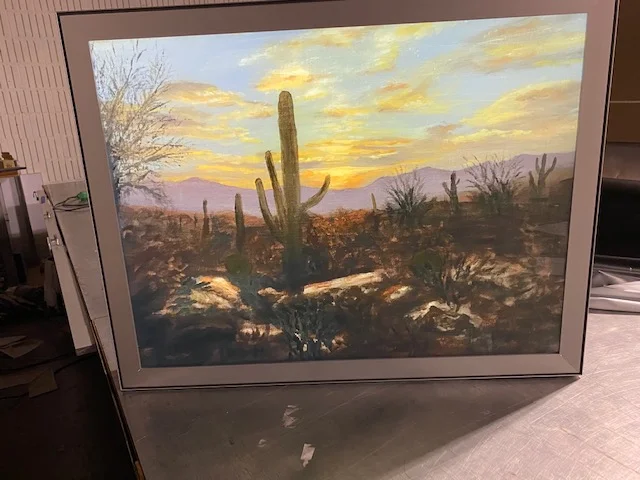 Acrylic Backlit Panels
The shutter light option, or the backlit option, uses a built-in shutter light system to create uniform lighting and eliminate hotspots.  Shutter light backlit is offered in thinner frame profiles as well, including 3 inches and 2.5 inches. This option is more of a premium offering because it is more costly. The frame is a little bit thicker, so the light is distributed equally. However, the end result is well worth the extra cost.
All of our backlit acrylic panels come turnkey. Simply, open the box, plug in to a standard outlet – et voila! You have a brilliant piece of art.
More Big Acrylic News!
New Display Style
As some of our customers have noticed, our float-off-the-wall display option has changed. After much testing, we decided to change the style of the float-off-the-wall display. The new float is made of medium-density fibreboard (MDF). Thus, it is stronger and more durable than the previous version. For larger sizes, this new float will be easier to mount. The traditional wire hanger has been replaced in favor of a deep ridge along the edge of the frame. You can set the frame on any traditional picture-hanging hardware. So, you can take the print right out of the box and hang it directly onto your wall with less fuss and hassle than previously.
In the future, we are looking to create a Z-Bar style hanging option that will hold the float display in place even better.
Abstract-Style Art Printed on Acrylic
After years of mulling it over, Big Acrylic has finally decided to create an image bank to offer abstract-style art printed on acrylic. While in the past, customers would have had to find an artist and get permission to print, or root around on the internet for an image. But, with our image bank, we've eliminated all that hassle. These images are abstract, funky, and unique in nature. And we hope to have something for everybody! Tune in to our social media channels when we announce this new development has gone live!
Business to Business Offerings
Another new feature we will be offering soon is a business-to-business page. As a small business ourselves, we know what it's like to deal with other businesses that demand we jump through hoops. We want to take our excellent customer service and cater directly to other business owners to make all communications as efficient and smooth as possible. Even now, we've already implemented a customer chat feature on the website so that you may ask us questions at any time!
You will always be able to contact us, and you will always receive communication from one of our wonderful employees.
A New Team Member
This brings us to our bit of good news: a new employee! We'd like to give a warm welcome to our new Marketing Director, Adam Lach. Adam brings with him 8 years of experience in online marketing from his days at the boutique and large marketing firms. He's developed all the resources to help him guide Big Acrylic through a constantly-changing online landscape. Welcome, Adam!
With Adam aboard, the Big Acrylic team hopes to deliver even more exceptional products and customer service than what you've already come to love. We look forward to all of the exciting new products, images, and services we can offer our customers. And, we hope that you enjoy them too.
As usual, don't hesitate to contact us to learn more about any of these new developments, or to place your order for backlit acrylic panels. We can't wait to hear from you!