Landscape Photography offers the vastness of nature to explore and photograph. Taking the best shot requires the right tools and techniques. The challenge is knowing the best equipment and where to start with the camera settings.
Whether you are an experienced photographer or just beginning, the amazing landscape photography is always pleasing to the eye. Either way, you are reliant on your own ability and skill to see and compose an image, as well as nature itself. If you find beauty and awe in landscape photography yet are unsure of the right techniques to use, then you are in luck. We will provide a list of tips and camera lenses that will aid in your photographic journey. Read on to unravel the mystery and magic of landscape photography.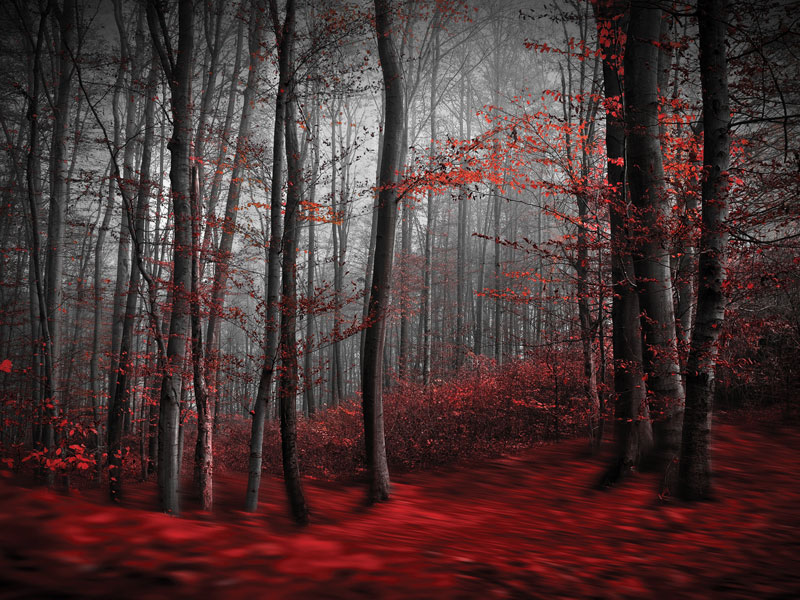 Use wide angle lens:
Wide-angle lenses are preferable for landscape photography as they reveal a broader view, and therefore give the sense of a wide open space. They also tend to give a greater depth of field and allow you to use faster shutter speeds because they permit more light. Taking an image at f/16 will make both the foreground and background sharp.
While capturing with wide angle, work your way around these settings.
Shutter speed: 1/100

Aperture: F/16

ISO: 100

Flash: not fired
The settings are not set in stone and depend on the current lighting conditions and weather – yet these are a good start. 
Use a tripod:
For some pictures, you will need to use longer shutter speed. An example, if you are capturing star trails or water motion then you need your shutter speed to be longer. In that case, you do not want to move your camera – for if you do, the end result is a blurry picture. Therefore, you may need to use a tripod stand to ensure the camera is absolutely still during exposure. In fact, even you are able to shoot at a fast shutter speed the practice of using a tripod will be beneficial. There is also an option for a wireless button to ensure maximum stillness. 
Rule of Third:
If you are a beginner photographer then using the rule of third can prove to be quite valuable. For instance, imagine four lines, two horizontal across the image and two vertical creating nine even squares. Some images will look best with the focal point in the centre square, however, if you place the subject off centre at one of the intersecting points of the imaginary lines, it will often create a more aesthetically composed photograph. 
Find the great blue up or down below:
Another element to consider while photographing landscapes is the sky and water bodies. You can use the blue of the sky or use bodies of water as a reflective mirror for your landscape. Most landscapes will either have a dominant foreground or sky – unless you have one or the other your shot can end up being fairly boring.
If you have a bland, boring sky – do not let it dominate your shot and place the horizon in the upper third of your shot. On the other hand, if the sky is dramatic and showcases interesting cloud formations and colours, then let it shine by placing the horizon lower. 
You may also consider enhancing skies either in post-production or with the use of filters.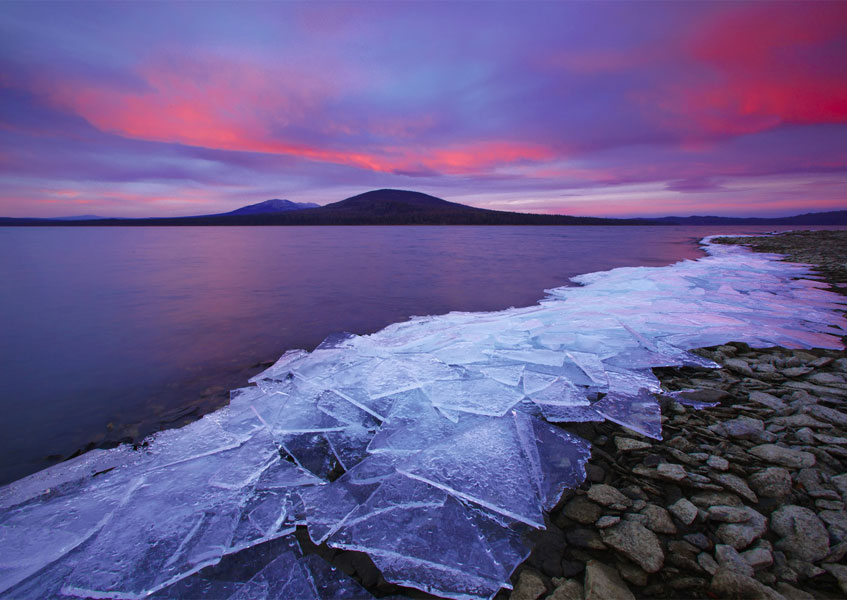 Capture Movement:
For a more dynamic and exciting photograph – add motion. Be it stars, water, racing care, or lights.
If you are working with moving water you can create a stunning white water effect by selecting a long exposure. One way to do this is by using TV or S (Shutter-Priority) mode and choosing an exposure of 2 seconds or longer. You can also use AV (Aperture-Priority) mode and opt for a small aperture like f/32.
For bright daylight it is important to use a filter to reduce the amount of light hitting the camera, and this way, you will allow a longer shutter time. For such images, a the use of a tripod is handy so that the reset of your photograph remains sharp. 
Use light to your advantage:
Light consistently changes, especially during sunsets and sunrises. Look for details of how the light filters through clouds and look for objects that the light isolates. Mountain images portray this a lot, where clouds and light play around peaks and continue throughout the day. 
Make use of sun stars in your composition:
When shooting directly into the sun and closing down your aperture to f/16-f/22 you will see that your lens creates a sun star. This cannot be done with all types of lenses since different lenses have varying characteristics. To achieve a sun star, position the sun against an edge, like the horizon or an object in the frame. By positioning it slightly against an edge, the sun stars will look best. Try and experiment!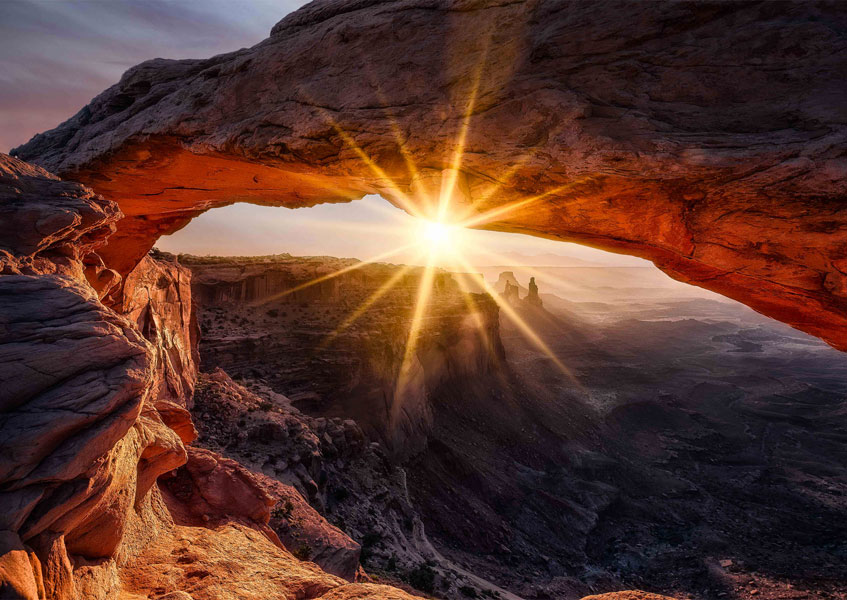 Adding Depth:
One of the most central components of landscape photography is getting the depth of field right. If we are to define depth of field, it is simply the area of an image that is in focus.
Typically, landscapes benefit from a very deep depth of field, that way everything in the scene from the foreground to the background is in sharp focus.
If you are using a wide range lens then, set a small aperture (i.e. f/11 or smaller), and set your focus point about one-third of the way into the image – the depth of field should be more than sufficient for sharpness of focus from front to back.
When shooting during the day you can afford to use a smaller aperture of f/22 to capture a super sharp detailed image.
If you are trying to capture movement of water or of people and birds, then use a filter to reduce the amount of light going in and experiment with the shutter speed.
For water you want to choose at least 2 seconds or more and for moving animals or people start from 1/60.
You should always use a tripod for these types of landscape images.
Recommended Equipment
If you are shooting in bright light then you should always use a lens hood to prevent flaring and extra light. In addition, you may use a neutral density filter or a polarizing filter to reduce reflections and bring out the sky.
A tripod is essential if you want to take very sharp photographs and if you want to capture movement. The use of flash will help illuminate shadowy areas in close range.
Recommended Lenses
To get the best landscape photos, it is not enough to understand the camera settings for landscapes. You also need good glass to capture landscapes in the sharpest detail.
Here are a few top landscape photography lenses.
Canon EF-S 15-85mm f/3.5-5.6 IS USM UD
Built specifically for Canon's APS-C crop sensor cameras, the EF-S 18-85mm lens gives an excellent focal range to get wide shots and a more tightly framed image of smaller details in the landscape. With a 4-stop image stabilization system, you can shoot handheld without as much worry of camera movement.
Key Features:
Circular aperture creates gorgeous background blur
Excellent corner-to-corner detail
Super-fast autofocus system
Anti-reflective coating minimizes glare.
Nikon AF-S 14-24mm f/2.8G ED
Built for Nikon's full frame FX and crop sensor DX cameras, the AF-S 14-24mm f/2.8 lens offers fast performance with a wide-angle view.
The lens is known for its sharpness throughout the aperture range, and with the f/2.8 aperture, low-light landscapes can be photographed with ease.
Key Features:
SWM motor that offers fast and silent operation
Full-time manual focus override
14 elements in 11 groups
Nano crystal coating reduces ghosting and flare
Nikon 24mm f/1.8G ED
Introduced in 2015, the Nikon 24mm f/1.8G ED filled a niche for landscape photographers with full frame cameras that did not need a f/1.4 lens (or did not want to pay so much) but wanted something faster than f/2.
The result was a lens that was an immediate hit, with an excellent 24mm focal length that's not too short or too long – in other words, perfect for landscapes.
You can also check out the Landscape photos we create at the Big acrylic gallery section
Key Features:
Fast f/1.8 aperture
2 extra-low dispersion elements for improved sharpness
Excellent contrast and colours with minimal chromatic aberration
Rear focus mechanism for smooth and fast autofocus performance
Now that you now the tips and lens, take your tripod, camera and filters and set out to capture all that nature has to offer.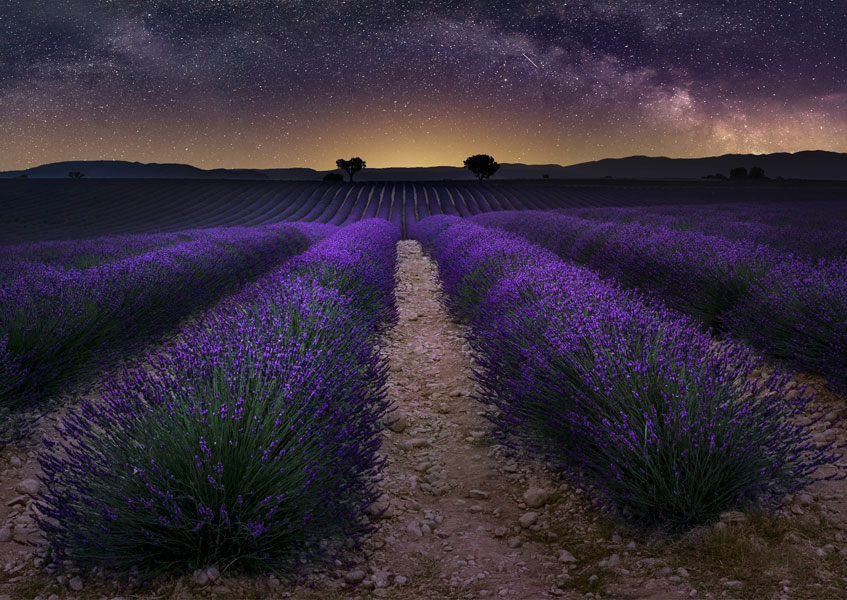 You can also check out the Landscape photos we create at the Big acrylic gallery section