You've probably been spending a lot of time indoors lately. More than just indoors, but you've probably been stuck, like everyone else, in the same handful of rooms of your home. Groundhog Day was February 2nd, and here on February 19th, I think we can all say it feels the same. But there's a silver lining to all of this! You get to spend a lot more time at home with your family. You get to appreciate and tweak the things in your home to make them the best environment for you! One of those things to change is your home decor. Recently, we've been seeing a great uptick in large wall art for living room pieces. These large pieces are the perfect way to spruce things up in your home. And, fortunately, we have a ton of options available to suit your every need!
Large Wall Art for Living Room
Above the Couch
This one is one of the most classic pieces we see. Because it's so simple. A couch takes up a significant portion of a living room, often pushed against a wall, making that wall unusable space for other pieces of furniture that require floor space. The vertical space above the couch is usually fairly open and empty, making it the perfect place for large wall art. The couch also provides a great baseline. It will likely not move anytime soon. So the look that you want can be based off of the couch, rather than a blank, empty wall.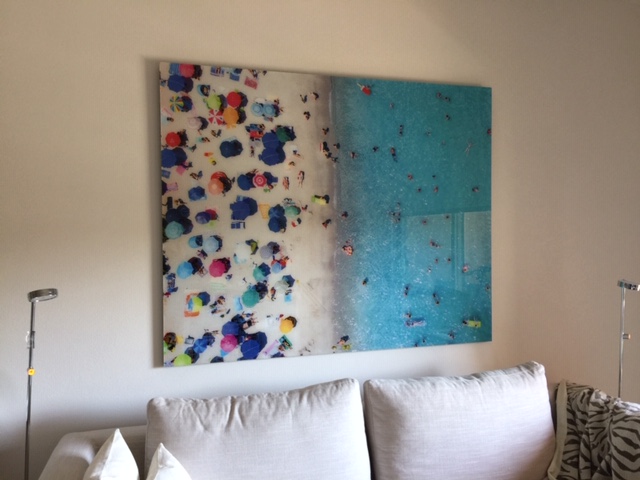 Most of our customers choose a symmetrical look, which they get by measuring the length of their couch, and centre-ing a piece above it. These large prints catch the eye immediately and make the whole room pop. Usually, customers will select a 60×40″ or a 70×30″ though we can go much larger than these two sizes to meet your needs.
Additionally, using the symmetry of the couch, you can add shelves, or smaller prints around the large middle print for a very chic look.
Mediums
The best mediums for above the couch prints are definitely acrylic and metal prints. These two mediums can be printed at very large sizes without breaking the bank. For an exceptionally vivid print, one with tons of color and with a high quality resolution, you could always choose a sublimated metal print. These are great, but do take longer to produce and are a bit more costly.
However, both acrylic and metal prints provide vivid colors, and either a glossy or matte finish. They are also very lightweight, making them easy to hang as opposed to a cumbersome framed print.
Best Images to Print
As we always say, the best images to print are the ones that make you feel something. Images of a special memory, or place, an image from a website that caught your attention and affected your mood are all great photos to print. The only rule should be that you feel something when looking at it. A good place to get inspiration is places like Pinterest's home decor tag.
For a living room, the feeling is the most important. Is your living room space a place to relax an unwind? Then it would likely be a good idea to stick to images that calm you to look at, or bring a smile to your face. If the living room is a social hub, where everyone gathers for conversation after dinner, then a more vibrant or dynamic image works. Think of the difference between a green-toned photo of a forest and a red or orange-toned photo of that same forest in the fall. The green photo is calming, while the red/orange-toned photo is more invigorating. The same subject can create two different moods!
Wall Mural
Similar to removable wallpaper, wall murals are an excellent way to really change up a blank space in your living room. And, you can even create a wall mural with your cellphone photos! Anything taken on an iPhone around 4-5MB large can be blown up into a large scale wall mural. These wall murals are perfect for smaller walls, or accent walls, where a doorway, or window, makes it hard to place furniture there. The self-adhesive backing on the wall murals makes them very easy to install and remove without any damage to your paint. So, wall murals are a really good idea for renters who want to change up their living rooms!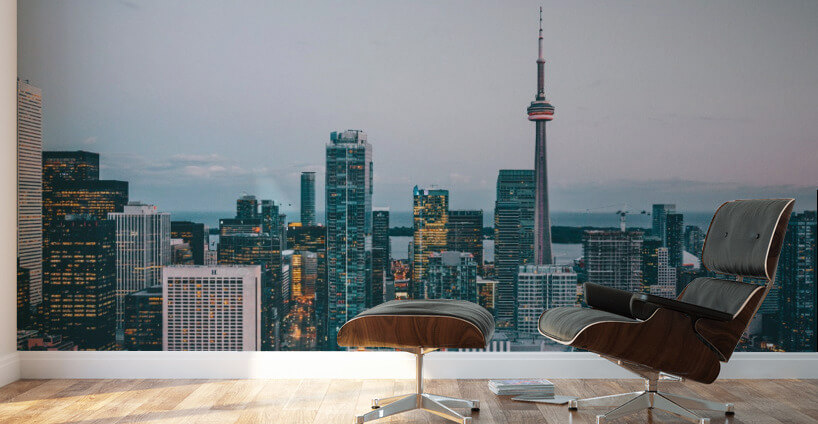 Because they cover so much space, a wall mural is a perfect large wall art for living room. It's cost-effective, and completely custom.
Again, thinking of the best images to choose could be hard. We recommend cityscapes, landscapes, or graphic design prints for wall murals. These tend to be more neutral images that still evoke something. Whereas, a portrait could definitely scare you in the middle of the night if your eyes haven't quite adjusted on the way to the bathroom.
Large Wall Art for Living Room Ideas
Some other very popular ideas include pieces that go above fireplace mantels, or triptych pieces. However, we've done a lot of writing on triptych wall art. So, we thought it would be better to focus on some more common ideas for living room wall art.
As we mentioned before, wall art has the ability to completely transform the mood and tone of a room. But it is also a great opportunity for you to express yourself in your style. Especially with large prints hanging in the living room, what you find appealing or important is basically on display front and centre. An adventurous, outdoorsy soul will likely have a vacation or trip picture in their living room. Actually, many of the huge living room pictures we see are of these landscape scenes. Panoramic photos taken from the tops of mountains. Other photos include wildlife, especially tigers or lions with their vibrant eyes following you across the room.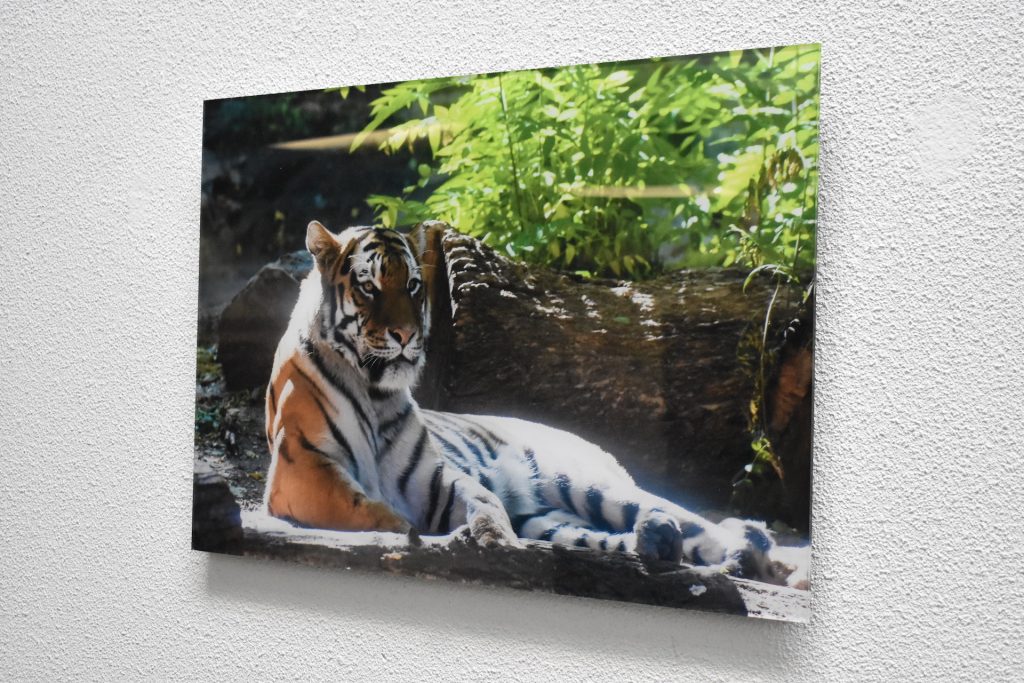 As usual, we are always here to help you out in designing your dream living room wall space. We hope that this week's blog post has offered you some potential mediums and images to consider when planning your next project! Don't hesitate to reach out and contact us!