These past few weeks here at Big Acrylic have seen an uptick of triptych orders. And while we've written about triptych prints before, we thought a blog post revisiting this display option was well in order. Triptych art prints are an exciting way of filling space on those big blank walls. They are sophisticated, chic, and can cover a wide space without feeling cluttered. Furthermore, they are very customizable, meaning that you have total creative control over how you want your triptych to look! This week's blog post revisits the triptych, giving you some ideas and tips for creating your own!
What are triptych art prints?
The word "triptych" may sound like a tongue twister (and it is!), but really a triptych is any piece of work that has been split into three panels. Triptychs were originally used as decorative altar pieces in churches, but, in recent times, they've become a popular way of displaying photographs, art pieces, and even writing. Triptych pieces can do more than just split an image into smaller parts. Triptych art prints tell a story, moving between images, or across landscapes or places. You can also use this form of display to show the passage of time. Perhaps your favorite landscape or skyline looks a little different from the first time you visited. A triptych captures all of these stages and shows the progression, which makes for an excellent talking point on your wall.
What is the best way to display a triptych?
As always, the best way to display a print depends on your personal tastes and the space you are decorating. A horizontal triptych works well to cover long bare walls, like those in a hallway. For narrower spaces with higher ceilings, a vertical triptych may work well, while also providing a cascading effect down the wall.
Usually, our clients use a triptych to break down a very large image into smaller prints. For this type of display, we recommend using the float-off-the-wall option. This option has the hanging hardware hidden behind the print. You end up with clean lines and no bulky frame around the image. To hang, we recommend leaving a 2-inch gap between the images. A 2-inch gap creates a bit of distance without losing the fluidity of the image. Any larger and the image will look too broken up, and any closer will look too cluttered. An acrylic print or metal print would work nicely for a triptych.
What are the best images to use for triptych art prints?
The best images for triptychs are usually landscapes, skylines, or panoramic photos. The most important aspect is that each panel of the triptych contains some interesting feature. For example, the photo below would make an excellent triptych because each panel would have its own interesting focal point.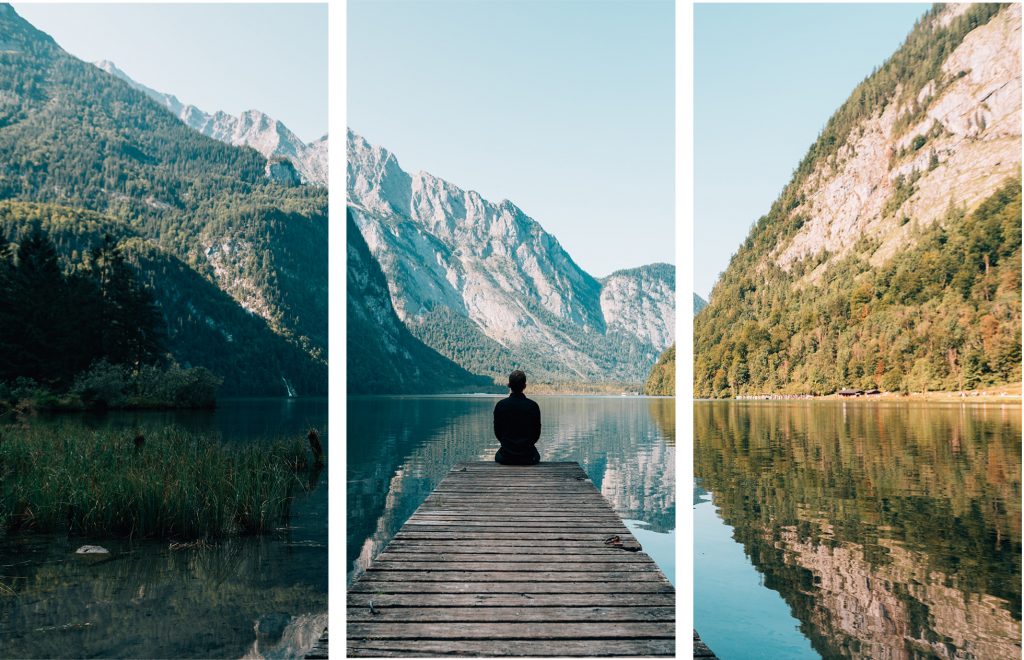 Portraits, group photos, or photos that are too cluttered or busy tend to make poor triptych prints. Group photos, especially, are hard to configure. Images with one subject in the centre are the best images to use when creating a triptych.
If you need any inspiration, check out some of our customer creations here. And, as always, don't be afraid to reach out and let us help you with creating your perfect print!