Blush Pink Wall Decor
Spring has finally sprung here in Montreal. The threat of another blizzard subsides each new day of above freezing temperatures. Trees are starting to bud. Birds chirp. Truly, the city feels like it's coming alive. One of the best parts of the beginning of spring is when the colors start to crawl up out of the ground. The sight of pink tulips popping up out of the ground is definitely a good sign that spring is…well, springing! That being said, we're here with some cool ideas to spruce up your home this spring. You've probably seen pink wall decor trends all over social media lately. So, this week's blog is going to show you how Big Acrylic can help you hop on the bandwagon with some springy pink wall decor.
1. Floral Prints on Thick Acrylic
We thought this week we would try and give the thicker acrylic a little bit of love. While there's no difference in the quality of print between the thicknesses, we tend to recommend standard 1/8″ acrylic for most orders because it is cost-effective, lightweight, and offers an exceptional print! However, different thicknesses have different effects. Thicker acrylic shows the image through the sides of the print for a very cool effect.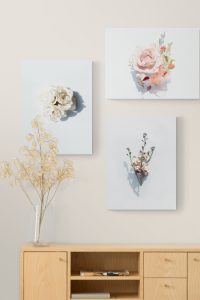 This really cool effect would look awesome with some more minimal prints, like floral prints with a white background. From the right angle, the flowers would look a bit suspended in the acrylic as the thicker acrylic (3/16″ or thicker) offers a little side view of the image. The pops of pink are subtle, yet still eye catching, making this an excellent option for those who want pink wall art but can't commit to a more flashy shade. Regardless, overtop of a console, bar, or hallway table, these seemingly suspended floral prints would surely be an eye-catching addition to put a little spring in your step.
2. Hot Pink Bar Rail Acrylic Prints
So let's do a complete shift of decor style. Instead of dainty spring florals, what if we captured the more electrifying pinks? One of the best things about the color pink is that it has both Spring and Summer vibes. A hot pink energizes every part of your home, which is why it's perfect for decorating your home bar. Plus, hot pink pairs very well with other trendy energetic colors like turquoise, lime green, and (one of) Pantone's Colors of the Year: Ultimate Yellow. Paired with a strip of LED lights, these prints will be the perfect way to create a club in your living room. Or, if you are feeling particularly luxurious, you could opt for a backlit acrylic print, which has LED light strips shining through the acrylic for an excellent look.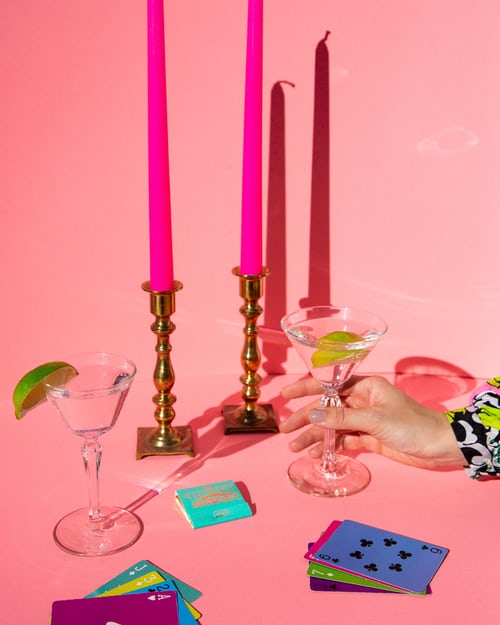 And, of course, if Hot Pink isn't your style, you can certainly find plenty of pink drink images with more subdued colors. Turns out pink is a pretty versatile color (and a pretty common cocktail color!)
3. Cherry Blossoms on Sublimated Metal
Of course we couldn't write a post about Spring and Pink without mentioning cherry blossoms. These iconic flowers always signal the beginning of spring. Cherry blossoms would look beautiful in any place requiring  a calm energy like a bathroom, living room, or bedroom. Stock photo sites, like Unsplash, have hundreds of free for use cherry blossom images to create a print out of.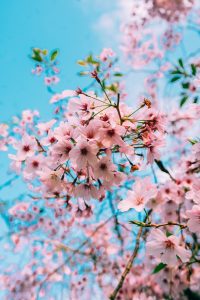 The great thing about cherry blossoms is how many different styles you have to choose from. Cherry blossoms look excellent as accent pieces in a more minimalist area, or they can be bolder, especially when the delicate pink petals contrast against a vibrant blue sky, as seen in the image below. Sublimated metal prints are glossy and rich, making it an excellent medium for capturing the cherry blossoms. If you are considering ordering a sublimated metal print, do plan ahead as the printing process takes slightly longer than acrylic or aluminum prints!
4. Architectural Pink Wall Decor
If you want a very chic industrial look, look no further than a brushed metal print. Brushed metal has a textured surface which automatically gives it a more rugged or industrial look. But, when going with a geometric, or architectural image, the results are stunning. The colors are matte, but still vibrant and bright. Just take a look at these two images below.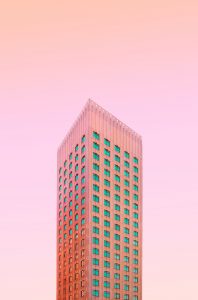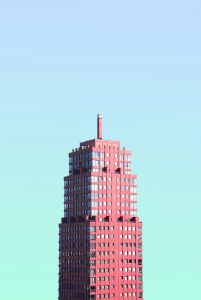 Two tall vertical prints on exposed brick or concrete accent walls is sure to amp up the high loft living. The geometric patterns draw the eyes towards it, while the matte finish on the brushed metal stops the prints from being too bold. Overall, the gradient and contrast on top of a brushed aluminum pattern would definitely get your visitors talking. It's super trendy, and a super fun way to showcase your love of the high style city life.
Our brushed metal prints are lightweight too! So even large prints will not be too heavy to install on any type of wall. Additionally, brushed metal prints can be hung outside or in high traffic areas as well, making it a perfect decor solution for patios, sheds, or entryways.
Pink Wall Decor on Big Acrylic
Now that we've covered some interesting ideas of our own, we look forward to seeing some of yours! In fact, we're having a bit of a pink phase ourselves and showcasing some great pink wall decor over on our social media pages. Don't hesitate to hop over to our Instagram, Facebook, and Pinterest to stay up to date on all of the great projects we've been seeing.
In the next coming weeks, we'll have some very interesting news to share that we couldn't be more excited about. Without giving it all away, what we can say is that Big Acrylic is expecting…
…A new branch of the business to launch very soon! Like I said, stay tuned on our social media channel so you don't miss out on any of the exciting new things we have coming your way.
We're available 24/7 through email or by phone, so don't hesitate to reach out and contact us to get a start on your sunny weather redecorating! Until next week…