As you all know, it's been a crazy year. Or, at least, the last 8 months have been crazy. The virus changed everything about how we live, and it forced us to adapt. Unlike many industries, which suffered and went under because of the pandemic, we managed to stay afloat by offering our large picture printing. We are thankful and count our blessings everyday that we never had to furlough anybody. At Big Acrylic, we are extremely appreciative of the support we received from new and old customers. Knowing that a photo can brighten up someone's day during these dark times makes us feel good.
As the year's end draws closer, I'm looking back and taking stock of what we do best, and how we can do even better in the future.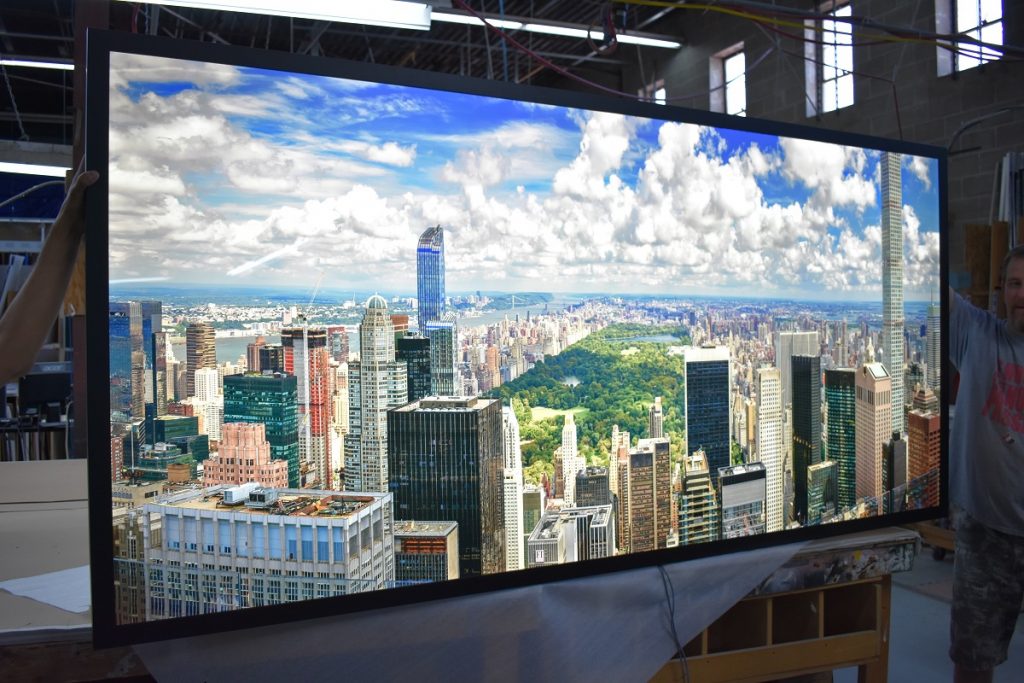 What We Do Best: Customer Service
Currently, the Big Acrylic office has five people, with many more in production. All incoming phone calls are automatically directed to me, wherever I am, 7 days a week. You will never speak with an operation or be put on hold for an obnoxious amount of time.
Since I am also the main salesperson, I can answer all of your questions and confirm pricing on the spot without any delays. This happens on a daily basis, and I know that customers appreciate the urgency and speed with which I deliver information.
Some customers are intimidated by ordering online. When this happens, we manually invoice the customer to make it easier for them to place an order. Customers email us their photo. Then, we confirm the size, price, and shipping address. Next, customers receive an invoice in their email, which they can pay using their credit card.
Many times, a customer is not sure what medium works best for their photos. Our newest addition of this year is our software which shows an image in all possible mediums. This way, you can visualize what the final product will look like on a wall. So far, we've used this software with excellent results, and very satisfied customers.
Finally, when we receive images for production, we check the image for size, resolution, and quality. If something's amiss with the image, we contact the customer right away. We either suggest an alternative size for the image, or request another image altogether. While we do have two different programs designed to enlarge photos, we can't fix every image! Especially for large picture printing, we do need a fairly large, high-quality photo.
Fast Lead Times
All of our digital prints have a lead time of 6-7 business days. However, our sublimated metal prints can be longer as we don't have as much production capacity with this product. Lead times for sublimated metal prints can be as long as 14-15 days.
Even with large picture printing, our lead times are still speedy. Though our lead times are quite fast, we do suggest giving yourself a little bit of wiggle room. Shipping delays, a production error, though rare, you may not get your print as quickly as you'd like it.
Large Picture Printing Company
Unlike other acrylic printing companies, we offer four different thicknesses for your acrylic prints. 1/8″, 3/16″, 1/4″, and 3/8″ thickness. The quality of the image does not change with the acrylic thickness. However, some customers prefer a thicker look from the side.
In addition to our line up of great, customizable acrylic prints is our metal prints. We offer digital images on two types of metal: white or brushed, and we have sublimated metal prints. Our white metal prints have fantastic color contrast. We can also add high gloss varnish to both our white and brushed metal prints.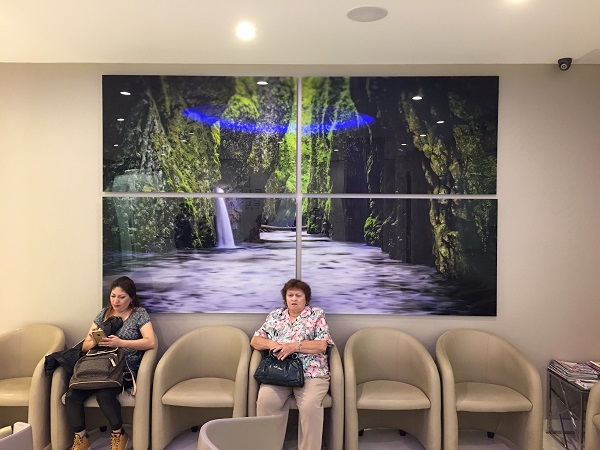 This year we also added a non-glare acrylic option. There seemed to be a demand for a non-glare version of the acrylic. This surprised me. To me, the glare is part of the allure, however, we all have our different tastes. So, I thought, why not just make the option available.
But we don't just stop at acrylic and metal. We also specialize in printing on fabric. The fabric prints use the sublimation process to create vivid images. Colors really pop off the material. We can go very large in print size, as you can assemble the frame yourself. Pieces come unassembled, which really saves in shopping costs.
With our fabric and acrylic prints, we also offer a backlit solution. If you are willing to spend more, a backlit print will bring your image to life. Backlit prints also have the option of coming with a dimmer. This dimmer function comes with a remote control that allows you to change how light or dark you want the backlit print to be.
Where We Are Headed with Large Picture Printing
It's all about the repeat customers, so we go the extra distance to make sure the whole buying experience is stress-free. For example, on Saturday, I spent twenty minutes with a potential customer from Montana. He wanted to create an acrylic collage for his wall. Of course, we are able to do it. Not only was he surprised someone would speak to him over the weekend, but he was also thrilled to know that we would help design the collage. This is a perfect example of our customer service.
I learned from all my business experiences that you cannot please everybody. Yesterday, a client called because they were unhappy with their image on brushed metal. They did not like the brushed texture and wanted to return the image for a refund. In this scenario, there is no recourse. We are running a business and cannot refund orders because the customer ordered the wrong material. We did tell the customer we would redo the order with a 40% discount. They were rude, but I understand that you cannot please everybody.
If an image arrives broken, which can happen, especially to large panels, all we ask for is a photo of the image. We will redo your image straightaway. No levels of bureaucracy needed here. A simple conversation with Abby, our operations manager, or myself, will get the ball rolling.
Thank You, from Big Acrylic
As the Christmas season looms ahead during these hard times, we want to shed some happiness with our products. Anything to put a smile on someone's face during the 2020 year.
Please reach out to us any day of the week, or weekend, to get your project off the ground. And on behalf of everyone at Big Acrylic, I want to say a big THANK YOU for continuing to do business with us.
Recommended Read: LARGE WALL ART FOR LIVING ROOM