A good portion of our business derives from customers who want to create wall art for their business. Some customers come to us with their own images, but many are looking to source images for their wall art.
There are a few things you should know when you are considering a wall art project, and we are here to help. To get started, see below for basic information.
Sizing Wall Art Space
Begin by measuring your wall space from top to bottom and from side to side. Once you have those measurements, we can begin to determine what size of wall art will suit your space. You can have a single acrylic art piece, or make a statement by combining multiple pieces.
For example, let's say your wall is 180″ width by 120″ height, and you are interested in 40″ by 30″ art. In terms of width, you will be able to safely fit 4 on the wall, for a total of 160″. There needs to be a space of 2″-3″ between each piece of wall art as well as a space of 2″-3″ on both sides of the wall. In this case, the extra 20″ will enable you to do that.
The same holds true for height. One row of 30″ art work will look good, and of course there is plenty of space on the wall for it. But what about two rows? For height, you want your wall art to be at least 30″ from the ceiling and 30″ from the floor. Your wall may be 120″, but with this in mind, you could not safely hang two vertical rows. In this case, if you wanted two vertical rows, we would recommend decreasing the size of the wall art. We are here to help, and if you have any questions regarding the suitability of your space for a project, just get in touch.

Choosing Images
When beginning your search for wall art, remember that any file less than one megabyte cannot be made into a 30×40 acrylic print. We offer software that can increase the d.p.i. of an image, however there are certain restrictions. If the file you select is very small, we will not be able to increase it, due to pixelation. We are unable to increase a photo by more than 200%. At Big Acrylic, we have an Image Consultation Centre. You can send us your photos for examination, and we also encourage you to call us to discuss images. We answer calls 7 days a week.
Where to Find Images
There are many sites where you can buy images for your wall art, as well as sites that offer free images. We've put together a comprehensive list for you.
Shutterstock – a personal favorite. It may be more costly than the other sites, but is the easiest to navigate and purchase images from. With more than 84 million images, you are sure to find what you are looking for.
Istock Photo – many images, but buying credits can be a bit confusing compared to other sites. You can buy photos on demand for between $8-$33 each, or sign up for a subscription that allows you a particular number of downloads per month.
Dreamstime – With over 94 million images, you can't go wrong. A package for $110 gets you 50 images.
Pixabay – an easy site to navigate. Just enter subject matter and search for images. Various download sizes are available.
Pexels – Similar to Pixabay. Enter your subject matter and search for images, with various download sizes.
Unsplash – easy to navigate, but unfortunately only offers one download size.
If these sites don't have what you are looking for, try a Google search |" free stock images OR Paid stock images "
Once you have found the perfect image, we will go over it with you to ensure we have the proper dimensions and file size.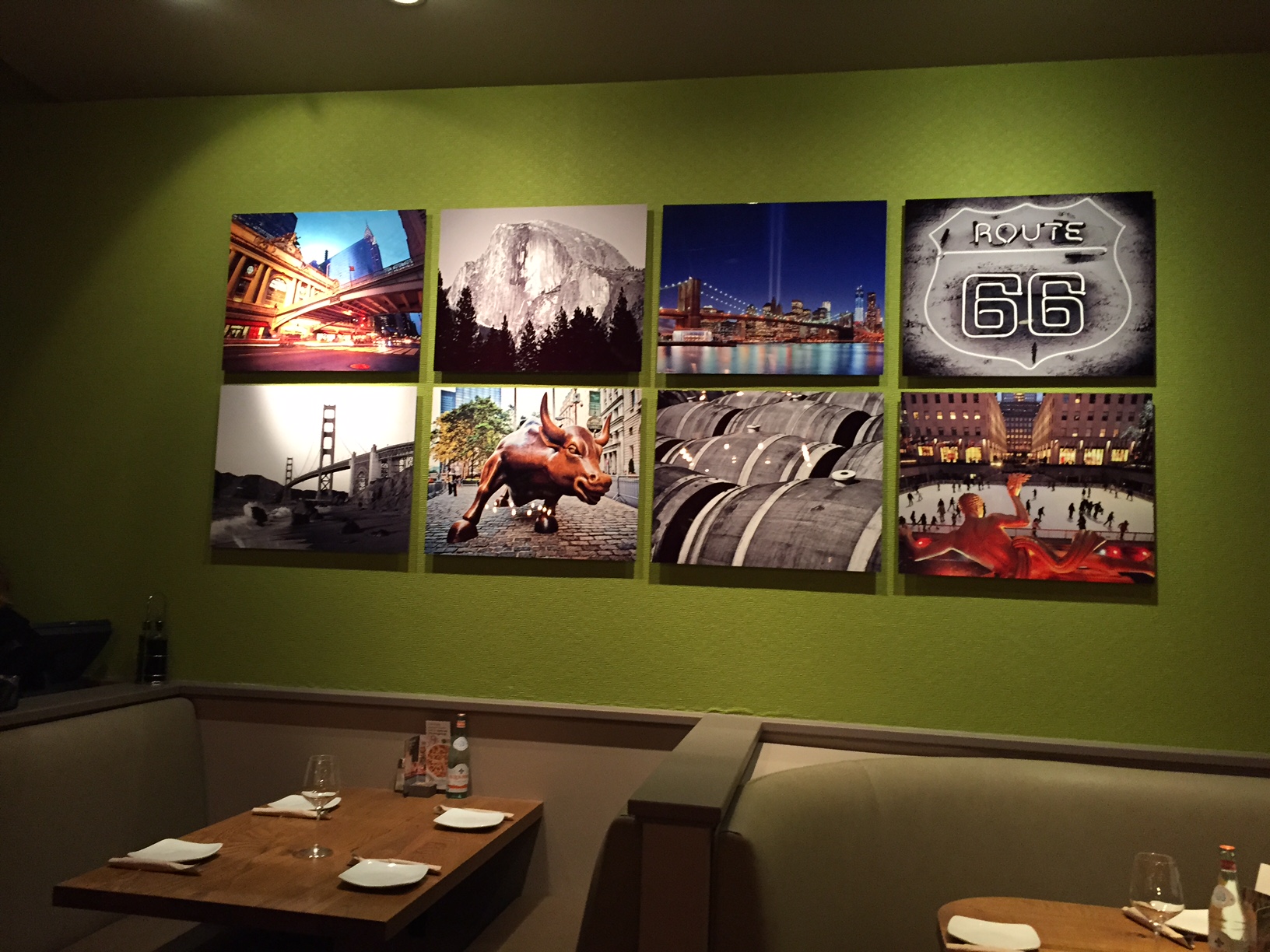 Best Medium for the Project
You have your image, but now we need to decide what medium will best complement your project. We have many options available, and we will work with you to determine what medium suits your needs.
Acrylic – If you are looking to do many prints, then the best choice is printing on acrylic.   Printing on Acrylic is modern, chic and offers a very fast turn around time.  We print directly onto the acrylic and then we install the display option.  We print in any size you want and you can combine multiple pieces with different images.
Metal – Printing on metal is another alternative. As with acrylic, this method is done digitally and boasts fast production times with great results. We offer both brushed and white metals with the choice of adding varnish.
Display options
We have several display options available. If you aren't sure which one suits your project, call us. We will talk you through the decision.
Float option – My personal favorite is the float off the wall option. We place a wooden block on the back of the art, and it makes it hang 3/4″ off the wall. All you need to do is take the piece out of the box, align two nails, and hang it up. If wall art is going in a public place, we recommended adding security locks to your order so your art stays fixed to the wall.
Standoff – Another great look is the standoff. We drill four holes into the sides of the piece, and you will use one inch bolts to fix the art to the wall. This is a great choice because the piece is secured to the wall, and metallic bolts offer a cool and classy feel.
We are excited to work with you on your project. Be it choosing photos, deciding what medium to print on, or selecting a display option–we are here to help.  Every project is different and we enjoy the challenge of creating a look that you can be proud of.