If we lie to ourselves, we can say that spring is just around the corner. Here, in Montreal today, it is a warm, balmy -15 degrees Celsius, or 5 degrees Fahrenheit for our American readers. So, I'm going to go ahead and lie to myself. With spring comes all the promise of warm weather, flowers, rain, and of course, weddings. While winter weddings have gained in popularity these past few years, many couples still opt for classic warm weather and later nights for their nuptials. Though the weddings trends may come and go, what doesn't change is the bride and groom's need for printing their wedding photos. So, in this week's blog post, we're jumping in to how to create the perfect wedding photo prints.
Wedding photos are one of our most popular subjects we receive to print. And we often get asked a lot of questions on what style or image to choose when printing the photos.
How to Create Wedding Photo Prints
The big, busy wedding day is over. And all you have to remember it by are the hundreds of photographs snapped during the ceremony, the reception, and all the moments in between. As many brides and grooms say, the actual wedding day is just a blur, so photos really are needed to be able to look back and see the day unfold.
Of course, the problem for creating wedding photo prints then becomes, which photos do I choose to print? Out of hundreds, which ones are the most special?
Choosing Your Photos
The photos you choose should be the ones that make you feel something. For every couple that photo is different. It's best to start off with what type of photo best represents you, the couple, and your relationship.
Candid vs. Staged
For some couples, the staged photos, while making great thank you cards, may not fully feel authentic to the couple, or to the individual's attending the wedding. Sure, everyone looks phenomenal dressed up and standing in a line, but it may just be missing that true emotion. The sidelong glances, smiles, or expressions of joy and happiness given while they thought no one was watching may be the true story of the couple, and the one they want to immortalize forever in a print.
For others, the staged photos are sophisticated, elegant, and capture the whole vibe not just of the bride and groom, but of the whole wedding party and reception. With a very good photographer, staged photos also contain deep emotional depth.
Just the Two of Us…
Another thing to consider when selecting your photos for printing is whether you want to include the whole party or focus solely on the two of you. Of course, the day was all about your love and commitment to one another. But, there's always room for family and friends!
The number of people in your photo should influence the size and style that you choose to print the photo at. A large spread of the entire wedding party would look crowded as a small 8×10″. Whereas a huge 60×40″ print with just the couple in the middle could look a bit empty or hollow depending on the background and composition of the photo.
Black & White or Color?
One last thing to consider when selecting your photos is whether you want you select a black and white photo or a photo in color. This will help you narrow down your medium when you print the wedding photos!
Regardless of how you set about selecting your photos, you should choose the ones that perfectly encapsulate the feelings of that day. What do you remember, or what do you want to remember most about your wedding day?
Choosing Your Medium
As mentioned above, the photos you end up selecting for printing will influence the medium, size, and display options that you select. Different mediums are also good for different effects you want to have on the image. And different mediums suit different spaces better. For example, if you are placing a print in a very bright sunroom, where tons of natural light floods in during the day, you will want an anti-glare print that won't reflect a lot of that sunlight and make the image hard to see. We will quickly go over the benefits of each medium and which mediums work best for different types of photos.
Traditional Acrylic
Traditional acrylic prints are shiny and vibrant. The image is printed directly onto the acrylic, which causes rich, deep colors for a much cheaper cost than other printing methods.
This medium works best for photos of any size. We can even go extremely large with acrylic prints (up to 60×90″). Additionally, acrylic looks great with photos that are in color, black and white, or group or solo photos. Essentially, acrylic is the best option for your budget, and the one that will make any photo look like a work of art.
We also offer anti-glare acrylic options for the traditional acrylic look, without the reflection.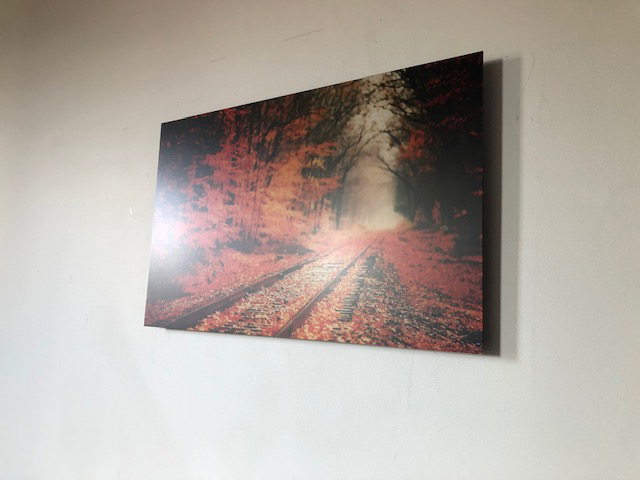 Acrylic prints can also be customized into different shapes, or split up into a triptych or diptych for extra flair!
Digital Brushed Metal
Brushed metal prints provide a matte and textured finish. Any white areas in the photo will show up as the silver aluminum the image is printed on, making it a poor choice for colorful wedding photo, as the bride's dress may be silver instead of white! However, black and white photos look stunning on brushed metal. The textured finish also gives a unique, industrial look to the photo.
Digital White Metal
Unlike brushed metal, white areas of the photo will show up white on a white metal print. This makes it an excellent choice for wedding photos. In addition to vibrant colors and contrasts, white metal prints have a matte finish, meaning that they are much less shiny or reflective than acrylic. This of course does not take away any wow-factor, but provides an alternative finish.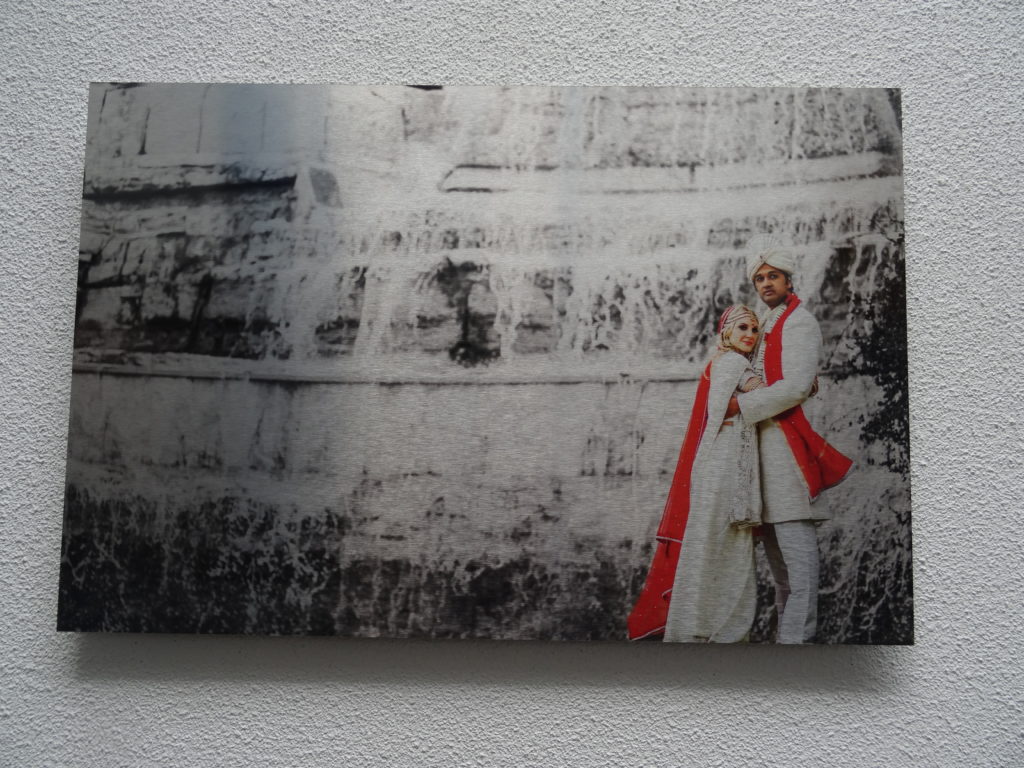 This medium works well with large or small scale photos, and black and white wedding photo prints.
Sublimated Metal
For beautiful color vibrancy and depth, sublimated metal is the way to go. While sublimated metal does look great with black and white photos, it would be a disservice to the medium to not use color. In sublimation printing, inks are transferred onto metal through heat. This causes the color to never fade, and always be exceptionally vibrant. Reds, blues, purples, all rich colors, look wonderful on sublimated metal.
Though the cost is higher and production times are longer (three weeks or so for production compared to 6-7 business days for other mediums), sublimated metal prints are worth the investment.
Sublimated metal prints work well for group shots or detail shots as the printing process results in very clear or sharp images. However, I would suggest sublimated metal prints for mid-sized photos, especially for groups, as our software may not be able to stretch the human face in great detail from a small-size photo.
Fabric Prints
Our fabric prints follow the same idea as sublimated metal. With the extra bonus of being interchangeable, meaning that you can print as many wedding photos as you want and change them out whenever you felt like it.
We've been writing quite a bit about our fabric prints lately too!
What Next for my Wedding Photo Prints?
Well, once you've selected your photos and medium, all there is left to do is wait! Our excellent production team will reach out if there are any issues or suggestions to be handled. Otherwise, you can expect a lead time of 6-7 business days for production for all mediums except for sublimated metal and fabric. These two mediums take a few weeks longer due to the printing process and our capacity to produce them.
You will receive a tracking number and watch your shipment make its way over to you in 2-4 business days. Then, it's all yours to hang and display as you wish!
We hope that this blog post has helped you figure out how to print wedding photos! As usual, we are available by phone or email at anytime to contact us. Don't hesitate to reach out with any questions!