Maybe acrylic isn't your thing. Maybe even metal isn't your thing. Perhaps your "thing" is something a little more involved, or a little more bohemian. This week's blog is on photo tapestries. We're going to answer what a photo tapestry is, and how we can help you create one through our website. Let's jump right into it!
What is a photo tapestry?
Tapestries date way back to the Middle Ages. They've been a staple of home decor for the royal and upper classes for centuries. However, in recent years, due to extreme economic changes, tapestries are available to everyone to decorate their home. In fact, when I first moved into my apartment, I bought a tapestry to spruce it up. They are great for covering large areas for a low cost.
However, I am a unique individual, and I don't like to purchase mass-produced art. Usually, if I purchase an art print, I will go straight to the artist themselves. Or, I will purchase through a website like RedBubble or Society6 that directly benefits the artist. But, doing this for tapestries can be difficult sometimes, as the quality varies between producers and images, especially when dealing with websites that may not optimize the image for printing on fabric. The image could end up pixelated, or the colors dull.
But, to answer the question, in short, photo tapestries are simply photos printed onto fabric.
How Big Acrylic creates a Photo Tapestry
Like our other products, all we need from you is your photo. (And payment of course, but that's less catchy!) With your photo, we are able to enhance and optimize your image to be printed onto fabric. Your image will be crisp, sharp and quite vibrant.
When we print onto fabric, we use a special process that's similar to our sublimated metal prints. In sublimation printing, the inks heat up to become gaseous and transfer onto the fabric. So, this is not simply an image printed on top of the fabric, but printed into the very fabric itself. This makes your print extremely vivid, and resistant to fading.
Our photo tapestries are a bit different from the ones you may purchase on Amazon. Instead of a flat, thin piece of fabric, we offer a durable, thick piece of vinyl. The vinyl is still flexible, but is more resistant to wear and tear, and can easily be cleaned without damaging or staining the print. Additionally, our fabric prints come with a thin aluminum frame that makes hanging the print simple and quick.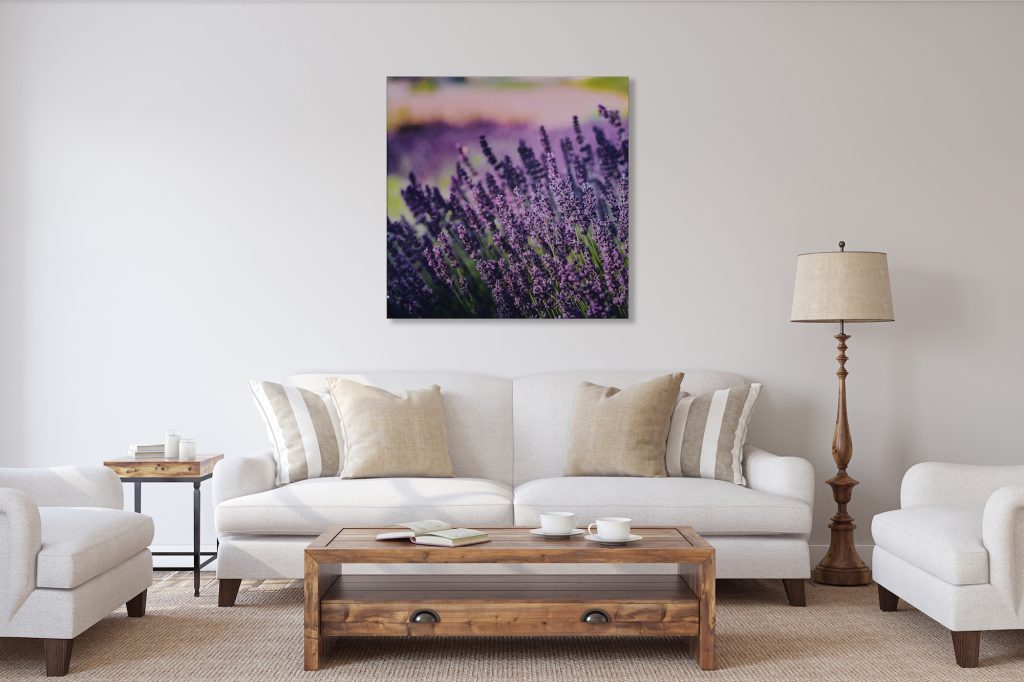 Benefits of Printing on Fabric
There are a ton of benefits to printing on fabric. One of them is the cost. Fabric prints and their frames come unassembled, or flat-packed, meaning that you can order large sizes for much lower shipping costs. Since the finish of a fabric print is similar to a canvas print, you are essentially getting the same style of print for much cheaper, and with a higher quality of production as the colors with be brighter and less likely to fade.
Aside from that, you are also able to change out the fabric print whenever you want! A special lock-and-groove mechanism between the frame and the edge of the fabric print allows you to easily remove the print and replace it. This gives you the ultimate flexibility in your decor. And since the fabric prints are able to be folded, you won't have to worry about unused decor taking up space in your closet.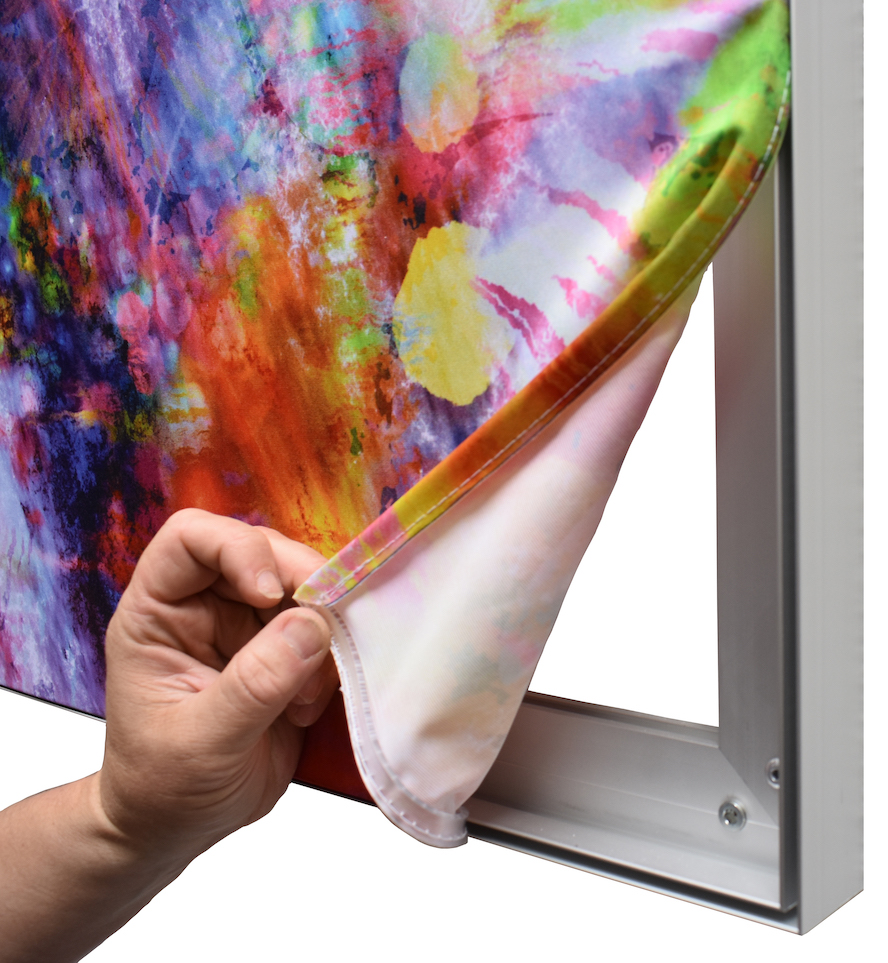 Photo Tapestry Ideas
Because of the interchangeable nature of the fabric prints, one of the best things I can think of is seasonality. In my own apartment, I usually change out some pieces of decor with the seasons. It keeps my apartment feeling dynamic, rather than stagnant. Especially with more lockdown on the horizon, it is all the more important to me that I keep things feeling fresh.
One of the ways I do that is by changing up the fabrics in my living room. Simple things, like throw blankets (thin in the summer, thick in the winter) and different cushion cases help to keep things looking great in the season.
Taking this idea, it makes sense that you could easily order multiple fabric prints for every season. Or for whenever you want to change up the decor. Combat the winter blues with a print of the beach! Or, create a piece so realistic, like our lavender print above, that you can almost smell it.
Backlit Photo Fabric Prints
One of the most exciting parts of printing on fabric is the option to backlight the photo. Using strips of LED lights coming from the frame, your image is illuminated and displayed to its fullest potential. The backlit option may be a little more expensive, but you are still able to change out the fabric photo. This option is more expensive because of the LED lighting. However, the results are absolutely stunning.
Additionally, you are able to order a remote control or dimmer switch to further customize your print within your home.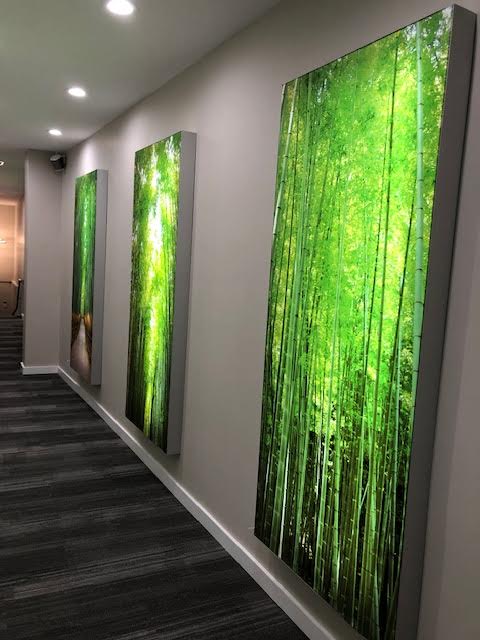 This dim hallway transformed with the addition of these backlit prints. The prints are vibrant, illuminating, and perfect for making a statement in areas of your home you didn't think were possible. And again, you can change them out whenever you see fit!
While our prints may not necessarily be the "photo tapestries" that you imagined, we still offer you the opportunity to use your own photos, and have them transformed into stunning works of art. With our 24/7 customer service, you can easily contact us and receive an answer within one business day. We're always on hand to help you create the product that's best for you. Fabric prints are an awesome alternative to canvas, as they are much cheaper and more versatile. For further information about our fabric prints, check out some of our other blog posts!
Thanks for joining us this week on the Big Acrylic Blog, and we look forward to working with you!