If you've ever purchased one of our products before, you know that we have a wide variety of options to make your print as unique to you as possible. Our metal prints come with various hanging options, all designed to give your print the look you want. In this week's blog post, we're looking at framed metal prints. What does the frame add? Where should you hang them? Keep on reading, for all the answers.
What is the difference between a "float" and a "float frame"?
We've discussed what a float frame is in a previous blog post. But, to save you some time, we will briefly mention it here. In a nutshell, a float frame is a frame of wood built behind the image. It looks like this: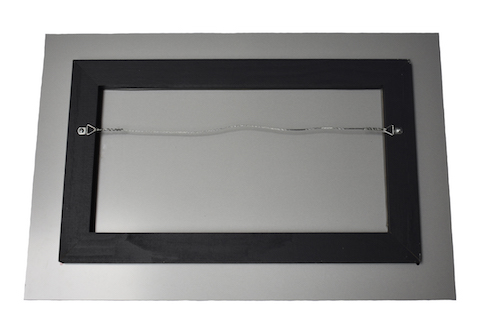 All that frame does is create distance between the print and the wall. Thus, protecting your walls, but also creating the impression that the print is "floating off of the wall."
A float frame, on the other hand, is an actual frame built around your image. There is a small gap in between the edge of the print and the edge of the frame that gives the impression that the print floats. The frame is made of a very durable plastic.
What do framed metal prints offer?
Framed metal prints offer more of a traditional look. The black frame provides bold separation of the image from the wall. Your print is high impact, more of a statement piece than one that blends in, like a floating print. The black framing also adds to the contrast, especially if placed against a white or light colored wall. For example, look at this stunning framed metal print of a desert: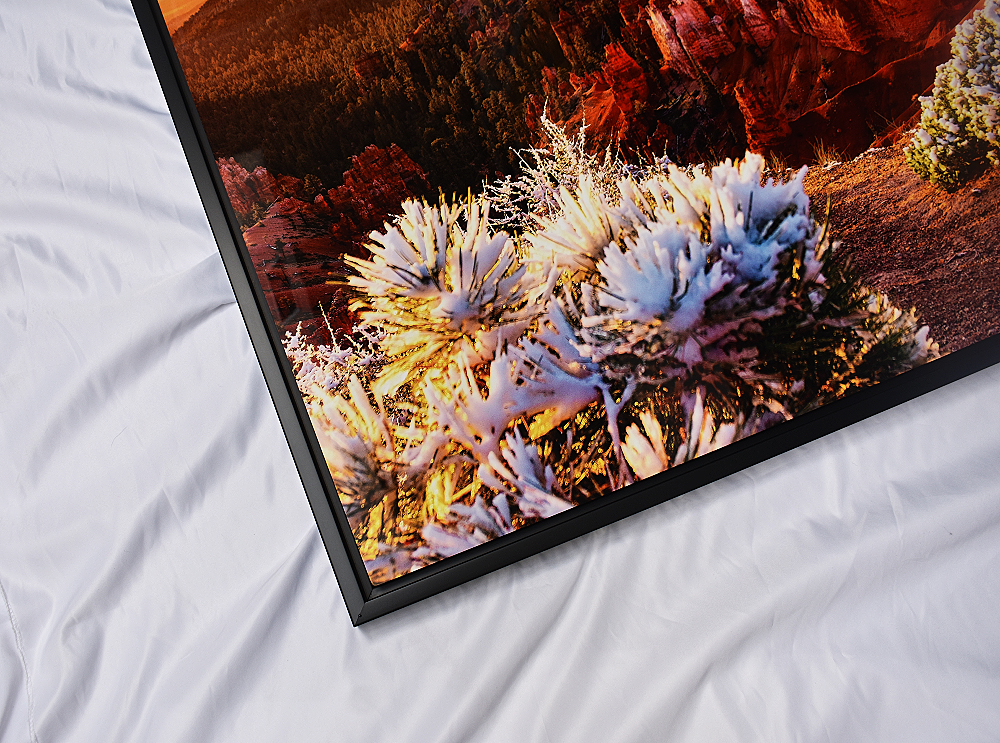 Against the white sheet, the bold black frame really pops. Additionally, the red hues of the desert really look more vivid against this black and white combination.
Additionally, framed metal prints offer a good starting point for a gallery wall. While part of the fun of playing with gallery walls is to alternate frames, sometimes it can be difficult for the images to stand out when they are all lacking frames. Think of a dorm-room collage versus a living room gallery wall. From a distance, the collage of photos blurs together, whereas in a gallery wall, each image seems precise and carefully placed. Anchoring your wall with a framed metal print will help to set the color scheme and size for the rest of the wall.
Where should I hang a framed metal print?
The simple answer is wherever you want! But like we've mentioned above, these prints provide a great starting point for larger gallery walls. As we also offer very large sizes, a large metal print can easily stand alone for a great wow-factor.
Our metal prints are able to be hung indoors or outdoors, even with the frame. So truly, the options are endless for where you can hang your print.
Furthermore, as metal prints are very durable, they would work really well in high-traffic or public areas, in restaurants, hotels, hospitals, or wherever!
In addition to our huge selection of sizes, and ability to do custom sizes, we are also proud to offer framing on sublimated, brushed, and white metal prints. If you need help selecting which medium works best for you, check out our blog. For more info about our metal prints, look here!
Or, as always, feel free to contact us with any questions you have!